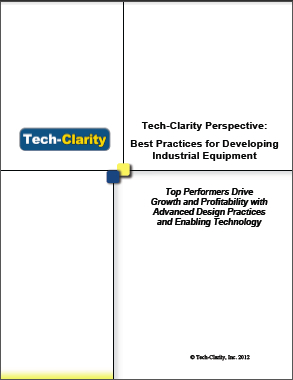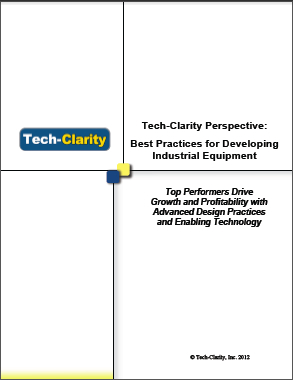 Tech-Clarity Perspective: Best Practices for Developing Industrial Equipment – Top Performers Drive Growth and Profitability with Advanced Design Practices and Enabling Technology explores best practices used by top performing industrial equipment manufacturers. The report shares insights from a survey of over 350 industrial equipment companies, and indicates what those that have most successfully grown their revenue and margins over the last two years do differently in product design and development.
Please enjoy the Executive Summary below, or click the report title above to download the a summary of the report in PDF (free of charge, no registration required).
To download the full report (free of charge, registration required), please visit the Autodesk Manufacturing Genius page.
Note: Please see related article Product Design Strategies Take Manufacturers to the Top by Travis Hessman in IndustryWeek quoting Jim Brown of Tech-Clarity and Ed Martin of Autodesk.
Table of Contents
Executive Overview
Strategies to Differentiate, Customize, Globalize
Challenges and Performance Priorities
Identifying the Top Performers
Strategies of the Top Performers
Best Practices used by the Top Performers
Enabling Top Design and Development Performance
Conclusion
Recommendations
About the Author
About the Research
Executive Overview
Industrial equipment companies struggle to differentiate themselves in today's highly competitive, global markets. This report investigates the business strategies, approaches, challenges, processes, and technologies these companies employ and how they impact financial performance. The goal of the research is to identify and share best practices that drive better product profitability. The results are based on 378 online survey responses from manufacturers around the globe that compete in the industrial equipment market.
Analysis of the responses shows that the global economic recovery has helped industrial equipment companies economically. In fact, the companies responding to this survey have, on average, effectively grown revenue and profit margins over the last two years. Some industrial equipment manufacturers, however, have taken significantly more advantage of the recovery. These companies, the "Top Performers," have:
Grown revenue 2.2 times more than average
Increased profit margins 2.4 times more than average
The research shows that the top performing companies have taken different approaches when compared to average performers. While the strategies and challenges across different performance levels are similar, what sets the leaders apart is how they implement and support these strategies. The top performing companies have adopted more advanced engineering approaches, including:
Modular design approaches
Platform design techniques
Rules-based design approaches
The top performers also use technology that supports these techniques. While the most common technologies are relatively the same across performance levels, the top performers are more likely to leverage:
Simulation tools
Product configurators or design automation
Product Lifecycle Management (PLM)
Factory layout / simulation tools
The findings from this report show how the top performers leverage advanced processes and tools. These results can be used as guidelines for other industrial equipment companies to improve their growth and profitability.