What I learned this week … is that there are still some technical challenges that make implementing PLM challenging, but that is not what this post is about. The technical challenges include customization, data migration, and integration among others. See Oleg's post on the "3 main factors of mainstream PLM adoption" for more detail on each of these, and his views on why these three factors impact the adoption rate of PLM. I accept Oleg's premise on these factors (although we will likely continue to debate the relative priority of ERP integration) from a technical perspective.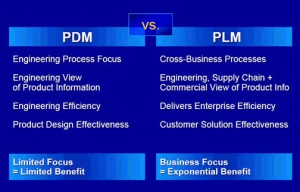 But I think any technical conversation about PLM implementation has to be complemented with a view on why PLM is really hard – you have to change the way people work in order to improve your product development performance and your product profitability.
Some Past Research in Implementing PLM (and some validation too!)
In August of last year, I wrote about some Aberdeen Group research on implementing PLM in Research Rap: Implementing PLM Takes Hard Work (when will we learn?). My key points then, which I will re-emphasize here are:
The value that can be achieved is significant, and can impact company performance and profitability
That value will require changing the way the business operates, which takes more effort than loading up some new software
In reviewing my prior post, I also noticed a comment from Martin Ohly referencing his website, global plm.com. He has a number of slides on his site, one which I replicated (in part) above. I dropped the company reference because I don't have permission to publish it (see Martin's site, it is a very well respected, global company) but I really liked it because in comparing PDM to PLM it mentions two points that I think mirror (and validate) the points from my earlier post:
PLM has Business Focus = Exponential Benefit (vs. limited benefit for PDM)
PLM addresses cross-business processes, supply chain, commercial view or product, enterprise efficiency, customers
I would take some liberty and say that point number two on the slide is very closely related to my point number two above, and they are both a big part of why PLM is hard. The interesting thing is that the slide is dated February, 2004! This is not a new issue. And as my previous post indicates, this is something we should have learned from implementing other enterprise applications like ERP and supply chain – the technical challenges pale compared to the need to change the way people work!
Implications for Manufacturers?
So why am I jumping up on my soapbox this Monday morning? I believe that PLM is hard not because of technology, but because of people. I am not disagreeing with Oleg that there are technical challenges (and he probably knows them better than I do, frankly). But manufacturers need to keep the two points above in mind. Implementing PLM requires a business transformation effort, not a software install. This is what I wrote about in my post last week about the PLM ecosystem being ready to implement PLM. Manufacturers can't lose sight of the importance of business processes and people in their focus on a sound technical implementation! I know this isn't what Oleg is suggesting, but both aspects need to be considered when you discuss what is required for PLM adoption.
So those are my views on why implementing PLM is hard (but worth it), I hope you found it interesting (and maybe even useful).