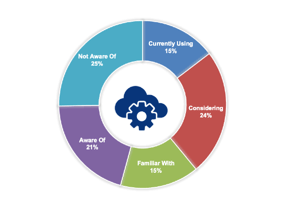 Digital transformation creates, exposes, and widens gaps in processes, organizational approaches, and systems. This leads 96% of industrial companies to say they need to create and implement new software more quickly. Addressing these application shortfalls is critical to long-term business success. Is developing applications with low-code the answer to filling the gaps? We surveyed over 300 manufacturers to find out. 
Our new eBook, Filling Digital Transformation Gaps with Low-Code, looks at the challenges companies face today and how low-code development approaches can help.
Please enjoy the summary* below. For the full research, please visit our sponsor Siemens (registration required).
Table of Contents
Digital Transformation Demands Development Agility
Examining Digital Transformation Gaps
Challenges
Filling Digital Transformation Gaps
IT Capabilities
Exploring Low-Code Development
Benefits
Conclusions
About the Research
Acknowledgments
Digital Transformation
Digital Transformation Puts Pressure on Development
Digital transformation is crucial to the success and profitability of today's industrial companies. But transitioning to a digital business exposes shortfalls and creates gaps in most companies' software ecosystems.
Manufacturers must fill the gaps in their company's processes, organizational approaches, and systems. Developing solutions to meet digital demands puts significant pressure on application development to do more – and do it faster! How can manufacturers improve the way they develop software applications to fill their digital transformation gaps and achieve their business strategies? We surveyed over 300 manufacturers to find out.
Digital Transformation Demands Development Agility
Business Risk
Survey respondents share that the digital transformation trend in manufacturing impacts companies in many ways. Digitalization creates business complexity and risk that challenge company viability. Our research shows that about three-quarters of companies shared that business risk and disruption increased for their market over the last five years, and a full one-half of companies with over 10,000 employees said that it had grown "significantly." These risks demand rapid responses.
Demand for Agility
The most commonly reported business benefit is the flexibility to work anytime / anywhere, reported by two-thirds of participants. This is followed by ease of collaboration. This capability, along with the ability to have more integrated workflows as reported by about one-half of companies, allows OEMs and the supply chain to work together more efficiently and effectively. This is particularly important for Automotive companies given the global nature of their business, the need to be agile, and the integrated nature of the automotive value chain.
Impact on Software Development
Digital transformation's impact on software needs is dramatic. It creates the need to update legacy solutions built for different times and increases the demand to integrate systems and people. It generates the need for new kinds of solutions, including personalized solutions that provide simpler, more focused "apps" that help users accomplish a task and the need to implement new technologies such as Artificial Intelligence (AI) and Augmented Reality (AR). Companies can't expect to meet these demands if they continue developing solutions in the same way they have been.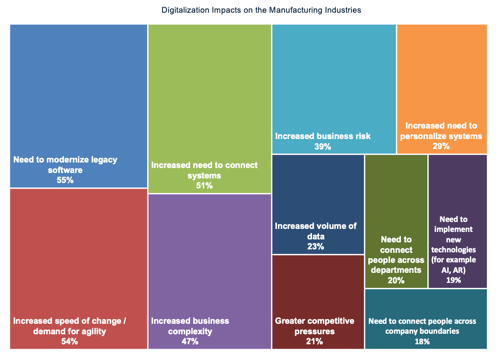 Conclusions
Digital Transformation Gaps
Manufacturers are keenly aware that digital transformation increases business complexity and risk. Digitalization increases the speed of change, demands more agility, and creates the need for more (and faster) software development.
The vast majority of companies have gaps across the digital transformation initiatives they are pursuing. Few companies can fill these gaps very well. This disadvantage is partly due to technical challenges and partly due to their poor ability to collaborate with critical subject matter experts.
Filling Gaps with Low-Code
Companies must fill their gaps and they are doing so by both building and buying solutions. Low-code development provides them with the ability to build custom their solutions faster. It also enables companies to integrate and extend their COTS solutions more rapidly. Although still in early adoption, low-code development addresses companies' technical challenges, creates development agility, and supports collaboration so manufacturers can efficiently modernize legacy systems and deploy new applications.
The result is that manufacturers using low-code development are better able to fill their digital transformation gaps. We believe that low-code development is a critical capability to explore to drive overall digital transformation efforts.
*This summary is an abbreviated version of the ebook and does not contain the full content. For the full research, please visit our sponsor Siemens (registration required).
If you have difficulty obtaining a copy of the research, please contact us.