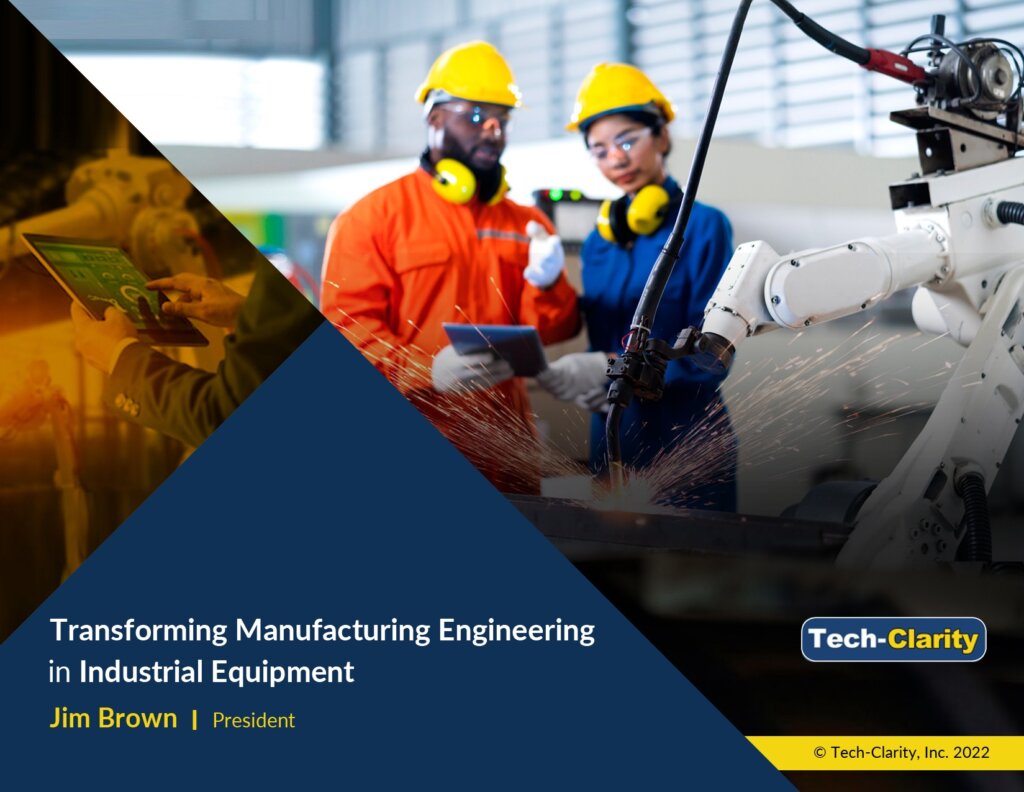 How can manufacturers improve manufacturing engineering? We surveyed 177 people directly involved with manufacturing engineering and found that modernizing processes and technology drives higher manufacturing engineering productivity and performance. These improvements are crucial to profitability in the industrial equipment industry as customers demand high quality, more personalized products at increasingly faster time to market; all despite rising product and manufacturing complexity.
Survey results show that Top Performers waste less time on non-value-added activities, find issues sooner, and spend less on physical prototypes. They accomplish this through best practices, including more advanced collaboration and communication methods and increased use of 3D and simulation, to plan and validate manufacturing operations with digital twins. 
Please enjoy the summary* below. For the full research, please visit our sponsor Dassault Systèmes DELMIA (registration required).
This eBook shares additional data analysis and insights for the industrial equipment industry from our Transforming Manufacturing Engineering with Virtual Build research. Watch this three-part on-demand webinar series with Jim Brown to learn how manufacturers can improve manufacturing engineering and technology.
Address Process Designer Challenges
Manufacturing Engineers Face Increased Complexity and Change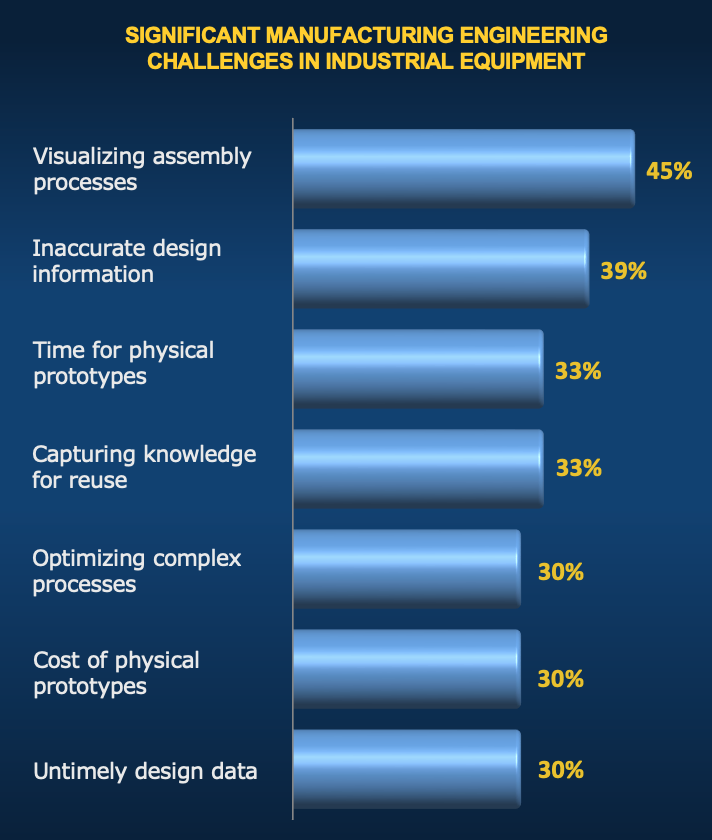 Manufacturing is more complex than ever. Complexity has increased in three areas; products, manufacturing processes, and markets. Today's products are offered with increasing numbers of variants and configuration options and require a combination of mechanical, electrical, and software components. Today's production may include industrial additive manufacturing capabilities, and involves increased automation. In addition, increasing demand for automation and new power sources including electric, hydrogen, and solar are accelerating the rate of change in the industrial equipment industry. Finally, manufacturers are shifting production and reshoring as the industry is trying to cope with supply chain issues. Despite these, manufacturing engineers need to decrease cycle times and improve quality.
Challenges Reflect Lack of Ability to Visualize, Data Challenges
Manufacturing engineers must overcome significant challenges to design and validate production processes. The most commonly reported challenge is the inability to visualize assembly processes. This makes it challenging for planners to optimize process plans and provide feedback on manufacturability. The inability to experience production virtually leads to the need for time-consuming, costly physical mockups. 
They also report challenges with obtaining accurate, timely product design data which limits the ability for manufacturing engineers to work in parallel to shorten time to market.  Finally, respondents report challenges with the time required to build prototypes, their ability to capture knowledge for reuse, and optimizing complex processes. 
Too Much Wasted Time
Survey respondents identified manufacturing engineering inefficiency as both a challenge and profitability requirement. Researchers further inquired about the amount of manufacturing engineering time that participants estimate their companies spend on non-value-added activities, including:
Searching for data

Rekeying information

Recreating data

Documenting feedback for others

Modeling common assets

Other activities that don't involve engineering innovation and decision making
Participants state that, on average, 25% of manufacturing engineering time is spent on these non-value-added activities. This wasted effort points to a significant opportunity for improvement.
Recommendations and Next Steps
Make a Strategic Improvement
Today's product, manufacturing process, and market complexity demand new ways of working. The Top Performers are transforming manufacturing engineering through digitalization, better collaboration, 3D, and simulation allowing them to overcome efficiency, quality, and cost challenges. Using virtual, digital twins offers manufacturing engineers in the industrial equipment industry both the ability to improve their own performance and a strategic opportunity to increase overall product development profitability. These leaders spend 17% less time on non-value-added activities in manufacturing engineering, directly reducing development cycle times.
Increase Quality
Respondents indicate that they can reduce ECOs by over one-third. They do this by improving manufacturing process design using virtual technologies. Top Performers are more likely to find physical manufacturing issues in a virtual model than Others who are more likely to discover them in physical prototypes and actual production.
Reduce Cost
Survey respondents share that they can eliminate 37% of their prototypes by increasing manufacturing engineering maturity, leading to significant cost savings per product. They do this by shifting validation and issue identification sooner in the product development process so they need fewer physical prototypes. 
Improve Time to Market
Survey respondents report that they can reduce time to market by 35% by using 3D and simulation to plan and validate manufacturing operations. This is done, in part, by increasing efficiency, reducing time-consuming physical prototyping, and lowering rework by finding issues sooner in product development. 
Get Started
It's time to improve manufacturing engineering productivity and performance. Industrial equipment companies can follow the lead of the Top Performers to increase maturity in how they plan, validate, and communicate manufacturing plans. To increase maturity, manufacturers should adopt the best practices of the Top Performers, including using integrated solutions such as 3D and simulation for manufacturing engineering.
*This summary is an abbreviated version of the research and does not contain the full content. For the full research, please visit our sponsor Dassault Systèmes DELMIA (registration required).
If you have difficulty obtaining a copy of the report, please contact us.