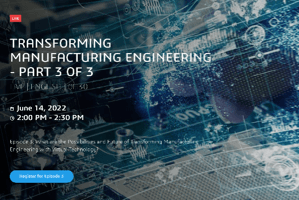 How are manufacturers improving manufacturing engineering performance with better practices and technology? Join this webcast as Jim Brown previews survey results from our 3D and Virtual Simulation in Manufacturing Engineering study.
Companies are under increasing pressure to deliver more complex and personalized products to market faster to meet consumer demands. As the pace of design, engineering and manufacturing climbs, so does the challenge of maintaining high levels of quality without incurring additional cost and delays.
The virtual build process focuses on technology and process that can bridge the gap that exists between engineering and manufacturing and enable companies to achieve their goals of satisfying customer demand and capturing market share without sacrificing profit or quality.
Join Tech-Clarity's Jim Brown and Dassault Systemes Delmia's Strategic Business Development Director Adrian Wood in a discussion about how manufacturing engineering is evolving.

Register now for the final webcast of this three part series hosted by Dassault Systemes Delmia.
Click here to watch the first webcast in this series, also featuring Jim Brown and Adrian Wood.