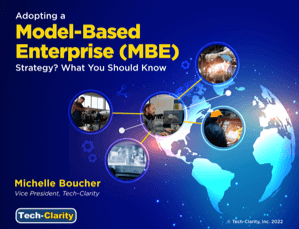 What should you consider to ensure your MBE strategy is successful?
Manufacturers adopting a Model-Based Enterprise (MBE) strategy report improved traceability and agility, faster delivery, greater efficiency, and lower costs. What should you consider to realize similar benefits? An MBE is an organization that uses digital models to support commissioning, operating, servicing, and decommissioning a product, thereby eliminating many of the process and coordination challenges associated with managing products with paper-based, manual processes throughout their lifecycle.
Adopting a Model-Based Enterprise (MBE) Strategy? What You Should Know, a research report based on a survey of 250 discrete manufacturers, establishes a "state of the market" for MBE adoption. In addition, it identifies best practices and considerations to help you progress to higher maturity levels during your MBE adoption journey. This understanding should help manufacturers better plan and prepare for the journey by leveraging people, process, and technology to maximize return on investment as early as possible.
Please enjoy the summary below.* For the full report, please visit our sponsor iBASEt (registration required).
Table of Contents
Executive Summary
MBE Definition
Adopting MBE
Top Performers
Maturity Index
MBE Impact
Adoption Challenges
Recommendations
About the Research
Acknowledgments
The MBE Vision
Realizing the Vision
The ultimate vision for MBE is for every function to leverage the product model across the entire product lifecycle (see graphic). However, this vision will take time to realize. By planning for it now, your company can start experiencing some of the early benefits, but it can be tricky figuring out how to get started. This eBook provides guidance to help you begin, proceed along the journey, and anticipate potential challenges that could inhibit progress.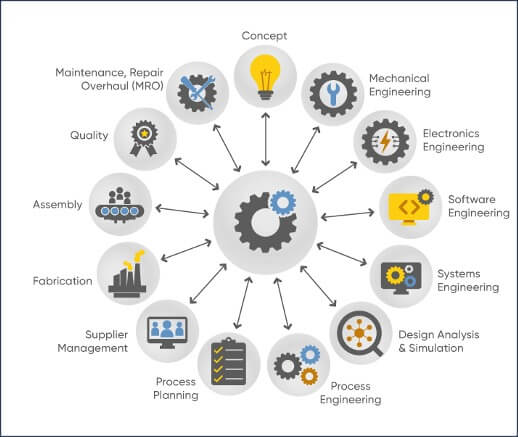 Adoption Conclusions
Challenges Evolve
As companies start their journey, they run into many process challenges. However, as they work through it, process is less likely to be a top challenge.
On the other hand, technology is less of an adoption hurdle early on. However, as the journey progresses and companies automate more, technology plays a more prominent role and it becomes a bigger challenge.
Overall, the people and culture challenges are the biggest adoption hurdle, regardless of where companies are in the journey.
Success Considerations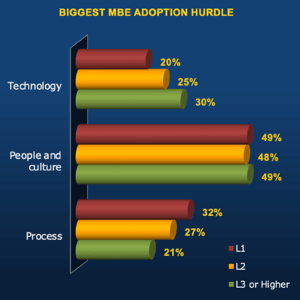 Do not let technology concerns hold you back as you start the MBE journey. MBE offers benefits early on, while technology does not become a bigger issue until later.
Upfront, think more about process. This is an opportunity to modernize and rethink how processes should work without the limitations of current approaches. Today's environment and products have evolved significantly, so processes developed decades ago will likely hold you back.
Do not overlook people and culture changes. Executive support is critical, and training needs must be addressed regularly throughout the journey. Employees need to understand the value of the new approach, why it is better for them, and how it will help them do an even better job, in less time, with higher quality.
Vendors who have a strong vision for MBE can be a great asset. Those involved in standards organizations such as NIST will likely support the latest standards. Look for software solutions that will leverage semantic PMI to automate work.
Recommendations
Recommendations and Next Steps
Based on industry experience and research for this report, Tech-Clarity offers the following recommendations to adopt an MBE strategy:
Use MBE as an opportunity to rethink your business operations to enable greater efficiency, lower cost, and improve quality while better serving your customers.
Consider using the MBE Maturity Index as a framework to guide your adoption journey.
Ensure executives are involved enough to provide support and leadership as needed.
Establish new processes structured around a 3D model to help overcome ingrained 2D processes.
Use CAD tools with more mature capabilities for model-based product definitions, MBD.
Work with software vendors who have a vision for how Operations should leverage semantic PMI. Keep in mind, MBE spans multiple domains and includes solutions for Engineering, Manufacturing, and Quality.
Use vendors who are involved with standards organizations so that you can benefit from the best practices developed by these independent organizations.
Do not overlook the people challenges. Meeting training needs and ensuring all staff understand the business value and benefit to them will be critical to overcome the cultural resistance to change. This should be an ongoing consideration, especially as new technology is introduced throughout the entire journey.
*This summary is an abbreviated version of the research and does not contain the full content. For the full research, please visit our sponsor iBASEt (registration required).
If you have difficulty obtaining a copy of the report, please contact us.