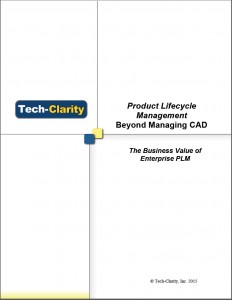 Product Lifecycle Management Beyond Managing CAD, The Business Value of PLM shares survey results exploring the value of PLM beyond managing design files such as CAD. While the research finds that most Top Performers manage CAD in PLM, they also do a lot more. The research shows that Top Performers – the ones that report higher revenue growth, margin expansion, cost reduction, and product innovation – are much more likely to extend PLM further and take more holistic, process-oriented, enterprise-wide view.
Please enjoy the summary below, or click the report to download a PDF overview (free of charge, no registration required).
For the full report, please visit Engineering.com (free of charge, registration required, sponsored by Autodesk).
Table of Contents
Executive Overview
Benefits of Product Lifecycle Management
Putting PLM in the Business Perspective
Battling Complexity
Combatting the Business Impacts of Complexity
Identifying the Top Performers
Adopting a Process-Centric PLM Approach
Expanding PLM Across the Enterprise
Expanding PLM Across the Supply Chain
Explore the Relationship Between PLM and PDM
Integrating PLM with Other Systems
Taking a Process versus Data-Centric View
What about the Cloud?
Conclusion
Recommendations
About the Author
About the Research
Executive Overview
The concept of Product Lifecycle Management (PLM) software and the reality do not always match. PLM software started as a way to expand the value of Product Data Management (PDM) by adding additional information such as release status, BOMs, and ECOs. But the real promise of PLM – supporting enterprise-level processes for product innovation, product development, and engineering – offers much higher, strategic value.
So why haven't more companies taken advantage of the benefits of process-centric PLM? Some of the reason is historical, because most early PLM systems were really CAD data management with some added features. But another part is simply how important good data management is. As Tech-Clarity's recent The Facts about Managing Product Data shows, "PDM's ability to help companies control, access, and share product data is a powerful tool that helps companies improve top- and bottom-line performance."
PDM adds value on it's own and is a logical starting point. But many implementations stop there, while others continue on to support more processes. Alternatively, today's modern, enterprise-focused PLM systems offer the opportunity to start with processes in the first place. So which drives higher value, a data-centric or process-centric approach? We surveyed over 200 companies to understand if they take a data management or process-centric view of PLM to find out. We identified the "Top Performers," those that excel beyond their peers in revenue growth, margin expansion, innovation, and cost reduction, and analyzed their PLM approach to see what leads to better performance.
The survey results lead us to believe that process-centric, Enterprise PLM drives better business performance, but also finds that core PDM capabilities are an important value driver. Specifically, the survey finds that Top Performers are more likely to:
Execute processes that go beyond the technical definition of the product to the commercial aspects of the offering
Leverage more advanced PLM processes including cost and quality management
Have more departments and third parties using PLM
Use core PDM capabilities more than "Others"
Tightly integrate PDM and PLM
Integrate PLM with other enterprise information systems and engineering tools