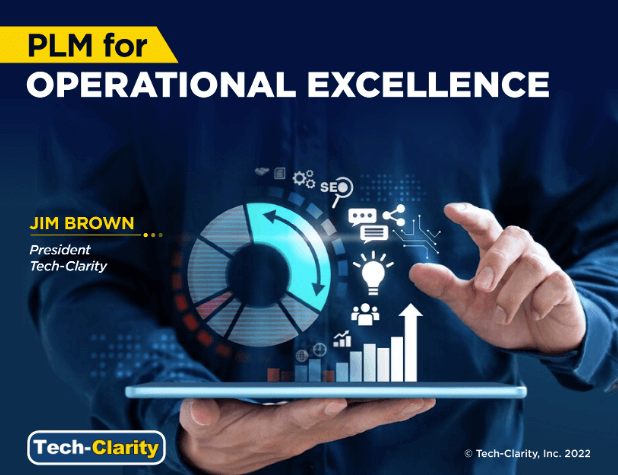 How can PLM, traditionally an engineering-centric solution, drive innovation, agility, and operational excellence? Manufacturers need to create agility in their business and processes so they can respond to increasing business risk and bounce forward better than ever. To do this, Engineering and product development have to fundamentally change. They have to focus on the big picture, not just engineering, to develop profitable products. PLM's role needs to expand to support them.
Read our eBook to understand how to choose the right PLM to support operational excellence.
Please enjoy the summary* below. For the full research, please visit our sponsor QuadRite (registration required).
Table of Contents
Risk and Disruption Demand Change
The Evolution of Engineering
Choosing PLM
The Basics
Expanding PLM for Operational Excellence
Expanding PLM – Process
Expanding PLM – People
Expanding PLM – Lifecycle
Expanding PLM – Product
Conclusions and Next Steps
Acknowledgments
Expanding PLM for Operational Excellence
The Four Dimensions of PLM Expansion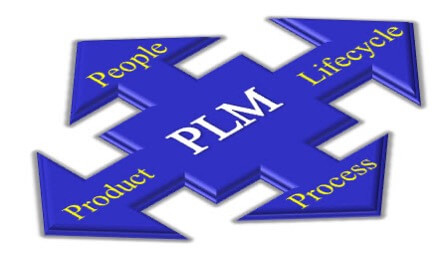 PLM implementations must go beyond the basics to support operational excellence. We'll discuss four important ways that PLM has expanded in order to support operational excellence:
Process: Improving processes beyond basic revision control and release to manufacturing
People: Including more people and departments beyond Engineering, including partners, the supply chain, and customers
Lifecycle: Supporting upstream and downstream capabilities beyond design
Product: Expanding beyond product design to a full product definition
Each of these expands the value of PLM, supports more mature product innovation practices, and helps make better use of product information throughout the enterprise. Together, they support the pursuit of operational excellence.
Expanding Communication with PLM
Another valuable dimension of PLM expansion is by supporting broader communication and collaboration between Engineering and the rest of the business. This can be looked at in two directions:
Inbound: Enabling engineers to better use information coming out of other business areas such as Procurement, Quality, Manufacturing, and others to design for operational excellence
Outbound: Making better use of information coming out of Engineering in other areas of business such as Marketing, Sales, Service, and more to support broader product innovation, development, manufacturing, and support process to drive operational efficiency
"To start, PLM supports document management, design control, and training. That sets the foundation for product development process compliance. Then, you can build on that to support operational needs like NCMR, suppliers, CAPA, change control, and complaint handling as you go to the commercial phase."   

– Scott King, Director, IRIDEX CORPORATION

"We started with ECOs, took some small bites, then expanded it more broadly by implementing it with supply chain, customers, drawings, orders, contract tracking, and source tracking. They lend themselves perfectly to PLM."    – John Baumann, CEO, THINGAP, INC.
Conclusions and Next Steps
Moving Toward Operational Excellence
Manufacturers have to recognize the need for innovation, agility, and operational improvement. Business risk and disruption are threatening profitability and survival for many businesses. Products and markets have changed, demanding more.
Recognize the New Role of the Engineer
To support more supply-chain centric, operationally-focused product development processes the role of engineers has changed. They must be able to access a wider array of information in order to make broader product-related decisions. This, in turn, changes the requirements for the PLM systems that support them.
Choose the Right PLM Solution to Drive Operational Excellence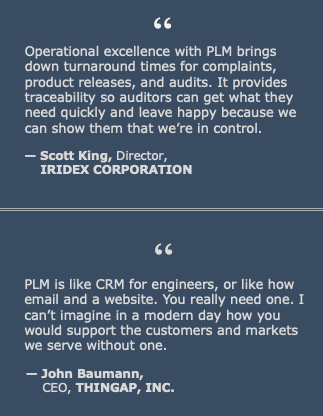 The four dimensions of PLM expansion provide a framework to understand what's needed to drive operational excellence. Traditional, Engineering-centric PLM systems are not sufficient for fast-moving industries like high-tech and medical devices. Companies in these industries need a PLM solution built for the enterprise and the supply chain.
Lastly, manufacturers must get a solution that delivers on the promise of PLM. Systems selections and implementations should be driven by cross-functional teams that represent all aspects that impact product profitability. Selection requirements should span the enterprise and focus on how the system supports the new role of engineers and product developers. This is the way that companies can ensure that they select the right PLM systems to drive operational excellence.
*This summary is an abbreviated version of the research and does not contain the full content. For the full research, please visit our sponsor QuadRite (registration required).
If you have difficulty obtaining a copy of the report, please contact us.