A quick peek into some research on … the technology behind PLM applications, and what today's CIO needs to know to support it. The research from Tech-Clarity, Enabling Product Lifecycle Management: The CIO's Guide to Supporting a PLM Initiative,  points out unique implementation and support challenges the CIO and their team must be aware of in order to get the most business value out of PLM.
The Research Findings
The CIO's organization is getting more involved in PLM implementations. While many Engineering IT teams have managed CAD and other engineering software and supporting infrastructure, PLM is getting more attention from the enterprise IT team because it has become – (wait for it) – an enterprise application. I know, it only makes sense.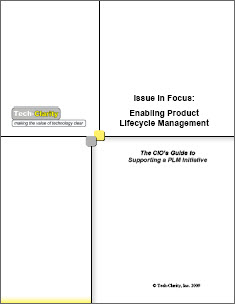 Implementing enterprise class applications has different considerations than installing design tools, and enterprise IT typically has more experience with systems that span the organization and the supply chain.
Having said that, PLM is not ERP. Nor is it CRM, SCM, or any host of other business-oriented enterprise applications. PLM, by the nature of the processes and data it addresses, comes with some unique information technology challenges. Here are some of the considerations discussed in the report:
Protecting IP – PLM data is concurrently highly confidential, and much more valuable when shared broadly. Intellectual property is more likely to be shared as collaboration expands, and a lot of that collaboration is outside of the control of the corporate firewall.
Huge Files – Engineering and product development data is different than large volumes of transactional data. There are some potentially significant issues arising from managing and collaborating on large files in order to support PLM.
Scalability – PLM is expanding to more people, a broader view of the product, to more of the product lifecycle, and supports more processes. Implementations needs to plan for expansion along multiple dimensions, which could potentially create an exponential demand on IT infrastructure.
Architecture – PLM vendors are moving to enterprise architecture, providing support for the challenges above but also introducing new challenges. The good news, though, is that these challenges are ones that the many corporate IT groups have already addressed.
PLM also brings about integration challenges. Companies have to be ready to support frequent, bi-directional, real-time integration between PLM. If not in the first phase, potentially sooner than they think. See more on ERP-PLM integration in the Evolving Roles of ERP and PLM report and Mythbusting ERP-PLM Integration post. PLM integration with ERP and the rest of the manufacturing systems ecosystem is becoming more important and more prevalent.
Implications for Manufacturers
The good news? The PLM industry has learned from large scale PLM deployments, and has developed technology and best practices to address these issues. IT professionals today are not blazing the trail when they implement PLM. PLM is becoming much more mainstream. But it is also evolving to more of an enterprise application than just product data management (PDM), and moving into the enterprise realm. There is help available, from peer manufacturers that have undergone the transiiton and experienced consultants alike.
So that was a quick peek into some recent research on getting PLM technology right, I hope you found it interesting. Does the research reflect your experiences? Do you see it differently? Let us know what it looks like from your perspective.
Please feel free to review more free research and white papers about PLM and other enterprise software for manufacturers from Tech-Clarity.