PTC Creo is an engineering design suite of applications which came from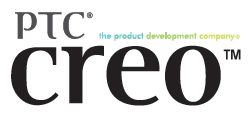 PTC products formerly called Pro/ENGINEER, CoCreate, and ProductView. Among the apps in the PTC Creo suite are Creo Parametric, Creo Direct, Creo View, Creo Simulate, and Creo Sketch.
What led PTC to this unique apps approach and where are they looking to go with Creo? This post is part of Tech-Clarity's Strategic Visions of CAD and CAE Providers 2014+ where I am sharing my thoughts on the different vendor strategies for the engineering software space.
A Brief History – The Evolution of Parametric Modeling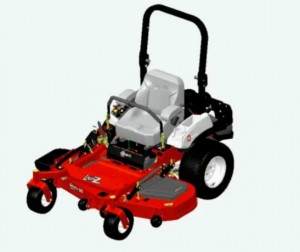 PTC revolutionized the 3D CAD market in the late 1980s/early 1990s with its flagship product, Pro/ENGINEER. Described as a feature based, parametric, associative modeling solution, Pro/ENGINEER changed the approach to 3D CAD modeling. Feature based meant that the software "understood" what it meant for a feature to be a hole, cut, slot, or protrusion. In addition, models were driven by parameters. Combining this with the associative nature of the product meant changing a hole location resulted in automatic updates to all associated features, plus all the different views in the drawings. Making a change once and having everything else update automatically not only offered a productivity boost for engineers, but also reduced the chance of errors. Before using Pro/E (as it was commonly called) I remember all too well from my engineering days how tedious it was to repeat an engineering change in all 3 drawing views. Without an associative parametric modeler, it was just too easy to miss something in one of the drawing views or worse, forget to update a dimension.
Also unique at the time, Pro/ENGINEER was independent of the hardware. This meant that PTC could stay focused on improving its software without devoting resources or incurring the cost of maintaining hardware inventory. Later, falling hardware prices hurt many competitors, but had no impact on PTC. When lower cost Windows NT workstation became available, PTC was able to port Pro/ENGINEER to Windows. This meant customers could lower the cost of ownership by avoiding the high cost investments in Unix workstations, making 3D CAD modeling even more accessible to a wider range of companies, especially those with tighter budgets.
By the mid to late 1990s, capitalizing on trend for lower cost Windows workstations, new competition emerged for midmarket CAD solutions. Customers in this segment had similar needs as those who used high end CAD, but typically had fewer resources so needed to keep costs down and minimize training. These customers had an even greater appreciation for software that was easy to use. In 2003, PTC responded with Pro/ENGINEER Wildfire. Wildfire represented a drastic redesign of the user interface (UI). The older, menu driven UI was replaced with more of a Windows icon driven approach. PTC promoted Pro/ENGINEER Wildfire as simple, powerful, and connected. The idea being that the user interface was easy to use, yet powerful enough to handle the most complex products, and the software took advantage of internet technologies and PLM for better collaboration. Offering a single solution that scaled from the low end to the high end was a unique approach as many of PTC's larger competitors had one solution for the high-end market and a separate solution more tailored for the mid-market.
Introducing Direct Modeling
As the market evolved, another modeling approach emerged, typically referred to as direct modeling. While parametric, history based modeling is very powerful, sometimes making major changes can be a challenge. A history-based approach means that features have an order with how they are added, much the way a part is manufactured. As new features are added, they may reference earlier features for the locating dimensions, creating a parent-child relationship. The power is that when the parent moves, the child moves with it. However, issues can arise when the change is so drastic, the child loses some of the information needed to define its location or shape and it fails. Then all the children of the child also fail. Direct modeling is more like modeling with clay; surfaces can be pushed or pulled, without any dependence on the order in which they are created. It offers a lot of modeling flexibility that can enable very quick changes.
In 2007, PTC acquired Co-Create which was a direct modeler and PTC began incorporating that technology into Pro/ENGINEER to create the next generation of its CAD solution. By this time, Pro/ENGINEER had been on the market for about 20 years and while the UI had been completely redesigned, there was some difficulty shaking off the reputation of being difficult to use. PTC took this issue very seriously and back in 2009, PTC told me they had hired a UI consultant to help them streamline the workflow for their next generation solution. To reinforce how evolved this new generation of Pro/ENGINEER was, PTC rebranded its design suite so that it is now called PTC Creo and Pro/ENGINEER is now PTC Creo Parametric. The 2010 announcement for PTC Creo is described in this Tech-Clarity post and the first version was released in June 2011.
PTC's Strategy for Modeling Approach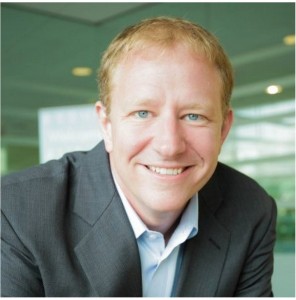 With Creo, PTC has combined the parametric modeling approach from Pro/ENGINEER with the direct modeling capabilities of Co-Create. I recently had breakfast with Mike Campbell, Executive Vice President of the CAD segment at PTC, and he confirmed that even with all the work that has gone into the modeling approach in Creo, the kernel, Granite, has remained intact; they have just added to it. A kernel can be thought of as the foundation for a CAD program. It defines how geometry is calculated and created.  This is an important point because by maintaining the same kernel, they are avoiding upward compatibility issues so older Pro/ENGINEER Wildfire and earlier files should still be retrievable in Creo.
To take advantage of both modeling approaches in the same modeling environment the Flexible Modeling Extension must be added to PTC Creo Parametric. How it works is when an engineer would like to access direct modeling functions, he or she selects the "Flexible Modeling" tab and can start working with direct modeling. Features or groups of features can be dragged and dropped. Rounds associated with those features will also intelligently update. Flexible modeling modifications then show up in the model tree so for example, if a feature is moved by dragging it, a new "move" feature is added to the model tree. This way, engineers do not need to keep track of which features have been modified using direct modeling, and features are not "converted" to direct modeling features. The model tree still serves as a list of the features in the model, but new intelligence is applied to maintain references so that the flexibility to make changes is not hindered.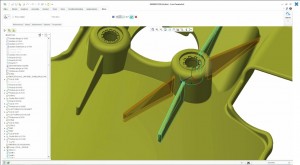 Engineers wishing to use only direct modeling, without entering a parametric environment, can do that with PTC Creo Direct, which is based on technology from Co-Create. What's interesting though is that with Creo, both products now share the same data model so that native files can be retrieved in each product. Models created in PTC Creo Parametric can be brought into PTC Creo Direct without any translation or surface clean up, and vice versus. Taking that even further, a model created in PTC Creo Parametric can be brought into PTC Creo Direct and changes can be made. Then the model can be brought back into PTC Creo Parametric and all the changes made in PTC Creo Direct are highlighted. The engineer can then go through and review and approve or reject those changes. The implications of this are very interesting. For example, one of the concerning trends for engineering, at least in the US, is that we have fewer students graduating with engineering degrees. In addition, as baby boomers are retiring, we will have fewer experienced engineers so new approaches are needed to get those less experienced engineers even more productive. This functionality is a nice way to involve junior engineers in the development process by implementing engineering changes, but then empowering a more experienced engineer to review and approve the work. Another use case could be working with suppliers. Suppliers are empowered to make changes, but it is easier for the OEM to see what those changes actually were.
Overall Strategy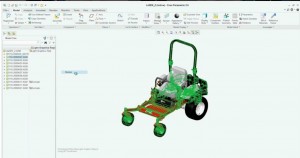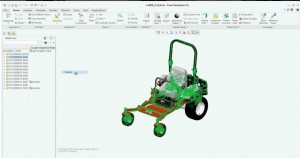 PTC has confirmed that since Creo was announced in Oct 2010, the strategy has remained consistent. The approach for Creo was to take the larger applications, formerly called Pro/ENGINEER, CoCreate, and ProductView and condense them into smaller apps, with streamlined workflows, targeted at specific roles. The idea is to get the right app, to the right person, at the right time. Breaking down the large CAD application into smaller apps is one of the ways PTC has differentiated from competitors. Initially, there was some skepticism about this approach, particularly wondering if PTC would have the ability to determine the correct and needed workflows and functionality to contain in each app. So far though, it seems to be working well for PTC as the strategy has been consistent. Also, Mike Campbell informed me that since Creo 2.0 was released in 2012, it has been the fastest adopted major release of PTC's CAD software.
The apps are designed to work either independently or together. To give the apps a common look and feel, the UI uses a consistent ribbon, much like a Microsoft application, so as users take advantage of new apps, there is a consistent user experience that will minimize training on a new app. Each app has been optimized for a common workflow for the targeted role. The current targeted roles are engineer, industrial designer, concept engineer, analyst and design reviewer, but as Creo matures and evolves, one can imagine those targeted roles will expand, especially outside of traditional product development roles to include others, such as marketing, who need access to product information, but are unlikely to attempt to use a CAD application. In addition, the apps all share the same common data model so everything from concept through detail design will read natively into all Creo apps.
I see the primary focus areas of the Creo strategy as:
Improved productivity

By combining the power of parametric modeling with the flexibility of direct, PTC joins other competitors to offer the best of both worlds. Engineers can build intelligent design intent into their CAD models while at the same time, capture quick ideas with direct modeling plus implement engineering changes with increased efficiency. What this means for engineering is less time working with the software and more time engineering, especially when executing engineering change orders (ECOs).

Greater ease of use

Targeted smaller apps should make it easy to access the functionality that is needed with a more streamlined workflow. In addition, the consistent ribbon UI is intuitive for user adoption, reducing training time on new apps. This "apps approach" is unique in the market. For engineering it means less time learning the software or trying to figure out how to get the software to do what's needed and more time working on new products.

Increasing the accessibility of engineering information

Role based apps should extend the reach of CAD information. A complex CAD application can be overwhelming, especially when only limited functions are needed. The apps approach makes it more accessible by giving users the functions they need without over complicating it with a lot of functions they have no use for. Some competitors are accomplishing this with visualization software, which PTC also offers, but PTC is the only one offering role based apps. With this approach, engineers who used to be interrupted helping others get access to the engineering information locked in CAD models can now focus on their work and those who used to need help from someone with access to CAD, are empowered to access the information they need, when they need it.

Scaling to customer's growth

Another part of PTC's strategy that is unique in the market is having a single solution to scale from the mid-market to high-end. This differs from competitors. Siemens and Dassault have each taken a two-tier approach, offering one solution for the high-end market and a separate one for the mid-market. For a smaller company looking to grow, PTC's approach could have its appeal. However, after many years of being considered a higher-end CAD solution, some in the midmarket still perceived Pro/ENGINEER as difficult to use and too complex for their current needs, despite steps to make it user friendly. The apps approach helps to reinforce that the functionality is scalable. In addition, the possibly controversial move to rebrand to Creo is intended to reinforce that PTC is looking to offer something new and different.
Another interesting aspect of the apps approach is the appeal to new engineers. The next generation of engineers has grown up with the internet and they are used to trying out small applications. The app based approach could be a more natural way for them to think about software. Helping its new engineers work in a way that is more comfortable to them could have its appeal for a manufacturing company, especially as more millennials enter the workforce.
With the launch of Creo 3.0 in June 2014, these areas have continued to be a focus area. PTC did a lot of work to support a multi-CAD environment with what they are calling Unite Technology. With this technology, customers can retrieve a native SolidWorks, Catia, or NX file inside of Creo, without converting it to a neutral format such as STEP. However, the link to native file is maintained so that when changes are made, the CAD model from SolidWorks, Catia, or NX will update automatically. This will help support better collaboration with suppliers or other engineers using other CAD tools. PTC plans to also add support for Inventor and SolidEdge in later releases of Creo 3. Another example of a productivity improvement is the addition of a hardware library for standard nuts, bolts, screws, and washers with a google style interface to find the appropriate part. Further saving time, Creo will automatically create the proper clearances holes for the components. Another interesting enhancement to Creo Parametric makes it easier to make changes. A Notification Center alerts users of changes that will cause feature failures so the user can evaluate the change and either incorporate or reject the change or leave it to act on at a later time. For failed features, the original references are graphically displayed so that those references can be more easily re-routed, along with all the children.
Looking ahead, I expect to hear more about what PTC is doing to extend the network for partner apps so that customers can enjoy an even greater range of apps. This could have some very interesting implications. At this time, PTC says there are not plans to build a PTC App Store similar to the Apple iTunes Store. Indeed, it is a hard thing to do for complex applications. However, as partner apps become available, one can envision such a store. If so, customers would benefit from being part of such a community, and one that they could contribute to. The opportunity to make such contributions is also something the newest generation of engineers will appreciate and relate to.
Looking even further ahead, given PTC's focus on service, I would not be too surprised if we eventually saw a Creo mobile app for service technicians to easily access engineering and assembly information from the field.
So these are my thoughts on Creo. I welcome comments and discussion from others to hear your viewpoint.
Related Posts
The Strategic Visions of CAD/CAE Vendors 2014+