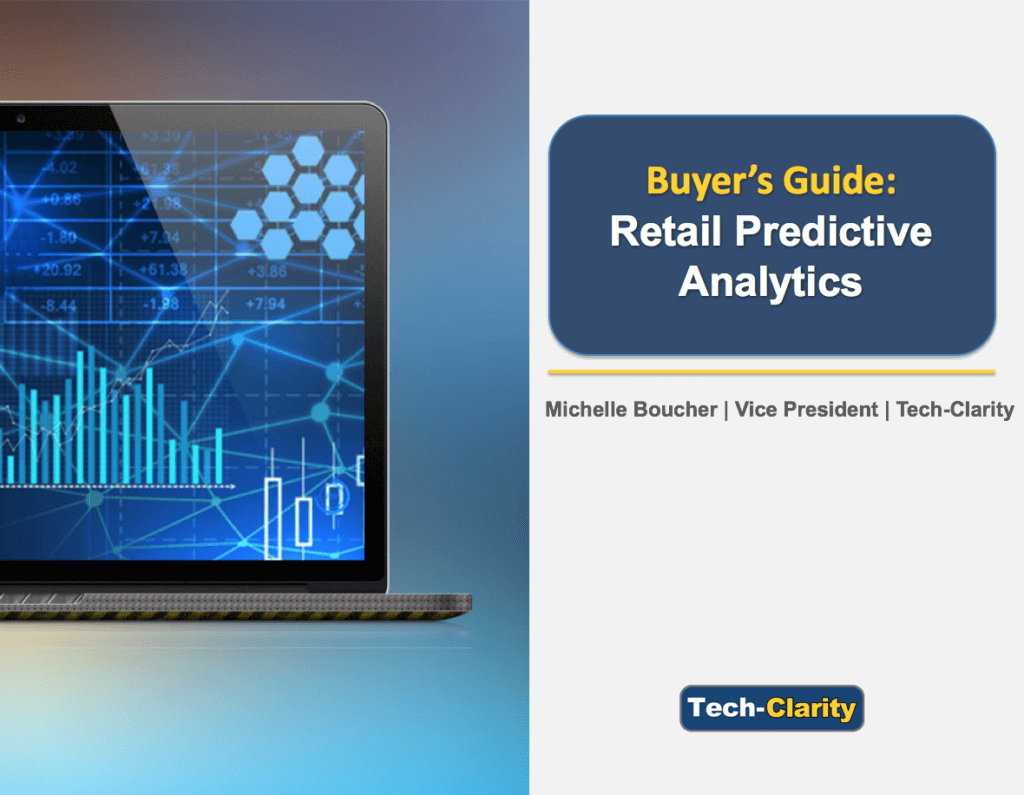 How do you navigate complex, omnichannel environments and manage multiple sources of data to make the best decisions? Can predictive analytics help?
Tech-Clarity's Retail Analytics Buyer's Guide explains how predictive analytics provide better visibility across your retail business so that you can make better decisions to become more competitive. As the retail industry faces significant disruption, new approaches are required to survive. With volatile markets and fierce competition, the right decisions are critical to survival. Unfortunately, complex omnichannel environments, global supply chains, and dynamic development teams make it practically impossible to get timely visibility into the business. Even if you can, will you have confidence in your decisions? With the right  predicative analytics solution, you can overcome these challenges, but only if you select the right technology. The research identifies eight capabilities to look for in a predicative analytics solution. These capabilities will help you make better decisions about your retail business.
Click here for the full eBook, thank you to our sponsor PTC.
WHY ARE PREDICTIVE ANALYTICS CRITICAL FOR TODAY'S RETAILERS?
In the retail industry, you need to support a complex, global, omnichannel environment, while navigating a dynamic market filled with economic volatility. It is not easy, especially as consumers have become more empowered and demanding through social media and online resources. To be successful, you need to make fast decisions, identify opportunities, respond to changing trends, react to competitors, adjust to shifts in the supply chain, and more. It's complex. In many cases, margins are so thin that missing a trend, failing to spot an opportunity, or making the wrong decision can significantly hurt profitability. A few weak seasons can be disastrous for a brand.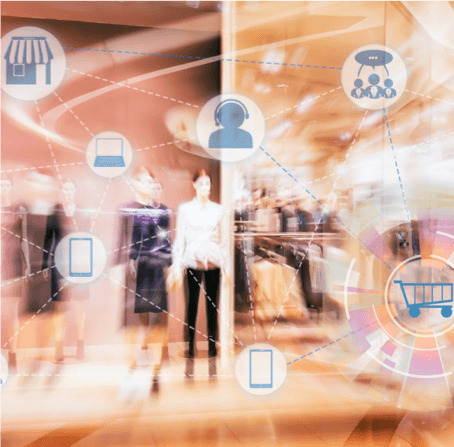 Making things even harder, the barriers to entry have dropped. It's no longer enough to compete by becoming the biggest brand and leveraging scale. Online marketplaces have expanded the reach of start-ups and small companies. In many cases, the playing field has been leveled as resources that were only available to the largest companies are now available to everyone. This situation has further intensified the competition. Retail companies who can respond to market changes before their competitors will have the advantage.
To survive, retail companies must be nimble enough to react quickly, but they can only do that with the right insights. Information and knowledge are now competitive weapons and technology can be key to unleashing its potential. That knowledge comes from every aspect of the organization from business operations, product trends, supplier information, and more. This buyer's guide reveals how retail companies can capitalize on their knowledge and uncovers eight capabilities that will help put the right technology in place to support them.
HOW DO PREDICTIVE ANALYTICS HELP?
The top challenges uncovered by research conducted by BOF and McKinsey reveal the importance of getting instant insights. The economic uncertainty related to events such as Brexit, a rise in protectionist policies in the US, a volatile stock market, and more can erode consumer confidence and make it even harder to predict buying trends. Key insights will help overcome some of this uncertainty. With online shopping and social media, consumers are more informed than ever, creating a need for retailers to know how they can best influence buying behavior. The right data, in context, will help. Merchandise needs to be at the right place at the right time while avoiding excess inventory. Retailers need to offer consumers the experiences that will keep them coming back, with the right products that reflect the latest trends. Again, analytics will guide those decisions.
SELECT THE RIGHT RETAIL PREDICTIVE ANALYTICS SOLUTION FOR YOUR NEEDS
By selecting the right software, you should get timely insights to help you bring the right products to market, optimize the management of supply chains, influence buying behavior and more. These needed insights will help you make smarter decisions which should lead to better operating margins
*This summary is an abbreviated version of the eBook and does not contain the full content. A link to download the full eBook is available above.
If you have difficulty obtaining a copy of the research, please contact us using the "Contact" link below.