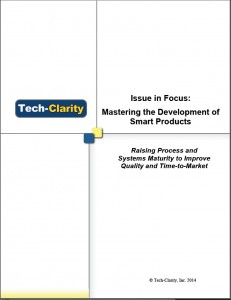 Issue in Focus: Mastering the Development of Smart Products – Raising Process and Systems Maturity to Improve Quality and Time-to-Market discusses the impacts that developing "smart" products has on product design and development. The report shares best practices for developing these products and managing the complexity arising from the integration of mechanical, electrical, and software design elements into the final product.
Please enjoy the summary below, or click the report or title to download the full PDF (free of charge, no registration required).
For more information from our sponsor please visit the Dassault Systèmes High-Tech Resources Center.
Table of Contents
Introducing the Issue
Improve Mechatronic Product Development Maturity
Define the Target
Plan the Product
Validate Early and Often
Design by Discipline and Validate to Interfaces
Aggressively Manage Change
Enable an Integrated Lifecycle View
Conclusion
Recommendations
About the Author
Introducing the Issue
Products are getting smarter. Today's "smart" products leverage an intelligent combination of mechanical, electrical, and software to deliver capabilities that simply weren't achievable with traditional approaches. Products are more responsive, adaptable, interconnected, and portable than ever. The trend is significant. As Tech-Clarity's Developing Software-Intensive Products indicates, manufacturers have not only increased the amount of software in products over the last five years, but "the importance of software in products and the level of product innovation driven by software have also increased significantly."
Smart products are compelling to consumers. It's hard to compete with a car that drives and parks itself or a clothes washer that senses and adjusts to water conditions, fabric types, and dirt levels. Likewise, a medical device that monitors its performance and schedules service when it needs repair offers significantly higher customer value. Benefits will increase even further as smart products become more aware and communicative, such as mobile phones that interact with neighboring devices, appliances, automobiles, and more.
It's clear why consumers like smart products, but there are even more reasons for manufacturers to love them. As Tech-Clarity's Systems & Software Driven Innovation concludes, "Leading companies will look to take advantage of (mechatronics) to improve their ability to tailor products, increase reuse, make agile updates to products in the field, reduce product cost, and lower product development cost." Smart products are the new reality. What impact do they have on engineering and product development?