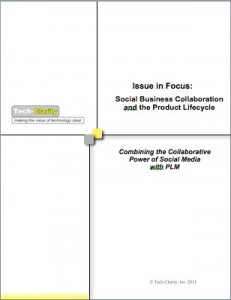 How can social computing solve product lifecycle management (PLM) problems? Here's a peek into some research, Issue in Focus: Social Business Collaboration and the Product Lifecycle: Combining the Power of Social Media with PLM, that helps clarify things a bit. I'll start with some of my thoughts on the value of social computing for product innovation and product development and then poke some fun at myself for totally missing something in regards to social computing in PLM (again).
Some Thoughts on Social Computing in PLM
First, let me step back. For those of you that follow my blog, have seen me present, had a drink with me, or passed me in a hallway you have probably heard me wax on about how Facebook fails for product development. I have probably overused it, but it was a powerful moment when a COFES attendee in my presentation on social computing and PLM said "We will not design an airplane on Facebook!" It was a passionate, and brilliant, statement. What that led to was the basis for my views on social computing and PLM. In short – the concepts behind social media sites like Facebook can provide a lot of value for product development, but sites like Facebook, twitter, Dropbox, and others are not the right approach.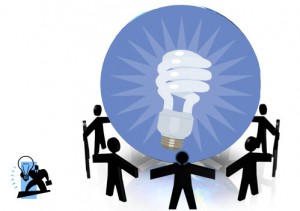 There are major gaps that would need to be filled, but one of the primary issues is that social media sites don't have any connection with the context of product development – the product. They also have no domain expertise (or interest) in PLM. See the post for more details, including a clever (if I don't say so myself) chart on the differences in using social media for personal use versus product development.
A Bit of Mythbusting – Why I Might be Wrong

So I had my ideas set. I believed that the only possible way that companies could get to a socially enabled PLM solution was by integrating social computing techniques into PLM. In fact, vendors like Siemens PLM, Dassault Systemes, and PTC have been hard at work doing just that. But something happened recently that made me ask the question. What if I was wrong!? Now I have been wrong before, and I like to confess to it. In fact, to be fair, I missed the impact that social computing would have on product innovation processes in my 2010 Predictions for PLM. My crystal ball failed me, I didn't even ask the question in my 2009 survey. I just didn't think it would happen so quickly. But I am a firm believer that the use of social computing in PLM is both highly valuable, and entirely inevitable. It just makes too much sense.

A new company came along that made me think differently. No, it's not Facebook or anyone like that. It is a new company called Nuage. They have a lot of PLM and product development expertise, and decided to come at the problem differently. They are building a platform for companies to collaborate first, and then adding in proven PLM capabilities. I have to admit I was surprised that they would do that, and I promise to follow up more on them over time. What they convinced me was the a social computing platform could be socially enabled as opposed to an existing PLM solution "going social." My myth that the only path was for PLM solutions to add social capabilities was busted. There is a bit more to the story, but that is for a different time. For now, back to the research.
The Research Findings
The research reiterates findings from previous Tech-Clarity research, including Tech-Clarity Insight: Going Social with Product Development and Tech-Clarity Insight: Product Collaboration 2.0 – Using Social Computing Techniques to Create Corporate Social Networks in regards to the value that social computing in PLM can offer. In addition, it defines what a social business collaboration platform requires to become a socially capable PLM solution, including the ability to:
Manage business processes
Put conversation in the context of products and projects
Integrate effectively with underlying data and documents
Provide security for IP
Allow people to easily share and discuss product development information
Understand the complex relationships between product data
Provide the right level of control
Of course the main finding from the research was that there are two potential paths to achieve socially capable PLM, not just one. In fact, there are probably three:
Add social computing capabilities to existing PLM solutions (or wait for your vendor to do it)
Implement social business collaboration solution and implement PLM capabilities into it (or find a vendor doing it, now an option)
Some combination of the two
This is a pretty interesting development, for sure.
Implications for Manufacturers
So what does this mean to product developers? The concept of adding PLM capabilities to a social business collaboration platform is worth investigating. There are four things to remember from the report that I believe are important for manufacturers to take away from the research (but go ahead and read it yourself, you might find more):
New product development is an inherently social, team-oriented, collaborative process that can be significantly improved with social computing.
The greatest benefit will come from combining the collaborative power of social computing with the control provided by PLM.
To realize the potential business value of social product development, the next generation of solutions will need to combine both social computing techniques and proven PLM best practices in a seamless way.
New market entrants lead to the possibility that social business collaboration software can be enabled with best practice PLM capabilities.
So that was a quick peek into some recent research on social business computing and PLM, I hope you found it interesting. Does the research reflect your experiences? Do you see it differently? Let us know what it looks like from your perspective. Please feel free to review more free research and white papers about PLM and other enterprise software for manufacturers from Tech-Clarity.
Note for frequent readers: I typically do not mix research results with mentions of specific vendors, however without mentioning a credible new market entrant I didn't think the post would make sense. If it weren't for somebody willing to take this new approach, I would still be sitting back believing that PLM would have to go social and that the other option wasn't viable (due to lack of focus and interest by the social media sites, for the most part).
Note: This post was updated to link to the research posting on the revised Tech-Clarity website