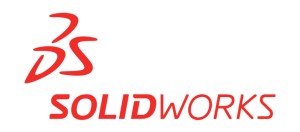 SOLIDWORKS World 2016 was held in Dallas, TX earlier this year. At the event, SOLIDWORKS revealed much about their strategy for this coming year and beyond. This post outlines 5 takeaways about SOLIDWORKS's strategy for 2016 and beyond.
This post is part of our CAD and CAE strategy series which complements our series on the Strategies of the Major PLM Vendors.
Dassault Systèmes SOLIDWORKS CEO Gian Paolo Bassi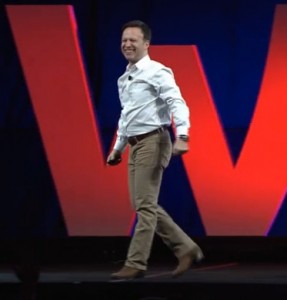 kicked off SOLIDWORKS World describing the challenges facing the SOLIDWORKS community. He said creating products faster is no longer enough to be competitive. He explained that the community is looking to develop products that are smarter, connected and create an emotional connection with customers. Products are no longer standalone, but need to create exciting experiences for customers. As Dassault Systèmes puts it, we have entered the Age of Experience. SOLIDWORKS's strategy has been built around these ideas.
The viewpoint from an engineering perspective is that the world is changing, and we are entering a new economy where more people are involved and want to shape products. The ability to tap into this as a source of innovation can help companies compete, but it requires new ways of working. SOLIDWORKS is looking to offer those new ways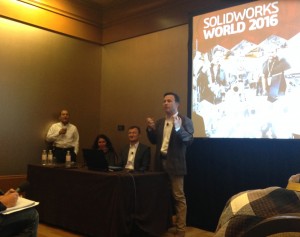 of working, while maintaining its commitment to their existing products.
Gian Paolo reminded everyone that SOLIDWORKS' mission has been, and still is, to make great designs happen. The focus at SOLIDWORKS is to improve current product design approaches while also keeping an eye on the future. SOLIDWORKS is taking advantage of the latest technologies to offer new capabilities for those who want it, while maintaining and improving the existing solutions. The following is a list of five ways they are accomplishing this.
1)   Flexibility and choice to work the way you want
As Gian Paolo put it, there will be three strategic pillars of offerings:
Desktop
This is the product SOLIDWORKS users know and love and it will continue to offer hundreds of enhancements every year. However, to add more flexibility to it, there will be additional licensing options:

Perpetual with maintenance: This is the traditional way that SOLIDWORKS has been licensed and will continue to be available for the foreseeable future.
Term License: This option allows customers to "rent" SOLIDWORKS for a limited time to meet occasional needs such as a surge in business or temporary employees.
Online trial: This allows you to try out SOLIDWORKS by running it in a browser, without any installations or hardware investments. Right now this option is only available for a trial license, but in the future it may become available as a commercial license option too.
Connected
These products, SOLIDWORKS Industrial Designer and Conceptual Designer, are focused on the conceptual phase of design, where innovation happens at a faster pace. These solutions offer a social environment to encourage collaboration and innovation. They also store design work in the cloud, so that collaboration and sharing ideas with customers and extended teams is easier.
Online
This will be a new generation of offerings. Currently, this pillar is in a technology preview state, but the offerings will run in a browser, anytime, anywhere, on any device.

2) Empowering news ways of working for those who want it
The big development is Xdesign, which is a major part of the Online pillar of offerings.  The technology previewed at SOLIDWORKS World 2016 showed a new design offering that runs in a browser and takes advantage of touch screen technology. Different users can simultaneously pull up the same design on an iPad, iPhone, and desktop. The idea is to improve efficiency, but also enable companies to more easily tap into each other's ideas. By expanding sources of innovation, SOLIDWORKS hopes to help its customers compete in the new economy. Xdesign will also offer many cool design features to extend the design paradigm. For example, functionality called Design Guidance will allow users to define performance requirements in terms of constraints and loads and the software will automatically generate the geometry. A private beta version will be available in May. For more information on Xdesign go to: xdesign.solidworks.com.
3)   Enhancing collaboration between mechanical and electrical engineers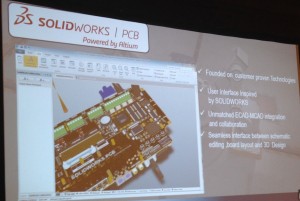 To develop smart connected products, mechanical and electrical / electronic engineers need to collaborate.  To support this, SOLIDWORKS has announced SOLIDWORKS PCB, which was developed in partnership with Altium. It allows engineers to to design Printed Circuit Boards (PCBs) and visualize and synchronize the data in the SOLIDWORKS 3Dmechanical design environment. PCB changes will automatically update the 3D model in SOLIDWORKS and, vice-versa, 3D model changes will update the PCB model. For more information on SOLIDWORKS PCB, go to: www.solidworkspcb.com.
4)   Investing in our future engineers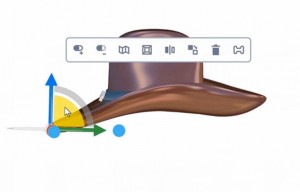 Continuing its focus on the future, SOLIDWORKS is also investing in future engineers with a suite of apps targeted at kids aged 4 to 14. The suite is still under development, but the initial apps will be: Capture It, Shape It, Style It, Mech It, Show It, and Print It. The goal is to encourage creativity and get kids excited about design and engineering. With the Print It app, they can even send their design to a 3D printer. The user interface was designed with kids in mind and is heavily icon-driven so that even pre-readers can have fun with it. The functionality scales to keep older kids engaged as well. For more information or if you would like to sign up a child aged 4 to 14 for the beta program, go to: appsforkids.solidworks.com.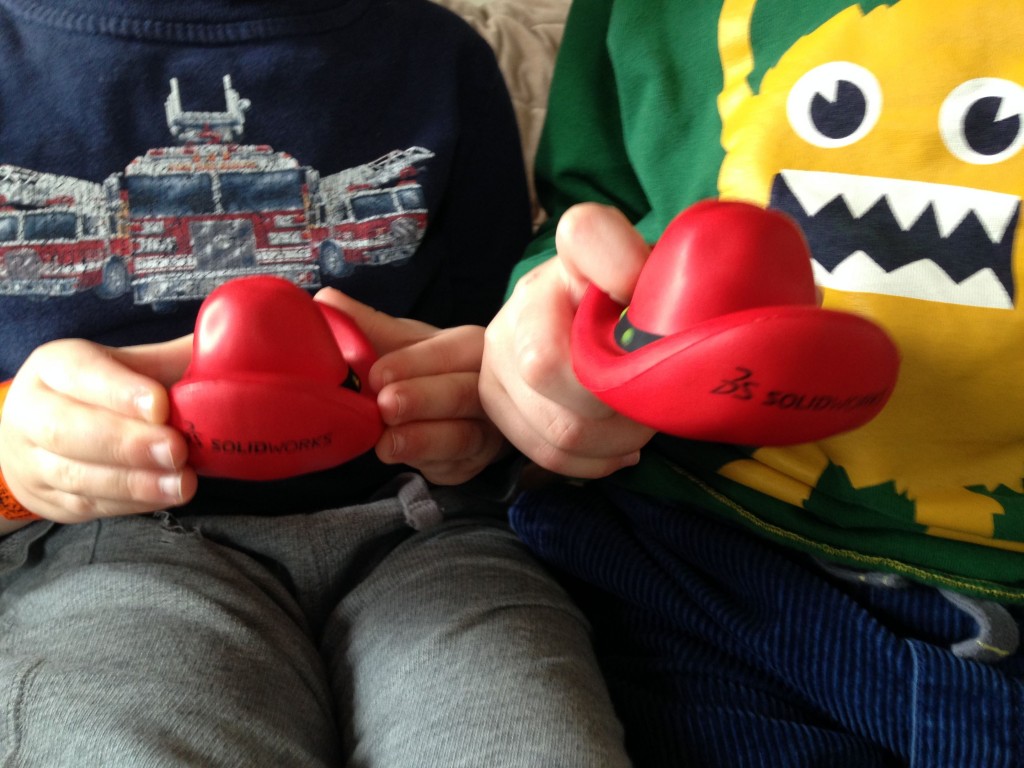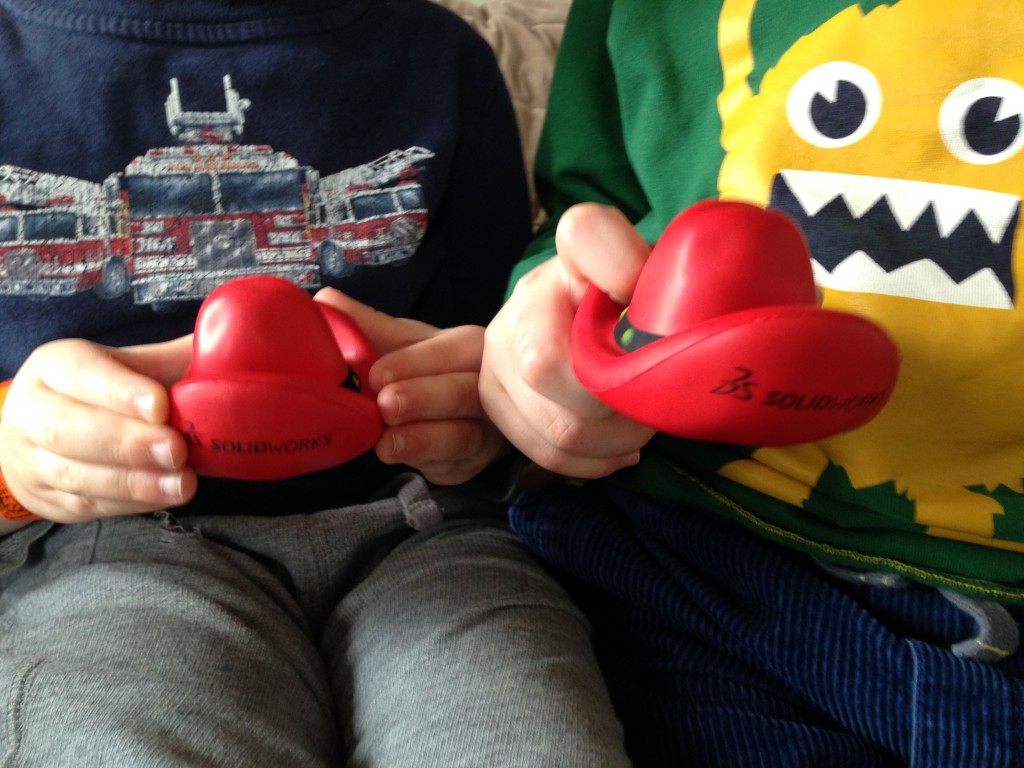 5)   Providing options to support new business models, leverage the community, and expand the ecosystem
SOLIDWORKS has developed several new services and offerings that have the potential to help companies continue to benefit as a member of the SolidWorks community.
SOLIDWORKS Make
SOLIDWORKS Make is described as a "cloud-based 3D personalization platform" that enables a company to offer its consumers options to personalize products from a web page. The company can then produce the product by sending it to a 3D printer. It is currently targeted at smaller retail items such as jewelry and eyeglasses, but has the potential for other applications where simple customizations are desired. The tool offers customization options such as shape variations, choice of colors, materials, and decorations.  The demo used at SOLIDWORKS World showed a person using a webcam to virtually try different eyeglass options and see how they would look on his face. For more information go here: www.solidworks.com/make.
SOLIDWORKS Manufacturing Services
Manufacturing Services will be embedded into the SOLIDWORKS platform as a marketplace for users and manufacturers to find each other and connect. The idea is to make finding a manufacturing partner as easy as buying a product online. This service is coming soon, but a timeline has not been announced yet.
Part Supply
Part Supply is a search service available to customers on subscription. Users can sketch approximate geometry and the service will perform a geometry, contextual, and meta data search on 3D Content Central for an appropriate model, which should save time, especially for supplied components. 3D Content Central is a cloud-based database of user-contributed and supplier certified content.
SOLIDWORKS Visualize
In the interest of connecting different groups and encourage thinking about the whole experience associated with a product,SOLIDWORKS has launched SOLIDWORKS Visualize. This product is a rebranded version of Bunkspeed, which was acquired a few years ago. The product enables photorealistic renderings and animations. It helps companies develop marketing materials earlier, but it could also help product developers visualize, consider, and define the product experience for the final customer using a realistic virtual setting. This product was announced at the SOLIDWORKS 2016 launch, but was just made available in February. SOLIDWORKS Visualize Standard will be included in any SOLIDWORKS desktop subscription, while Visualize PRO, with more advanced functions such as animations, will be sold by the SOLIDWORKS VAR channel. For more information, go to: www.solidworks.com/visualize.
3D printing is another area where I also expect to hear more from SOLIDWORKS. It has already become embedded into several of the areas mentioned above. It also got a lot of attention at SOLIDWORKS World and SOLIDWORKS has a growing partner network in this area, as there are many opportunities to help customers innovate.
In summary, while SOLIDWORKS is doing a lot, with all that they do, we can count on this theme driving their vision: SOLIDWORKS plans to offer options and flexibility so that companies can choose what will work best for their business so that they may innovate and make great designs.
SOLIDWORKS World 2017 will be in Los Angeles, February 5th to February 8th.