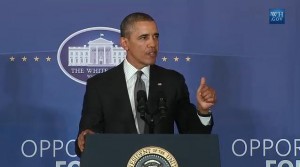 "Basically, I'm here to announce we are building Iron Man," joked President Obama at a press conference on February 25th. Maybe not Iron Man, but his goals are to make science fiction a reality by investing in innovation labs that will make manufacturing in the US competitive again. As a Tier One partner, Siemens PLM software will have a hand in making that possible .
On Tuesday, President Obama announced the creation of 2 new labs, one on high performance metal based in Detroit and one in Chicago to support digital manufacturing. This makes four such labs in the US. In 2012, a pilot lab was established in Youngstown, OH to work on 3-D printing and a few weeks ago, it was announced that a lab focused on energy efficient electronics will be developed in Raleigh, NC.
The lab in Chicago, called the Digital Manufacturing and Design Innovation Institute, will be funded by private and public funds and will bring a new age of manufacturing. The president explained that in the 50's and 60's, manufacturing was the ticket to a good middle class life. Unfortunately, as many know all too well, this has been on the decline over the last few decades as it became more economical to produce parts overseas. If the trend continues, there is fear that the R&D jobs will also go overseas. With this, the US could lose any innovation advantage it might have to be competitive in today's global economy.
The goal of the digital manufacturing lab is to bring innovation to manufacturing. While this is exciting news for Chicago, the benefits will stretch much further. Innovation and training will make it more advantageous to manufacture in the US, bringing more manufacturing jobs back. This will have a ripple effect on the rest of the economy as supply chains, services, and software needs grow to meet the new demand.
The president also commented that to stay competitive, manufacturers need to keep inventory low, but respond to customers faster. They need to quickly process change orders, adapt to new specifications, tailor products to customer needs, test parts digitally, and cut down on physical prototypes. Technological  innovations can make these things easier. The president even described a future scenario where troops in the field will need a repair and all they will have to do is download the CAD file, use a 3D printer to produce a replacement part, and they will be running again with minimal delays.  Siemens PLM software will be one of the tools to help enable this type of innovation and more.
This is a very exciting announcement for everyone involved in engineering and manufacturing. Having the president make this a strategic initiative raises the visibility of what PLM can offer, while acknowledging that investments in engineering and manufacturing are critical to adding more jobs, improving the US economy. The innovations developed in the lab will benefit all manufacturers as manufacturing costs will go down, local supply chains should be strengthened, and it will help the US bring more competitive products to market.