What I learned this week … came from an article on Yahoo! Tech News titled Technology in starring role at NY Fashion Week. The article really made me think about how virtual worlds, social computing, and PLM could transform fashion shows.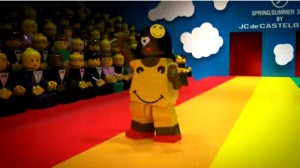 Note: The video grab is from a site called "vimeo" posted by "Four H" and the link to their great Lego fashion show video is here. Pretty great job of animation, I think.
What the Article Says
Given the recent focus on PLM for the footwear and apparel industry, I was not surprised by the headline. In fact, I probably read more into it than I should have. Perhaps I am a bit overly optimistic about how technology can transform an industry like fashion. But companies have greatly improved product development and supplier management in these softer industries by using PLM. That was not the focus of the article, however. The article spoke about:
The use of the Internet to put on a virtual fashion show (more remote than virtual, I think)
The use of the Internet to sell clothing and fashion (including a new application for the iPhone)
Interesting, but not what I had hoped to see.
What the Article Doesn't Say (but Might Eventually)
I really didn't expect the article to cover using PLM to improve product development. But I did expect to hear more about the use of virtualization, visualization, and mockup technologies to display fashion. The article started out talking about "creating collections that are less expensive to show." To me, that sounds like an opportunity to reduce physical prototypes like the automotive and other mechanically-oriented industries have. The ability to create realistic human models, simulate the way a fabric will drape over it, and realistically render what the finished garment will look like has come a long way. Does that compete with a live model wearing the clothes walking down the runway? Of course not. But on the other hand, instead of seeing what a professional model looks like in the clothes, maybe we could see what the clothes would look like on a body like the one we actually have.
My expectations were clearly too high regarding a PLM-based fashion show, but I think there is potential there that has yet to be tapped. In the meantime, PLM will have to continue to reduce time to market and improve supplier collaboration and responsiveness instead. Of course, there is a lot of value in that – perhaps more than in a virtual fashion show.
So those are my thoughts on PLM and fashion, I hope you found them interesting. Who knew? I didn't, if you did let us know about it.