I had the chance to talk with … Dassault Systemes CEO Bernard Charles and his team at Dassault's 2009 customer conference today. I attended the general sessions in the morning and then spent some time speaking with DS execs in a smaller group setting.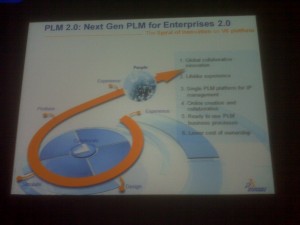 Once again, Bernard and the team painted a very different picture of PLM than some might have in mind. Dassault does PLM, but the vision does not stop there. It doesn't matter if you call it PLM 2.0 (as Dassault does) or put some other label on it – DS has a very unique view on what the future will look like. And they have plans to play a broader role than CAD, CAE or product design.
NOTE: Some of the links in this post are broken because Jim's MBT blog is no longer available. Sorry, we do not have access to that content.
What do they Do?
Dassault is one of the largest PLM vendors in the market. For more on what they do, see past posts One-to-One: Reinventing Dassault Systems? (broken link removed) and also One-to-One: Dassault Strives to Make 3D Accessible to All in the SMB with V6.
Where is Dassault Systemes Going?
DS is clearly a leader in the PLM space. How do they view themselves in the future? Some key tenants of the DS vision shared today include:
3D Lifelike Experience – "

see what you mean

" or "

SWYM

"
Social Innovation
Smart Products
User-Generated Content and Involvement – "

from Consumer to Consum'Actor

"
Sustainable Development
Business Processes – core processes for 11 industries and ~50 industry sub-segments
PLM Online for All – web-based and SOA
What Does it All Mean?
First, expect Dassault to push the 3D experience hard. Second, don't expect them to limit the use of 3D and lifelike experiences to an engineering audience. In the manufacturing industries, expect to see them continue to offer 3D applications for new areas such as sales and marketing. DS sees themselves playing just as much of a role helping companies define the product experience (packaging design, shelf placement, consumer interaction) as they do defining the product itself. They have already brought solutions to market and have done some work (not commercial product yet) in areas such as eye tracking technology to analyze customer reaction and behavior. Keep your eyes on the 3DVIA brand and how it fits in with ENOVIA. Note that these solutions have potential in many other industries than manufacturing (or even gaming, another current DS market), with the opportunity to enhance the web to incorporate lifelike experiences. Bernard pointed out in the general session that the Web "does not have emotion or allow people to experience or interact." What is needed, he explains, are 3D and smart objects that offer realistic simulation and comply with the real-world rules of physics. To me, this feels like a very different vision for PLM than I hear elsewhere.
Also, expect DS to push into more social aspects of innovation. This was one of the biggest topics we discussed in our smaller group. Bernard tells the story of how social networking techniques are helping within Dassault, and how they are learning through their use of Blue Kiwi (a software company they have invested heavily in) and of their own 3DVIA solutions. I don't think they have it all figured out, which I respect. As I have seen in the past, DS is willing to experiment and learn (as their customers are learning) to leverage new social computing technologies.
I believe that social computing in PLM is a significant new evolution of PLM – see Social Computing Drives Innovation and related posts. Dassault sees this as well. As Bernard said "A year ago, I would have said social software is an add-on, now it is at the core of what we do." A pretty powerful statement to say the least. There is more to say here, but the post is already getting long (sorry).
What about Product Design?
Don't take this the wrong way. Dassault is still 100% in the PLM "1.0" game and working hard to have the best design, analysis, and data management solutions they can bring to market. Dassault continues to invest heavily in their core solutions and the V6 platform. CAD and CAE are not as static, mature solutions as some would like to believe. Some examples of continued investment in the core solutions include:
Systems Design and Simulation – in Bernard's words, "

Smart products is the future of CATIA

" – see post about mechatronics and one of Dassault's partners in One to One: Big Blues Unprecedented Mechatronic Opportunity for more.
Continued Development to Support New Manufacturing Materials -composites, nanomaterials, …
Integration and Interoperability – as an example, Simulation Lifecycle Management of SIMULIA data in ENOVIA
There is more here, but that is not the focus of my (rather lengthy, sorry) post.
Takeaways and Implications for Manufacturers
A demo of 3DVIA and the new iPhone application was a great example of the uniqueness of the DS vision. Instead of a car or plane Bernard showed 3DVIA on an iPhone. He took a picture of the furniture on the stage, and then added a table from the 3DVIA library. Not satisfied with the boring table, the model is sent via e-mail and a designer modifies it in 3D Shape. It is published back to 3DVIA, pulled up on the iPhone, and now we see a picture of the stage with a newly modeled table along with the existing furniture. The punchline is that "3D opens the door to the world we imagine." Not a standard main-stage demo for a PLM company. Expect Dassault to push further with their vision of making the virtual world better reflect the real world.
So Dassault Systemes vision is different. To be I am not concluding that it is better, but I am concluding that it is unique. It is not for me to decide what companies will gain the most value from, only the customers and the market can decide that.
So that's what I hear from Dassault Systemes. Bernard and the team are clearly not satisfied with a goal of leading today's market, but shaping the future market as well. I hope you found it useful. What do you think? What else should I have asked them?