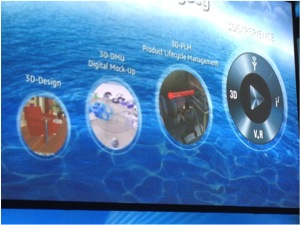 I spoke with Dassault Systemes' execs and their customers earlier this week about everything from business strategies, the state of the manufacturing industry, and PLM market dynamics to implementation experiences at the first 3DEXPERIENCE Forum. I am fortunate to have been invited to hear firsthand two highly important aspects of a software vendor's future:
The vendor's strategy to understand how they plan to succeed in the market
Their customers' perspective to judge how they are doing with their current installed base
Talking Strategy

The first thing to know is that Dassault is transitioning from "PLM" to "3DExperience." There was a lot of discussion about how the evolution of product innovation leads to product experiences. The point is that the customer's appreciation and value perceived from a product includes more than the physical product. In fact, we heard a great keynote from Joe Pine who authored The Experience Economy. He gave great examples that aligned remarkably well with Dassault's strategy. My favorite example was a gumball machine with the long spiral, where the product is really entertainment as much as (or more than) the candy. He also discussed how this applied to companies like REI and Tesla Motors, who we heard from later in the session (along with Oracle Team USA). My favorite quote is below:


DS explained how their evolution has a company has taken them through transitions including 3D Design -> 3D-DMU -> 3D-PLM -> 3DEXPERIENCE. What is clear about the strategy is that Dassault Systemes is expanding the definition of PLM beyond PLM. They are now addressing new capabilities outside of the core PLM suite to provide more value to customers and open up new markets. Their PLM suite is becoming a "3DExperience Platform." Clearly there is a lot of marketing going on, but there is real strategy behind it. DS is going bigger than PLM. It's interesting to note that during this process that in addition the always charismatic CEO Bernard Charles we heard quite a bit from the fiery Monica Menghini, who was clearly instrumental in defining the "3DExperience" strategy.
You will hear the new term floating "3D Experiences" around a lot from Dassault. Actually their are two more terms you may hear,  "Social Industry Experiences" and "Engineered Business Experiences" but I  took away that they are effectively different names for the same thing. Dassault teams are looking at specific business processes across their product lines (or "Brands" as DS likes to call them) to focus on what their customers in specific vertical markets need to do in order to get a job done. The best definition I heard came via twitter from Monica Schnitger quoting DS VP Stéphane Declée:


The key thing to understand is that "experiences" are processes that span products and are tuned to solve specific, strategic business challenges in targeted vertical industries. The first demonstrated was "Winning Program" for the aerospace industry. This included new and existing software capabilities. The next day we saw "High Touch Body & Soul" experience for the high-tech/electronics industry. This appeared to be more of a demonstration of how existing DS tools can be applied in a compelling way to get a new consumer electronics product to the market rapidly. This cross-brand thinking targeted toward specific industry issues will add a lot of value to companies facing these challenges.
Talking to Customers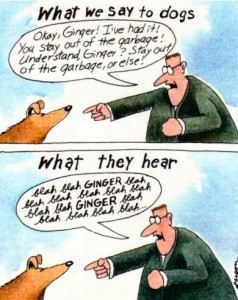 To be honest, a solid majority of customers don't listen to strategies like this and don't care. It's sad, but true. Perhaps for their jobs it's also practical. All they want to know is how it impacts them. They listen to hear if any of the products they know and love are being replaced or discontinued. It reminds me a lot of the Far Side (thanks for years of laughs Scott Larson, you are a genious) about what we say to dogs and what they hear. Very selective, to say the least. (I resisted pasting Bernard's picture on the cartoon, I don't think he would appreciate it). Others recognize that the health of their software suite provider plays a big role in the success of their own business. Your fate is tied to the fate of your enterprise software suppliers. That being said, many of the people that attended didn't have much of an opinion on the "Experiences" ideas. There were exceptions, but for now let's focus on what matters to most customers – products.
But What about Products?
So what about products? There were countless sessions discussing the future of Enovia, Catia, Delmia, Simulia, , 3DSwym, 3DVIA, Netvibes, SolidWorks and more. I was particularly interested in the presentations on systems engineering and co-simulation that really showed Dassault is investing in the things their customers are struggling with, maybe even before most customers are ready to adopt the solution.There is far too much for me to have heard at the event, and too much to share here.
A Final Note: DS Losing Focus on PLM? (Not)
I have heard some noise from people about Dassault moving into new markets and losing their focus on PLM. It is true that Dassault is looking beyond the current PLM market for growth. They are not doing this instead of focusing on PLM, they are doing it in addition to focusing on PLM. DS is broadening their portfolio to new markets (they acquired the leading software company in the mining industry, Gemcom) and added new capabilities that existing customers can use beyond PLM (they also acquired Netvibes). I suspect that those that recognize that the long-term health of their software vendor is an important thing for their own business applaud these moves. They are adjacent, non-competing products. So please look for new product information coming from DS, I don't think you will see them losing focus on the PLM market. In the press conference lunch Bernard even told us he still expects the "PLM" term to go forward as the market standard.
So that's what I hear from Bernard Charlès and the Dassault Systemes team, I hope you found it useful. What do you think? What else should I have asked them?
NOTE: Corrected "Perfect Program" to "Winning Program" and "Social Business Experience" to "Social Industry Experience"