ACE is Back!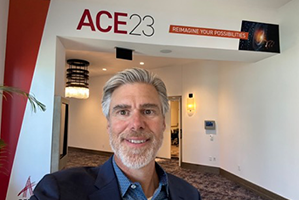 PLM conferences are back, and it seems there's a conference a week right now! The first one I attended this Spring was Aras' ACE conference. This
was a special one for me because it was my first time attending in person. I was planning to attend in 2020 but it was canceled due to the pandemic, and this event marked the first in-person ACE since 2019. You could feel, and hear, the energy and excitement customers and Aras employees shared about being back in person as you walked the halls and the exhibit floor. It was a large and excited crowd of customers and partners eager to share information and experience with each other and learn from Aras.
Other than the excitement of the event and the enthusiastic customer support, there are several main things I took away from the conference:
First, a confirmation about how different the Aras Innovator offering is

Second, how that impacts the way Aras partners with others

Third, that Aras Innovator can compete on the strengths of their solution capabilities even without the "Aras difference" 
The Aras Difference
Aras Innovator, and Aras itself, is fundamentally different from other PLM offerings. This difference was front-and-center in the event. Aras was built on a model-based architecture, now commonly referred to as "low-code." That by itself is interesting, but how Aras chooses to exploit that in their business model is unique. While most vendors tout standardization and de-customization, Aras encourages customers to leverage the flexibility built into the platform to modify Aras Innovator to support their unique needs. This built-in flexibility has further evolved as Aras migrated to the cloud. As Aras shared at the conference, the Aras Enterprise SaaS offering allows customers to customize and extend Aras Innovator to meet their needs without fear of dead-end customization. Aras does this by taking on the upgrade burden for every customer. This is an interesting extension of the flexibility built into the platform and includes a DevOps capability to support their customer's continuous integration process. Aras DevOps allows customers to migrate their customizations forward while staying on the current release. One significant example of flexibility was shared by their customer, David Everson of Imperial Brands. Imperial Brands customized Aras, which was built to support complex discrete manufacturing, to support consumer packaged goods industry. Having worked in both PLM and ERP for the process industries, I know how complicated this can be. This type of customization would not be supported by most vendors, but Aras showcased the example as the model they want to support.
Platform Partnership
Another extension of the flexibility and openness of the Aras platform on display at ACE was how they partner with other companies. Aras shared examples of partners that have modified the solution considerably, for example how Minerva tailored Aras Innovator for the medical device industry. The ultimate outcome of that was Aras acquiring Minerva to make the life sciences offering a standard industry solution. Even more telling are the partnerships with Ansys and AVEVA. These partnerships are more than typical solution integration partnerships. Both Ansys and AVEVA used the Aras Innovator platform to develop their own solutions. Ansys, for example, created a simulation data and process management (SPDM) solution based on the platform. AVEVA is currently doing the same for asset lifecycle management (ALM). Both partners shared their stories at ACE, highlighting Aras Innovator's flexibility as the key to their ability to develop their solutions quickly. 
Solution Strength
My last key takeaway is that although Aras differentiates on flexibility, they are not a toolkit on which to build a PLM solution. Aras Innovator is a mature PLM offering. Aras ACE showcased a comprehensive solution to support the digital thread, starting from requirements management and systems engineering and extending throughout the lifecycle and across the digital twin. Aras and their customers shared examples of systems-oriented product development and collaboration capabilities spanning mechanical, electrical, software development, and simulation disciplines. 
Other Highlights
There is too much to mention in a short synopsis of the event, but I want to mention a few other key things. I would be happy to discuss these further if anyone is interested:
Aras and Microsoft announced that Aras Enterprise SaaS is now available in the Azure Marketplace, allowing Azure customers to use their Microsoft Azure contract (MAC) credits gain to access Aras' cloud-based PLM
CTO Rob McAveney shared that Aras is not resting on their current platform advantage, but working on "next-gen low-code" that they will deliver over the coming years
Aras' Alan Mendel highlighted their efforts to help manufacturers achieve sustainability needs by leveraging a variety of Aras Innovator capabilities, this appears to be an important initiative for Aras