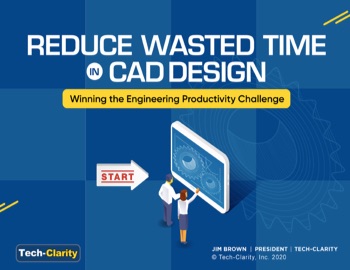 How can companies improve data management to avoid the five most common CAD design time wasters and win the engineering productivity challenge? Improving design data management maturity, enabled by PDM and PLM solutions, helps reduce non-value-added time and increase engineering productivity.
Please enjoy the summary* below. Please visit our sponsor Siemens for the full research (registration required).
Please also see the related Avoid Wasting Design Time infographic to learn more about CAD design time wasters.
Table of Contents
Reducing Non-Value-Added Time in CAD Design
Engineers Don't Have Time to Waste
Time Waster 1 – Can't Find and Reuse Data
Time Waster 2 – Lost CAD Designs
Time Waster 3 – Preparing Data for Others
Time Waster 4 – Managing Complexity
Time Waster 5 – Managing Change
Conclusions and Next Steps

Engineers Don't Have Time to Waste
Too Much Spent Time on Non-Value-Added Data Management
Product and product development complexity have increased while time-to-market goals have become more aggressive. The combination of these two trends puts a significant squeeze on the time available for engineers and designers to design and document their inventions. Unfortunately, companies waste an average of 15% of their engineers' time on non-value-added data management tasks. Almost one-third of these companies spend over 25% of their engineers' time this way. That's one out of every four days wasted on data management efforts that could be better spent innovating.
Design Data Management Maturity Relieves the Pressure
What if companies could give that wasted time back to their technical personnel? That's exactly what leading companies do. Our research shows that Top Performing companies – those that are better able to quickly and efficiently design high quality, innovative products – spend 25% less time on nonproductive data management tasks.
What enables these companies to perform better than their competitors? These leaders are more likely to have adopted more mature data management capabilities1 and use more structured, collaborative data management solutions including Product Data Management (PDM) and Product Lifecycle Management (PLM). Let's take a look at how these solutions help engineers avoid wasting precious design time by allowing them to control, access, and share design data.
Conclusions and Next Steps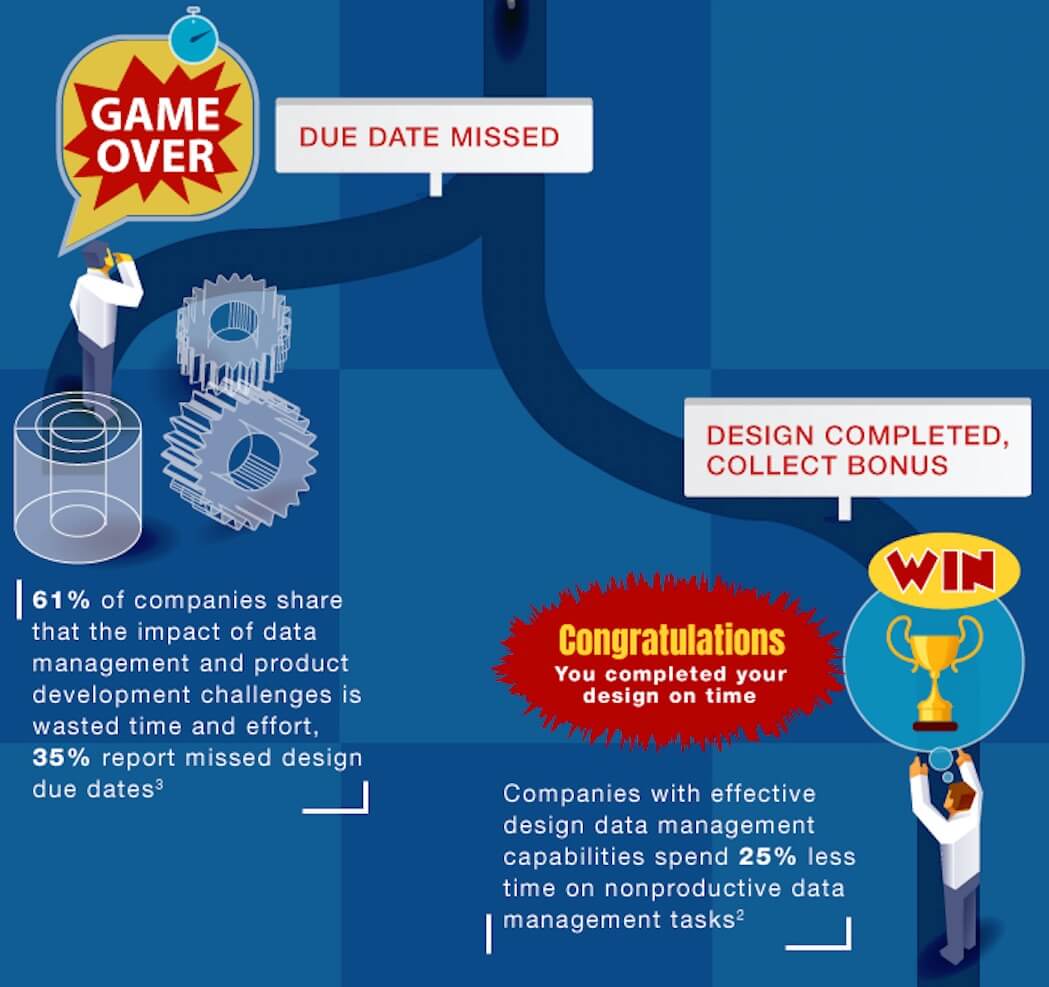 Avoid Time-Wasting Traps through Better Practices
The time-wasting events highlighted in this eBook are some of the most common issues we find in our research, but they are only a sample. The key to avoiding wasteful traps and gaining more productive design time is adopting mature design data management practices. With these better practices in place, companies are more likely to be able to meet their product development targets and win the CAD design challenge.
Put in Place the Right Design Data Management Technology
Mature design data management goes hand-in-hand with design data management technology. It's essential for companies to control, access, and share CAD data effectively whether the system they choose is basic PDM or a more capable PLM system.
Get Started, Take Advantage of the Benefits
Companies that don't have an effective PDM or PLM system in place are putting their design efficiency – and more – at risk. Rising complexity across product, product development, and other dimensions is increasing data management challenges, the potential for issues, and the need for design data management systems. Even for small teams, these systems provide structure and value that helps drive better design and business performance so companies can win at the CAD design game.
*This summary is an abbreviated version of the research and does not contain the full content. A link to download the full report is available above.
If you have difficulty obtaining a copy of the report, please contact us.