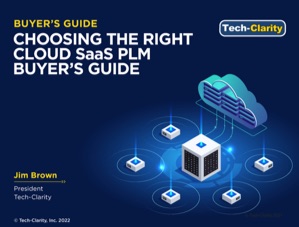 What do manufacturers need to look for as they plan to adopt cloud PLM? Our updated buyer's guide shares requirements to help manufacturers ensure that their cloud SaaS PLM solution will meet their product innovation and digital transformation needs.
Please enjoy the summary* below. For the full research, please visit our sponsor PTC (registration required).
For related research, please read some of our related buyer's guides, including How to Choose the Right PDM System and Choosing the Right PLM for the Medical Device Digital Thread. 
Table of Contents
Cloud PLM Adoption Questions Shift
Increase the Value of PLM with SaaS
Buyer's Considerations
Review Deployment Options
Considerations for Adoption
Evaluate Pricing Options
Product Development Needs
Operational Considerations
Choosing the Right PLM
Choose the Right Partner
Special Considerations
Conclusions and Recommendations
Acknowledgments
PLM is the Digital Backbone for Manufacturing
Considerations for Digital Transformation with PLM
The pace of business is accelerating and companies must digitally transform to compete. Our research finds that PLM is critical to manufacturers' digital transformations and initiatives including the digital twin and the digital thread. Today's PLM system must serve as the product backbone of the digital manufacturing enterprise. But too many companies are stuck on old, outdated versions of their PLM system or need to move to the cloud to support their goals. Cloud SaaS can provide the modern, full featured PLM capabilities companies need while increasing agility, speed, collaboration, performance, availability, and security and simultaneously reducing cost, time to value, risk, and IT overhead.
Not all "cloud" solutions, however, support digital transformation in the same way. Manufacturers should closely examine their requirements and be careful not to trade off essential PLM capabilities to meet those requirements.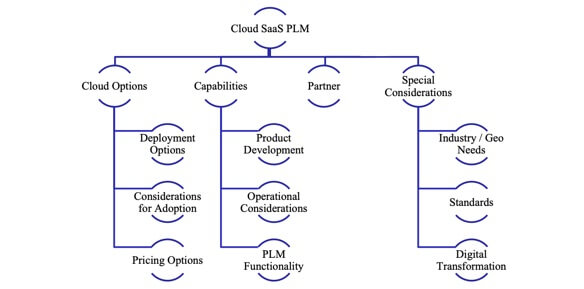 Cloud PLM Adoption Questions Shift
The Shift from "If" Cloud PLM to "When and How"
As recently as our 2019 buyer's guide we observed that more companies were starting to ask "why not the cloud?" instead of "why consider cloud?" Although some companies and industries may still have obstacles that prevent them from moving to the cloud, cloud PLM solutions are quickly becoming the preferred approach. Our research shows that over one-half of manufacturers are considering cloud and about one-quarter already leverage the cloud to support product innovation and manufacturing1. Now the questions are "when and how?" to adopt Cloud PLM.
Navigating the Options
Choosing to move to the cloud is just the first step. There are still important decisions to make. The deployment choice impacts important factors including cost, security, resource requirements, performance, availability, upgradability, risk, and time to benefit. While it's clear that the software industry is moving to a cloud SaaS model overall, not all cloud PLM solutions are following that model. Manufacturers need to go deeper into the deployment model than just "cloud." This guide helps companies navigate the options and choose the best-suited cloud PLM solution for their business.
Still a Solution First Approach
Although the priority for cloud solutions has increased, our surveys still show that the majority of companies put a higher priority on PLM capabilities than cloud deployment. They recognize that they don't just need a cloud PLM system, they need a fully-featured PLM system on the cloud. Over ½ of companies stated that they were willing to give up "very little" or "no" functionality as a tradeoff for the IT benefits of the cloud.2 Companies are still not willing to shortchange functionality in this crucial area, effectively taking a "solution first" approach as opposed to a "cloud first." Therefore, it's important to evaluate the functional capabilities of a PLM system to ensure it will deliver the significant top- and bottom-line benefits they need from PLM.
Conclusions and Recommendations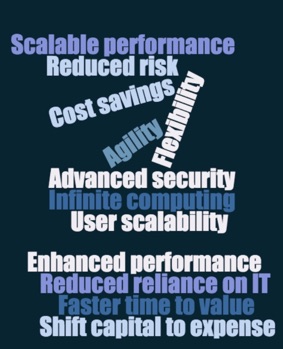 Cloud SaaS Offers Compelling Benefits
Cloud SaaS helps manufacturers achieve and extend the significant business value of PLM faster, with less risk, and lower total cost of ownership. It offers new opportunities to enhance global reach, secure design sharing, and collaboration. At the same time, it offers compelling operational benefits such as improved performance, security, access to new functionality, and scalability. But there are important things to consider when selecting a cloud PLM system, ranging from deployment options to considerations for certain industries and geographies.
Recommendations for Cloud PLM Selection
To help companies research and analyze potential solutions based on company needs, including needs that help deliver benefits well into the future, Tech-Clarity offers the following recommendations:
Evaluate functional solution capabilities to ensure that the PLM solution provides the rich capabilities required to support your business.

Recognize that there are significant differences in "cloud" PLM offerings.

Evaluate and select the optimal deployment and pricing models that give your business the most benefit considering cost, risk, and time to achieve value.

Consider how the deployment approach will impact future financial and operational value during updates, upgrades, and extensions

Consider the strategic value of cloud solutions for global deployments to support global design environments, remote workers, and secure supply chain collaboration.

Make sure to consider the future, including the transition to the digital enterprise. We believe that manufacturers that don't digitally transform will be at a competitive disadvantage. 

Narrow down solutions based on these high-level criteria to create a smaller list of solutions to evaluate.

Recognize that any solution selection process will require tradeoffs and understand which types of requirements are the most important to your company's success and profitability.
*This summary is an abbreviated version of the ebook and does not contain the full content. For the full research, please visit our sponsor PTC (registration required).
If you have difficulty obtaining a copy of the research, please contact us.