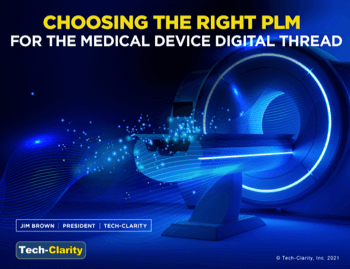 How can PLM enable medical device companies to streamline engineering and create digital continuity with a cohesive medical device digital thread? What should they look for in a PLM solution to improve closed-loop quality and patient outcomes while meeting complex, regional compliance demands?
This eBook takes a deeper dive into the data from our original, cross-industry digital thread study to better understand how the value and considerations for digital thread adoption apply to medical device manufacturers.
Please enjoy the summary* below. For the full research, please visit our sponsor PTC (registration required).
Table of Contents
Introducing the Buyer's Guide
The Digital Thread Imperative
What to Look for to Streamline Engineering
What to Look for to Closed-Loop Quality, Continuity
Digital Thread Business Value
Considerations by Role – Engineering
Considerations by Role – Manufacturing
Considerations by Role – Quality
Considerations by Role – IT
Considerations by Role – Service
PLM is the Digital Thread Backbone
Special Considerations – Emerging Technologies
Implementation Considerations
Vendor Considerations
Conclusions and Next Steps
About the Research
Acknowledgments
The Medical Device Digital Thread Imperative
Business Strategies Demand a Cohesive Digital Thread
Over three-quarters of companies say that the digital thread is either important or critical to achieving their business strategy. About one-half of medical device manufacturers indicate they have already implemented a digital thread initiative, most likely to meet design control mandates such as Design History File (DHF) and Device Master Record (DMR) and rapidly changing, region-specific regulatory requirements such as EU Medical Device Regulation (MDR).
Medical device manufacturers report a variety of important goals for their digital thread initiative (see chart). They are 30% more likely than other manufacturers to pursue compliance, for example seeking audit-ready data. They are investing in reducing errors and adverse events to improve patient outcomes, all while trying to control the cost of quality and compliance overhead.
While definitions vary, medical device manufacturers are looking for quality, compliance, and streamlined engineering from the digital thread.
Streamlined Engineering
The digital thread streamlines design by allowing product development teams to share and reuse design data across the stages of innovation. Design continuity along the digital thread allows engineers to add their design information to a cohesive model, directly incorporating and extending design data from prior steps – allowing them to efficiently design for regulatory management.
Continuity, Closed Loop Quality
The digital thread ties product information, decisions, and history together in a structured, integrated way that captures product innovation and knowledge throughout the product lifecycle. It establishes traceability from early in the front end of innovation through development, manufacturing, service, and field operation. This continuity ensures data-driven handovers between departments and support for evolving global regulations, initiatives, and standards including the FDA's Case for Quality (CfQ) and Quality System Regulation (QSR), ISO 13485, and the new EU MDR/EU IVDR.

Conclusions and Next Steps
Invest in the Digital Thread
Invest in the digital thread to streamline engineering and create digital continuity. Top Performers are 2.6 times as likely to view the digital thread as critical to supporting their business strategy.
Extend the Thread across the Lifecycle 
Adopt a comprehensive scope that incorporates cross-departmental data. Top Performers are more likely to include manufacturing, quality, and service plans in the scope of their digital thread, and enrich it with actual data from the IoT.
Leverage PLM as the Digital Medical Device Backbone for Closed-Loop Quality, Continuity, and Streamlined Engineering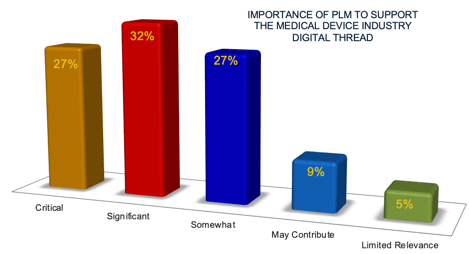 Adopt PLM to support the digital thread. Top Performing companies are 2.4 times as likely to view PLM as critical to supporting the digital thread and are much more likely to use PLM to support it.
Enjoy the Benefits
The digital thread provides significant, measurable benefits including improved quality, increased engineering efficiency, enhanced innovation, faster time to market, and better compliance. Top Performers gain even higher benefits than others. For example, these more successful product developers enable their technical resources to spend 27% more time, on average, on value-added activities than their poorer performing counterparts.
*This summary is an abbreviated version of the ebook and does not contain the full content. For the full research, please visit our sponsor PTC  (registration required).
If you have difficulty obtaining a copy of the research, please contact us.