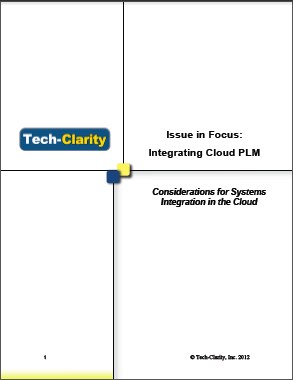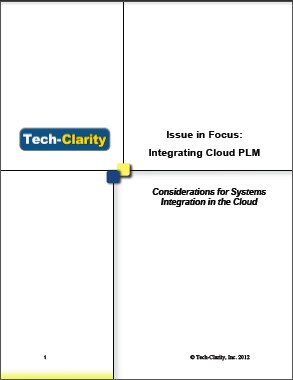 Issue in Focus: Integrating Cloud PLM: Considerations for Systems Integration in the Cloud offers advice and insight on the integration questions companies face as they explore the applicability of Cloud PLM for their business. The report discusses existing issues such as what to integrate and how to define roles for different systems. It also analyzes new considerations that are unique to integration cloud solutions, taking lessons from more mature cloud enterprise ecosystems such as CRM.
Please enjoy the summary below, or click the report or title to download the full PDF (free of charge, no registration required).
Table of Contents
Introducing the Issue
Start with the Business in Mind
Choose a Problem to Solve
Identify the Roles PLM and other Systems Play
Determine how PLM and other Systems will Interact
Understand the Evolution of Cloud Integration
Get Started
Address IT Considerations
Conclusion
Recommendations
About the Author
Introducing the Issue
Manufacturers today face increased expectations for rapid innovation while battling unprecedented product development complexity. This has driven a lot of interest in Product Lifecycle Management (PLM), including cloud-based PLM. Like more established cloud Customer Relationship Management (CRM) and supply chain offerings, cloud PLM is generating a lot of discussion. Why? The promise that the business benefits of PLM – increased revenue, decreased product cost, and reduced product development cost – can be achieved with lower investment. Tech-Clarity's Assessing the Cloud PLM Opportunity explains that the cloud offers the potential to significantly improve PLM value by:
Leveraging economies of scale
Eliminating non-value added work
Taking advantage of cloud level systems performance
Enhancing flexibility and agility while reducing business risk
Now that Cloud PLM discussions are more prevalent, it's time to address real-world issues about operating PLM in the cloud. One area that manufacturers frequently ask about is integration. People ask, "What happens when I want to integrate to the cloud PLM system?" and "How will I get data to and from PLM?" But some of the most challenging questions about integrating cloud PLM are still the basic business questions about integration addressed in papers such as The Evolving Roles of ERP and PLM and Integrating PLM and MES, among others. These include:
What should I integrate with PLM?
Which solutions are responsible for which data?
What level of integration do I need? Data only? Process? Bi-directional?
These are important questions to answer, but there are some new questions as well:
Can I integrate cloud applications to the ones behind my firewall?
What new integration considerations do cloud applications bring?
Can I take advantage of cloud business benefits in integration?
For those that have experienced challenging integration projects in the past, don't be afraid to read on. Integration projects of the past don't necessarily reflect what will happen now. Today's solutions are easier and more affordable to integrate. In fact, business people and engineers can play a much more active role in integration than ever before, although it's always important to keep IT in the loop. This paper provides insight into integration questions to help companies evaluate the cloud computing opportunity in PLM. As in other aspects of cloud, the good news is that others have addressed integration in the cloud, paving the path for PLM.