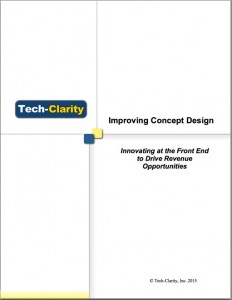 Improving Concept Design: Innovating at the Front End to Drive Revenue Opportunities examines the importance of the concept phase. The report reveals survey results highlighting not only what companies can do to improve the concept phase, but also how to take advantage of concept work during later stages of product development.
Please enjoy the summary below, or click the report or title to download the full PDF (free of charge, no registration required).
Additional information can be found in our companion infographic.
For for more information on concept design, please visit our sponsor, Siemens. 
Table of Contents
Executive Overview
Understand the Importance of the Concept Phase
Identifying the Top Performers
Optimize the Conceptual Phase Recognize the Challenges of Concept Development
Manage the Concept Phase
Facilitate Collaboration
Enable Reuse Capture
Engineering Knowledge
Conclusion
Recommendations
About the Author
About the Research
Executive Overview
Competing in today's global economy is not easy, but regular streams of innovative concepts can give companies a competitive advantage. As Tech-Clarity's report Top 5 Misconceptions about Innovation Management Software finds, "Bolstering innovation to a core competency helps manufacturers drive higher revenue, lower cost, and mitigate risk." A focus on the concept phase will help companies accomplish this.
The concept phase has unique requirements that distinguish it from detailed design. Companies must balance flexibility to innovate and explore ideas, yet ensure they are efficient as possible to quickly develop an ideal concept. Work done during concept design also sets the foundation for later phases to streamline the development process overall. Companies who can make a smooth, fast transition from concept design to detailed design have an advantage. This is difficult to achieve and as a result, many companies find their concept phase is less than optimal. However, considering the impact on innovation and revenue opportunities, concept design deserves some focus.
While the requirements to develop concept models are different from those of detailed designs, efficiency gains can be realized by leveraging the work done during the concept phase. The right technology can make this happen. Tech-Clarity's innovation report reveals, "Enabling technology helps companies improve agility, productivity, and time to market by improving decision-making, visibility, and commercialization efficiency across the product lifecycle." The report further concludes, "Tech-Clarity recommends taking advantage of the body of knowledge available and don't reinvent the wheel." This is an important point also stressed in Tech-Clarity's The How-to Guide for Implementing PMI, which explains the value of using the intelligence already embedded in models. Reusing model information rather than recreating it frees the product development team to focus their valuable time on innovation and work that adds value.
To understand the best approaches to concept development, Tech-Clarity surveyed 190 companies about their concept development processes. Highlighting the importance, survey results show Top Performers spend 19% more time on concept design compared to competitors. Emphasizing the opportunity for improvement, survey results also reveal:
Only 52% of the concept is reused during detail design
Companies agree more should be reused
Companies believe they would save 45% of overall development time by optimizing concept design reuse
Companies also overwhelmingly agree that a single tool that meets the needs of both concept development and detailed design would help. In fact, Top Performing companies are already 27% more likely than their lesser performing competitors to use a single tool.
This report provides guidance to help companies identify where to focus improvements in concept development as well best practices companies should look to adopt so that they make optimize their concept development processes.