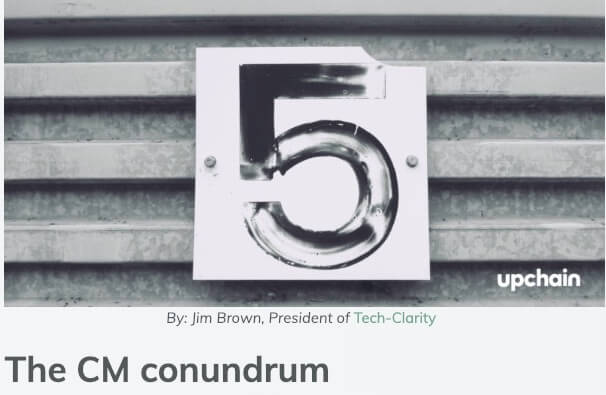 What challenges do manufacturers encounter when working with contract manufacturers? What should they do to reduce the frustration and streamline the relationship?
Jim Brown introduces five questions you may find yourself asking if you're working with a CMO, CDMO, or other supply chain partners and then offers recommendations based on our experience and research in this guest post on the upchain blog. Read the CM Conundrum post on the upchain site now (no charge, no registration required).
Introduction
Working with contract manufacturers can be one of those "you can't live with them, you can't live without them" scenarios. Leveraging contract manufacturing organizations (CMO) is a reality for many companies and can be a great way to jumpstart a product when you don't have the time or capital to bring up your own plants. What's more, manufacturers with complex, digital products like telecommunications or other electronic devices may not have another viable option. They simply can't get from prototype to scale on their own given the required time, money, and manufacturing knowhow.
But working with third parties can be frustrating, particularly if you're used to making all of the calls and you're new to the process. It doesn't seem like it should be so hard, but there's a lot that can go wrong – and it usually does. You may find yourself asking some frustrating questions, but there are ways to manage the inherent challenges and be successful. Let's explore five questions you may find yourself asking during your CMO partnership, and what you can do about them.