The Reducing Cost of Quality in CPG report shares perspectives from a survey of over 175 CPG companies to determine how Top Performers manage consumer packaged goods quality. The research finds that these leading companies are able to achieve better quality results with lower internal costs. The report analyzes their processes, organizational structures, and enabling technology to determine how they can get better quality results without placing a financial burden on the business.
Click here to read the full report, thank you to our sponsor Dassault Systèmes.
Executive Overview
Quality management is critical to the success and profitability of a Consumer Packaged Goods (CPG) company. According to Tech-Clarity research, Successful Products Begin and End with the Customer, over three-quarters of CPG Companies say higher quality is required to drive competitive differentiation. It's also clearly important to deliver customer satisfaction, safety, regulatory compliance, corporate responsibility, and overall company profitability.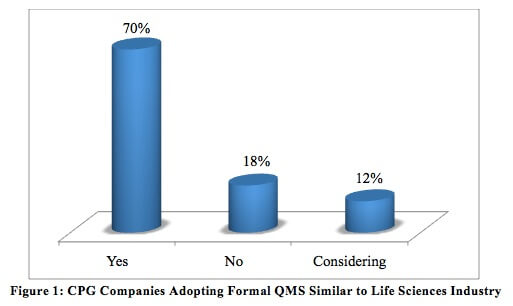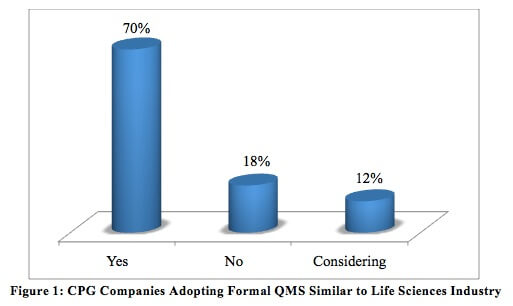 To better understand how they address this crucial need, we surveyed over 175 CPG companies and examined their quality management challenges, processes, organizational structure, technology use, and performance. We found that these businesses face significant quality management issues. We also discovered that they're taking action. Specifically, about two-thirds of CPG companies are going beyond what's currently required by adopting formal quality management processes and systems such as those used in the pharmaceutical and life sciences industry.
A key finding of the study is that while companies are able to avoid significant negative quality impacts relatively well, many suffer from excessive internal costs related to quality challenges. Based on these findings, we believe that CPG companies are mitigating quality risk through "brute force" quality management that adds significant operational cost. Top Performers, however, achieve better quality results at lower cost. How do they do this? The survey shows that they take different approaches to managing quality. Specifically, they are more likely to:
Take a more integrated approach to quality along geographic, organizational, and product lifecycle dimensions
Adopt a more digital approach to managing quality, relying less solely on paper and isolated electronic documents
Enable quality management with more automation and advanced technology, including automated data collection, analytics, and product documentation automation
Use more integrated solutions to manage quality and pursue a platform approach to quality solutions
Top Performers are able to simultaneously improve quality and maintain cost of quality. Others can learn from them to reduce errors, rework, and adverse events without incurring excess internal cost.
Table of Contents
Executive Overview
The Quality Imperative
Managing Quality Carries Enterprise-Level Challenges
Quality and Mistakes Avoided with Brute Force
What Sets Apart Top Performers in Quality?
Top Performers Take a More Integrated Approach to Quality
Top Performers Extend Data and Processes to More Functions
Top Performers Use More Automation, Advanced Technology
Top Performers Enable Quality Digitally
Top Performers Enable Quality with a Platform Approach
Conclusion
Recommendations
About the Author
About the Research
About the Sponsor
Conclusion
Quality Management is crucial for CPG companies, but they face significant challenges. Although CPG companies report they are relatively effective at preventing significant issues, they face excess Quality Management related costs.
Top Performers, on the other hand, are able to achieve better quality results from both quality and cost perspectives. They appear to have broken out of the paradigm of "better quality or lower cost, choose one." They do this by taking a more holistic approach to quality, using more advanced tools like analytics, and leveraging more automation.
Beyond the individual tools they use to manage quality, Top Performers take a much more integrated approach to organization, processes, and systems. They are more likely to have integrated data and processes, integrated systems, and pursue a platform approach for Quality Management. Our conclusion is that an integrated, digital approach to Quality Management in the CPG industry drives better business results from both quality and cost perspectives.
Recommendations
Based on industry experience and research for this report, Tech-Clarity offers the following recommendations:
Take a holistic view and approach to quality
Move away from brute force Quality Management practices
Adopt automation for more current, trusted data
Adopt advanced tools like analytics to improve quality
Move to a digital approach
Integrate quality systems
Leverage a platform of solutions to enable more holistic, integrated quality to improve quality without increasing cost, or reduce cost and maintain quality