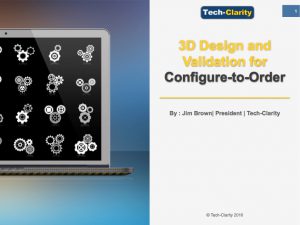 This new eBook explains how companies with configure-to-order (CTO) products can improve efficiency and responsiveness through the intelligent use of 3D design and validation techniques. The research shares perspectives from Tech-Clarity's Jim Brown and GE's Jeff Erno on how design and validation can be "shifted left" in time so manufacturers can accurately and rapidly deliver quotes and orders for personalized products.
Please enjoy the excerpt below. For the full report, please visit our sponsor Dassault Systemes (free of charge, registration required).
You also view the related infographic on our site.
The Strategic Value of CTO
Selling configured products can drive significant business benefits including increased differentiation and price margins. An increasing number of manufacturers offer customization as a strategic weapon, while for others it's a mandatory fact of life to meet customer needs and ensure products fit into customer sites and scenarios. In either scenario, it's a highly valuable approach.
Configuration is also strategic to localizing products to meet global requirements. Many manufacturers are simultaneously launching variants of a single, global product around the world. This takes a little longer to achieve, but maximizes profits across regions and improves operating margins. It can also prevent competitors from copying and launching differentiating features of a product in other parts of the world where it hasn't been launched yet.
Configuring products to order, however, is inherently complex. Being able to effectively and efficiently design, validate, and sell configure-to-order (CTO) products is a strategic capability that drives profitability. A well-designed CTO process allows companies to define product variants and associate them with customer specifications so they can rapidly respond to customer requests for quote (RFQ) and orders.
Conclusion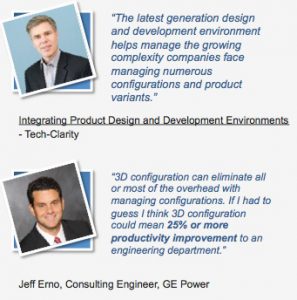 It's time for manufacturers to improve CTO performance by leveraging 3D design and validation. With 3D configuration, engineers can develop variants in 3D without generating CAD files for each variant. They can use a max case approach to find errors early using dynamic filters to design in a configured context. "Configured structures change the ball game because you aren't managing every component in every variant, only the net change," GE's Erno explains.
Designing variants in 3D, manufacturers can shift the majority of engineering effort "left" in order to streamline quotes and orders and execute more rapidly and accurately. They can develop more compelling quotes and bids leveraging 3D and high definition renderings, impressing customers and giving them greater confidence in their orders.
Using the right processes and 3D configuration technology, manufacturers can improve efficiency, streamline order processes, reduce errors, and develop accurate quotes much more quickly.