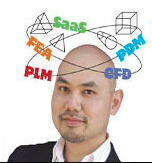 I have been truly touched to see how much support we have received from the industry on our new web show. There have been numerous tweets and posts about what Chad and I are trying to accomplish – start some serious debates about PLM and engineering software issues without taking ourselves to seriously.
From Oleg posting about PLM Edutainment to this post and podcast interview by Kenneth Wong of Desktop Engineering. My thanks go out to those that believe in what we are doing.
By the way, I wonder if that picture of us on the set is me showing Chad the size of the wad of wasabi he will be brushing his teeth with?