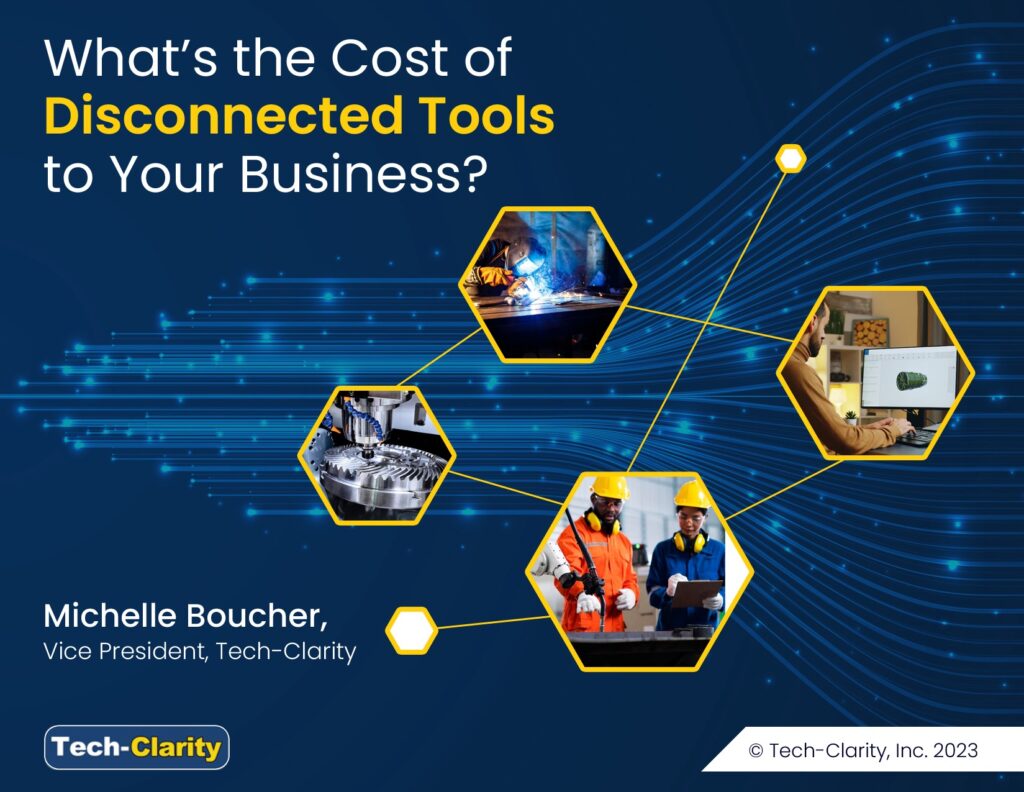 How much do disconnected tools cost your business?
Historically, most companies have relied on multiple disconnected tools to get the job done, particularly in product development and manufacturing. IT then invests significant effort to integrate them. Interestingly, Top Performing companies say that reducing manual efforts and non-value-added work is most important for successful product development and manufacturing software. To achieve this, they point to solutions that easily integrate. This leads to the question, should companies invest in best-of-breed solutions they must integrate or adopt an integrated platform? Do the benefits of adopting best-of-breed point solutions outweigh the cost of working with disconnected tools?
Based on a survey of 187 IT, product development, and manufacturing professionals, this research study examines these questions. It looks at what IT needs to be successful in their job and how they can provide the most value to their company, including product development and manufacturing teams. It reveals best practices for overcoming the costs of disconnected tools and how to empower IT to focus more energy on the tasks that offer the most corporate benefit and make them even more successful.
Please enjoy the summary* below. For the full research, please visit our sponsor SOLIDWORKS (registration required).
Table of Contents
Executive Summary
IT is Critical to Business Strategy Execution
Address IT Bottlenecks to Ensure Success
Identifying Top Performers
Product Development and Manufacturing Software
Product Development & Manufacturing Requirements
Is Best-of-Breed Still the Best Approach?
Best-of-Breed Impact on Users
Overcoming Best-of-Breed Challenges
An Integrated Platform Solves Many Challenges
IT Advantages of an Integrated Platform
What It Takes to Keep Product Data Secure
Recommendations
About the Research
Acknowledgments
Executive Summary
IT's Role in Competitiveness
Companies must be as efficient as possible in today's competitive global environment. Many are turning to digital transformation to achieve greater efficiencies, leading them to rely on IT to execute. Yet, IT must deal with many issues that hold them back. They rate the time and effort required to integrate software applications as the top issue consuming their time, taking them away from enabling business strategies.
Product Development & Manufacturing
The right software solutions empower engineering and manufacturing and are critical to a digital transformation strategy. To be successful, product development and manufacturing need their software to reduce manual efforts and non-value-added work to help them meet time to market goals, improve quality, and lower costs. This requires integrated solutions, yet IT rates integrating software solutions as the top challenge of implementing product development and manufacturing solutions.
Does Best-of-Breed Still Work?
The challenges associated with disconnected tools lead to the question, what's better, a best-of-breed or integrated platform approach? Historically, best-of-breed solutions were preferred. While individual tasks benefit, to achieve the efficiencies promised with digital transformation, manage product complexity, and respond to competitive pressures, the entire product lifecycle, from design to production, should be considered. The lack of integration across tools creates bottlenecks and breaks the digital thread, negating potential time savings when improving a single task. Further, IT rates the efforts required to integrate solutions as the top challenge associated with a best-of-breed approach. To overcome this, most of those using best-of-breed solutions believe adopting a platform of integrated tools will help.
Integrated Platforms
Those who use an integrated platform, validate this idea as 99% of those using an integrated platform report advantages over other approaches. These advantages lead to improved product quality, greater efficiency, greater ability to scale the business, lower product cost, and better business agility.
With a platform, IT can avoid wasting time managing complex compatibility matrixes and integrating software. Instead, they can focus on activities that increase their visibility as a corporate strategic asset.
IT Is Critical to Business Strategy Execution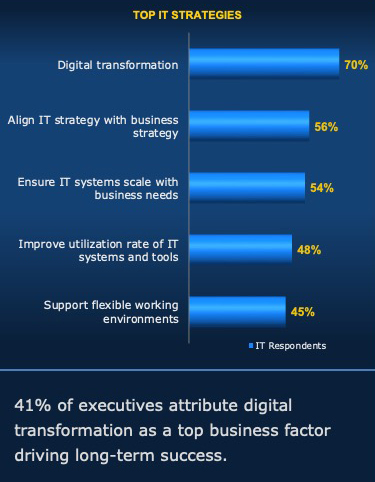 Top IT Strategies
The role of IT has evolved from a tactical "order-taker" delivering on requirements provided by business leaders to a more strategic one. Now IT is more likely to collaborate with business leaders to help identify and define business problems.1 The top IT strategies reflect this more strategic focus.
Digital Transformation
Digital Transformation has enabled many companies to achieve efficiencies that are hard for competitors to match.2 As such, Tech-Clarity's research finds that 41% of executives attribute digital transformation as a top business factor driving long-term success.3 Consequently, many executives place high importance on digital transformation, making it a priority for IT.
Successful digital transformation relies heavily on implementing the right technology. However, it is a considerable undertaking as true digital transformation impacts all business processes and requires a deep understanding of company processes, bottlenecks, and optimization opportunities. Implementation requires a significant IT investment. It is also a journey, requiring continuous improvement to realize the highest levels of efficiency.
Enable the Business
IT must ensure its strategies align with business goals. They must meet today's business needs and consider future needs to ensure that whatever they implement doesn't limit the business and will scale as it grows. They also need to ensure that what they implement provides value so the company realizes the expected return on the investment (ROI). Finally, they need to ensure that they can support a variety of environments across all company locations, including those working from home or on the road.
Recommendations
Recommendations and Next Steps
Based on industry experience and research for this report, Tech-Clarity offers the following recommendations for IT staff:
Ensure the success of product development and manufacturing software by focusing on automation to reduce manual efforts.
Keep in mind the significant time pressures faced by product development and manufacturing teams. Connecting time savings to any new software solution will encourage their adoption.
Consider the benefits of an integrated platform over a best-of-breed approach. Technology advancements over the last several years have led to powerfully capable integrated platforms that will not have the drawbacks of disconnected tools.
Recognize that digital transformation is not just a technology solution. An integrated platform can help, but implementation is critical. It should increase data reuse across the product lifecycle, eliminate data silos, automate processes and workflows, extend access to product data beyond engineering, and create a sign source of truth.
Do not underestimate the efforts required to successfully implement digital transformation. It may require rethinking processes and significant effort to understand processes, bottlenecks, and opportunities for improvement. This will be an ongoing continuous improvement journey. By offloading more tedious tactical tasks, IT can focus more energy on the more strategic work that will enable digital transformation.
Recognize the significant efforts required to keep data secure to determine if those resources would be better spent supporting the company's core business.
*This summary is an abbreviated version of the research and does not contain the full content. For the full research, please visit our sponsor SOLIDWORKS (registration required).
If you have difficulty obtaining a copy of the report, please contact us.