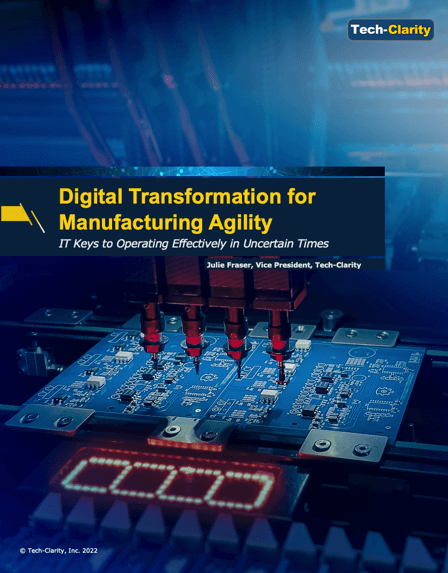 What does MES need for manufacturing IT agility and to stay current in our uncertain world? It's more than fit and functionality: a modern IT architecture. We talked to leading high-tech manufacturers to understand their vision for this.
Please enjoy the summary below. For the full paper, please visit our sponsor Critical Manufacturing (registration required).
For related research, please watch the MES Architecture for More Resilient, Responsive, and Agile Manufacturing webcast.
Table of Contents
Executive Summary

Nothing is Stable
Production Process Impact
The Challenge of Enterprise MES
Modern MES Capabilities
Containerization for Deployment Choice
Container Orchestration to Optimize IT Performance
DevOps Environment for Progress
Extending DevOps for Ecosystem Access
Deployment Coordination
Conclusion
References
About the Author
Executive Summary
Digital transformation aims to enhance agility. It must encompass every aspect of a business, including information technology (IT), business teams, and production operations, including the operations technology (OT) teams. Manufacturing execution systems (MES) and related plant floor software have been challenging to implement, maintain, and upgrade. However, manufacturers operating in uncertain times need better agility to succeed with continuous improvement and operational excellence.
The ability to change quickly has become more complex. Today, it involves greater collaboration. Investment in new digital technologies, operating systems, and software applications has become a top strategic priority. This shift is now driving a digital transformation across manufacturing IT systems.
Upgrading to a modern Manufacturing IT system unlocks exponential performance improvement by improving responsiveness. Manufacturers can leverage containerization strategies and DevOps environments by investing in new IT solutions with an advanced technology architecture to improve efficiency, customer satisfaction, and profit margins.
FIGURE 6: OPENING DEVOPS FOR ECOSYSTEM ACCESS BEYOND THE SOFTWARE PROVIDER TO SERVICES PARTNERS AND MANUFACTURING IT TEAMS ENABLES ALL PARTIES TO KEEP THE SOFTWARE CURRENT AND OPTIMIZED
Conclusion
Today's relentless pace and scope of change have forever altered how manufacturers operate. This requires companies to change the evaluation and selection process for purchasing software and systems. Companies can no longer risk staying with legacy IT systems or MES software applications in a world of extreme change and uncertainty. Even many current MES products cannot keep up.
Innovation in the software industry has yielded an array of new architectures, deployment methodologies, and hosting options. They are finally arriving on the factory floor. These advanced technologies can overcome the challenges associated with uncertainty by streamlining the configuration, standardization, and update processes related to application management. Orchestrated containerization and new DevOps platforms improve collaboration and facilitate enterprise MES deployment. This agility in architecture and tooling is fundamental to overcoming extreme uncertainty.
Manufacturers can implement a modern MES to unlock these benefits – provided it is built on a fully up-to-date architecture. With this foundation, is it possible to:
Establish a perfect fit in every site and line, even with special one-off needs

Manage, customize, and update applications consistently from a Center of Excellence (CoE)

Boost performance and progress from a digital transformation strategy by using a single enterprise manufacturing software suite that is agile, responsive, and fully supports both line of business and IT needs.
We can expect the challenges and uncertainty manufacturers face to remain or even intensify. Digital transformation that modernizes the architecture of plant floor applications such as MES, scheduling, maintenance, quality, automation, and IIoT can deliver the agility manufacturers need. Those that embrace this change and implement new modern manufacturing IT systems will be better prepared to navigate a more resilient, profitable course into the future.
This summary is an abbreviated version of the research and does not contain the full content. For the full research, please visit our sponsor Critical Manufacturing (registration required).
If you have difficulty obtaining a copy of the report, please contact us.