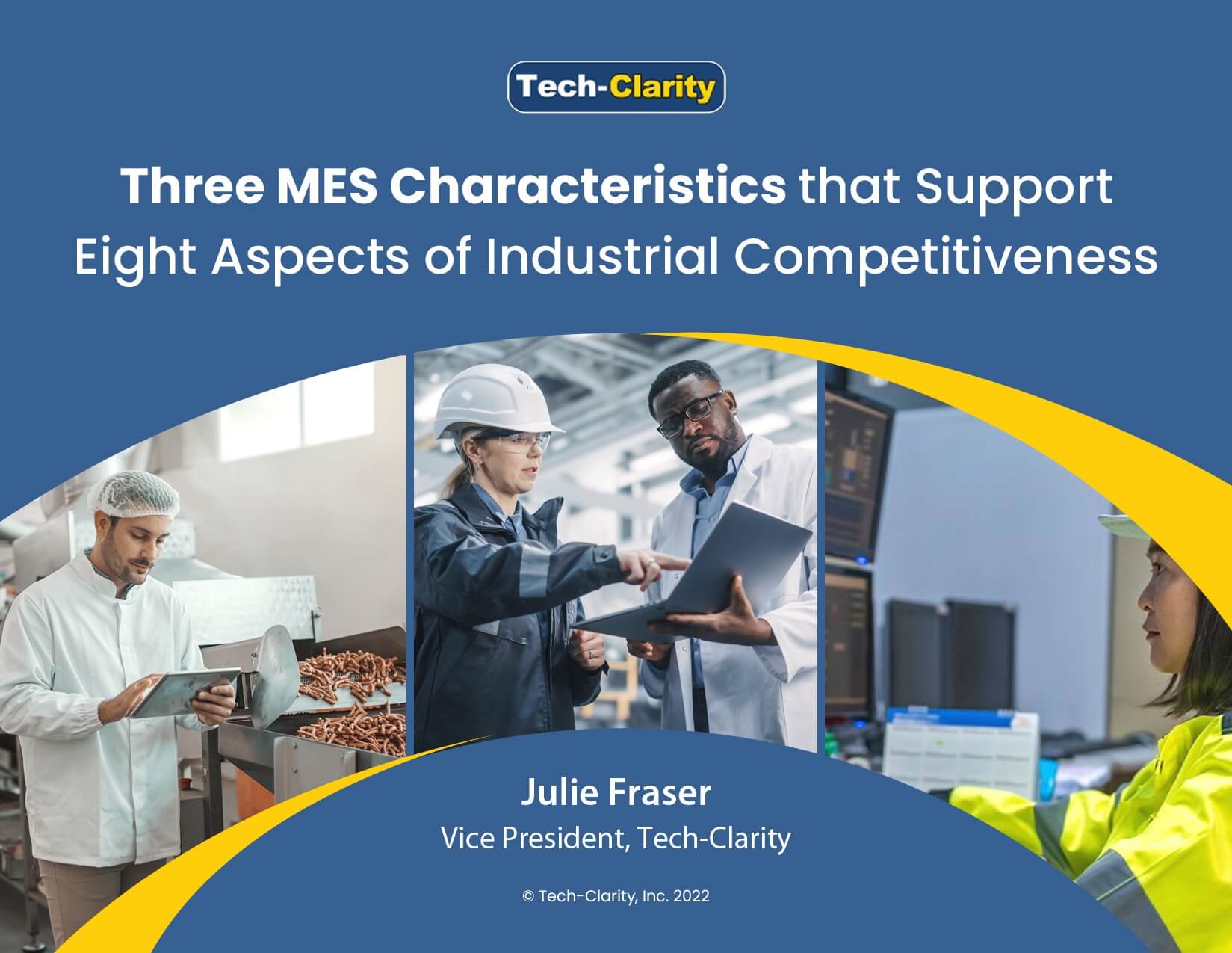 What do manufacturers need in MES to be competitive both today and in the future?
Hint: it goes well beyond strong functional support and into what may sound like buzzwords, but are truly crucial architectural elements. In this paper, we group them into three elements: digital thread-ready, personalized, and leveraging a comprehensive digital twin. Each of these supports various aspects of industrial competitiveness.
Please enjoy the summary* below. For the full research, please visit our sponsor Siemens Digital Industries Software (registration required).
Table of Contents
MES: Pivotal Solution
Escalating Pressures and Expectations
Eight Aspects of Industrial Competitiveness
Three Architectural Characteristics of MES
Comprehensive Digital Twin Driving Insights
Digital Thread as a Foundation
Personalized MES for Great User Experience
How Characteristics Map for Competitiveness
Identifying MES with the Three Characteristics
Recommendations
Acknowledgments
MES to Support Today's Operations
Overcoming the Operational Squeeze
As the world has become less predictable, manufacturers have had to learn to change direction quickly to compete and thrive. Eight critical aspects of industrial competitiveness prevail today, including innovation, sustainability, and resilience. Ensuring operations can deliver these capabilities is no mean feat. Operations are complex and can't be simplified, but the IT systems that support and run them can be much more approachable and quicker to implement and tailor to specific needs. Manufacturing Execution Systems (MES) are crucial to support industrial competitiveness, and three characteristics are foundational.
Three Architectural Characteristics of MES
Beyond Functionality
Historically, MES needed the right functionality to fit production's needs. That is now necessary but not sufficient. To be an effective system for digital transformation, it also needs to have three crucial architectural characteristics. Digital thread to ensure information connectivity; the ability to personalize it both by functionality and user experience; and to leverage all facets of a digital twin to reliably reflect and improve performance.
#1 Digital Thread-ready
Top-performing companies tend to be more effective at data availability and continuity across steps and their company and ecosystem.2 To facilitate this, MES must be open and capable of data enrichment. MES must contextualize data in required formats across domains and disciplines. Two-way information flow must occur with enterprise applications, including product lifecycle management (PLM), supply chain management (SCM), enterprise resource planning (ERP), customer relationship management (CRM), etc., and Operations Technology (OT), such as automation, equipment, IoT, historians, and supervisory control and data acquisition (SCADA).
#2 Personalized
For MES, one size does not fit all. Functional details must serve the language and culture of the specific industry. Beyond that, composable architectures provide a way to address pain points quickly with new functionality. Ideally, the system also provides a low-code user interface for citizen developers to tailor screens and data flows to each role in each plant—perhaps even the individual! Low-code used with suitable MES can deliver workflows for plant employees to access the data they need from (and contribute seamlessly to) the digital thread.
#3 Leverages a Comprehensive Digital Twin
A digital twin is a virtual model that can both predict and stay in sync with tangible assets and activities as conditions change. In the best case, MES uses models not only of the process and its performance but also of the products it produces. This interaction of the product, process, and performance is what's physically occurring in the plant. This combination enables manufacturing engineering to better craft the process for each product variant. It also supports ongoing continuous improvement (CI) across all teams.
Recommendations and Next Steps
Set your

strategy and priorities

for the company and each site considering the eight aspects of competitiveness: decide which matter most to you now? How can they support one another? What priorities and needs do you foresee in the future?

Assess plant operations' capabilities

to support each aspect of competitiveness and create a "heat map" to prioritize IT needs in each facility by top priority, most significant gap, quickest likely improvement, or a combination.

Consider the MOM space and the

entire business information and process flow

needs in scoping your MES project. Remember, MES is at the center, so it must interact well with people and other systems (i.e., PLM, logistics).

Create a

clear set of goals

for your MES selection that will drive both obvious near-term benefits and longer-term abilities to remain competitive. Base this firmly on company strategy and priorities.

Educate

up and down the organization that MES is not just the functions and modules you need in the plant(s) or data conduit between engineering, IoT/OT and IT, but the structure to ensure all of the data from those becomes usable in-context information.

Evaluate MES based on a full definition of the three characteristics

: digital thread-ready, available to personalize fully, and leverages a comprehensive digital twin.

Consider the

software provider's ability to support your company's long-term needs

and their experience in your industry segment(s). Seek a trustworthy partner who can add domain expertise over the long haul.

When you

conduct reference calls

to peers in your segment who have used the latest versions of an MES offering, expect good results but focus on challenges, timeframes, and not just plant but overall business impact.

Be prepared to have conflicting views of the best MES solution, but ensure that the overall business objectives and long-term

digital transformation possibilities

stay at the forefront of your selection approach.
*This summary is an abbreviated version of the research and does not contain the full content. For the full research, please visit our sponsor Siemens Digital Industries Software (registration required).
If you have difficulty obtaining a copy of the report, please contact us.