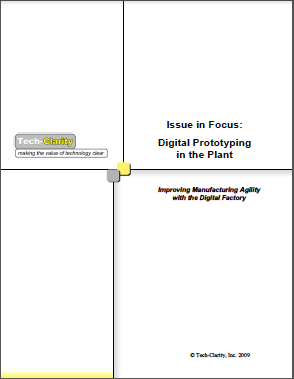 Tech-Clarity Issue in Focus: Digital Prototyping in the Plant: Improving Manufacturing Agility with the Digital Factory discusses how digital prototyping solutions can help manufacturers achieve greater agility by leveraging a digital factory approach. This is particularly important today as the manufacturing industries – particularly the automotive industry – are faced with the need to drastically improve efficiency and adapt to rapidly changing market and production landscapes.
Please enjoy the free Executive Summary below, or click the report title above to download the full PDF (free of charge, no registration required).
Table of Contents
Introducing the Issue
Adapting and Optimizing Workstations, Lines and Plants
Designing Optimal Tooling and Equipment
Collaborating Electronically to Retool the Plant
Conclusion
Recommendations
About the Author
Introducing the Issue
One thing is for certain, the manufacturing industry landscape has changed. There have been plant closures and consolidations, particularly in the automotive and transportation industries. More change is on the way as companies adjust their plans to survive the current economic downturn and prepare themselves for the recovering market. In this environment, manufacturing plants must adapt to changing product lines, new product mixes, different production volumes, and more as external market forces and corporate strategy drive change to the factory floor. This is in addition to changes from cost reduction programs, quality initiatives, and – hopefully – some innovative new products.
The resulting changes coming to manufacturing facilities will require significant retooling of plants. Production lines and tooling will need to be moved, consolidated, and potentially repurposed. There is a lot of work to do in order to reconfigure today's manufacturing facilities to become the productivity and profitability engines of tomorrow's leading manufacturers. Manufacturing agility will be an important competitive capability. As Pat Frey, Vice President of Production Control and Logistics for automotive supplier Android says "You have to be nimble in this industry, or you'll be gone."
Those companies that will be agile enough to react to the changing market will be able to reduce cost to survive in the current economy, and react more quickly to revenue opportunities brought about by the recovering market. "The biggest impact we are seeing is that our products are changing," explains Wolfgang Röder, the Manager IT Department for automotive and industrial technology, consumer goods and building technology supplier Robert Bosch. "For example in past ten years more than 95% of our customers were from automotive, but now Bosch has acquired new companies in the energy sector. Our product portfolio will change within the upcoming year, and our plant equipment design requirements and challenges will change drastically." Speed is critical, and agility is the key to profitability. Now, more than ever, manufacturers need be able to make changes in their plants quickly.
Beyond change, one other thing is certain – there will likely be very little extra capital budget to go around in order to make the required modifications. Companies will have to be very efficient in the way they reshape their plants to address today's new reality. How can companies adapt their production facilities quickly, inexpensively, and make sure that they are getting the most return on their infrastructure? Flexibility and reuse are mandatory. Moreover, companies will need to ensure the changes that they make are right before committing to expensive and disruptive plant modifications. Manufacturers need to do this right, and get it right the first time. Digital prototyping in the plant is a significant key to success in these times.