What an interesting surprise this morning to see Dassault Systemes decided to acquire Accelrys. The combination of Dassault Systemes' PLM capabilities and Accelrys' solutions for scientific exploration offer a compelling suite of solutions that will be hard for anybody else to match. See the press release here.
What does Accelrys Do?
Accelrys offers Scientific Lifecycle Management (ScLM), or what they call "Scientific Innovation Lifecycle Management." They offer electronic lab notebooks (ELN), molecular simulation, scientific discovery tools, and more. They effectively support R&D and the lab, and have been moving to align those activities more closely with the product lifecycle.
What does Dassault Systemes Do?
DS has become the "3D Experience" company, but most manufacturers know them for Product Lifecycle Management (PLM). See more on their strategy in Dassault Systèmes PLM Vision 2014+ post. Feel free to add a comment that points out that I totally missed this as something DS might do, this is a much more "adjacent" acquisition than I expected, offering much better capabilities to their existing customers. For anyone concerned that DS wasn't going to continue to invest in their core markets, this should serve as proof that DS plans to grow in existing markets while also expanding in non-traditional PLM markets like CPG and life sciences.
What does a Combined DS-Accelrys Do?
As a coincidence (at least as far as I know) I just had the opportunity to present my views on how Accelrys fits into the enterprise ecosystem to a large audience of Accelrys personnel, specifically on how ScLM fits with PLM and ERP. The combination is very complementary. Here are some areas of opportunity:
Developing an integrated PLM-ScLM offering to tie scientific innovation, discovery, and simulation to product-level innovation and new product development.
Enhancing scientific discovery for discrete manufacturers in the areas of materials, a market that Accelrys hasn't fully tapped due to their focus on the process industries.
Creating a very compelling PLM solution for the CPG, chemical, lifescience, and other "process" industries that develop and produce formulated products, perhaps combining what Accelrys does with the solutions acquired from Enginuity.
Here is the preliminary view I presented on how ERP, PLM, and ScLM/SILM complement each other in the enterprise system ecosystem for manufacturing. This is still in process and will be published in an upcoming report (stay tuned).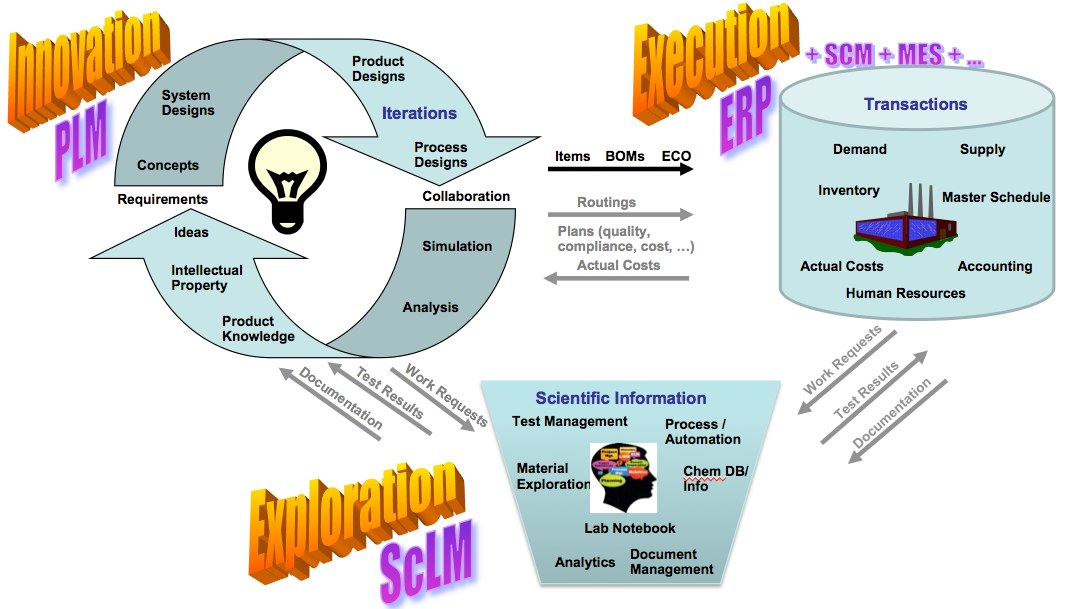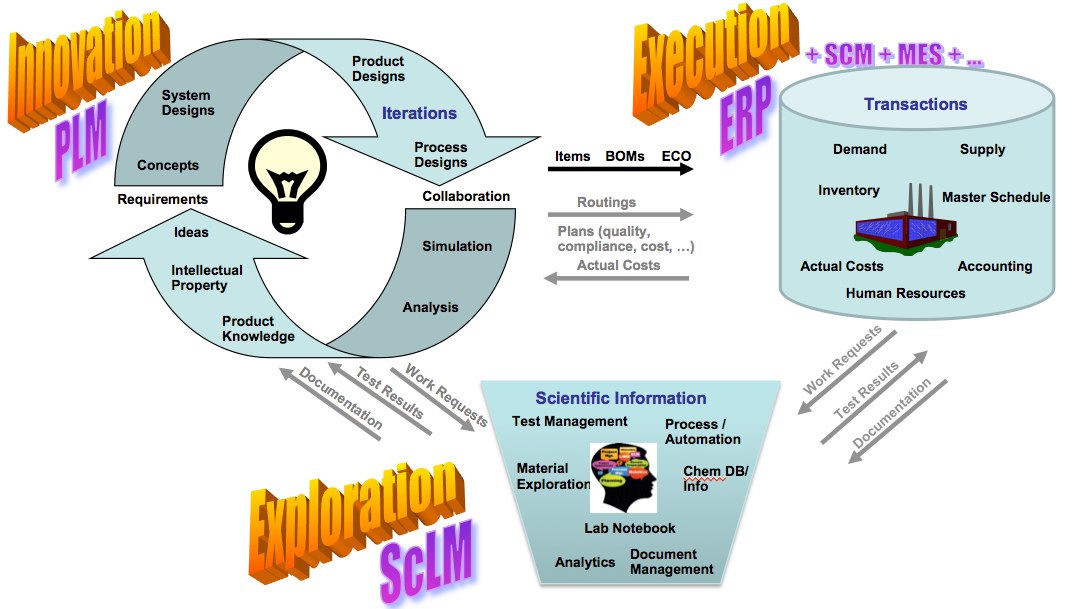 I guess we will see these accelerate quickly with this acquisition. Of course this is an addition to the growth that Accelrys was already seeing by acquiring a significant suite of capabilities for science and the lab.
Those are my quick thoughts on the move. This is going to be very interesting as it takes DS further down into scientific discovery than any other PLM vendor I am aware of. This is the start of a different kind of suite, what Dassault Systemes calls "Delivering Scientific Innovation in the Age of Experience (see below)."
Source: Dassault Systemes