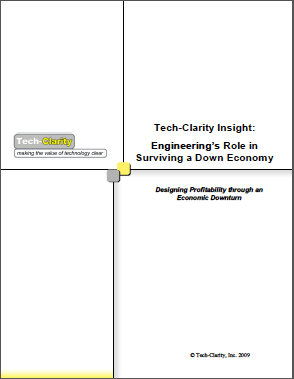 Tech-Clarity Insight: Engineering's Role in Surviving a Down Economy – Designing Profitability through an Economic Downturn discusses strategies that Engineering can adopt to help their companies navigate difficult financial times. Explains how Engineering can help their companies survive during the downturn, but also invest for the future to thrive during the eventual economic recovery.
Please enjoy the free Executive Summary below, or click the report title above to download the full PDF (free of charge, no registration required).
Note: Originally published in 2009
Table of Contents
Executive Overview
Holding the Top Line
Delivering Customer Value at Reduced Cost
Running a Lean Organization (as if you had a choice)
Keeping an Optimistic Eye towards the Future
Conclusion
Recommendations
About the Author
Executive Overview
Many manufacturers are feeling the impact of the global economic downturn. They are seeing already competitive, global markets tighten up and customer demand slipping. Revenues are falling, price points are weakening, and profits are sliding. To make matters worse, many Engineering departments are dealing with budget cuts, headcount freezes, early retirements, or even workforce reductions while still trying to develop the right products to keep the company competitive. Unfortunately, many of the product development challenges and inefficiencies they were already facing are brought further to the forefront as design capacity drops. Despite the urge to throw up their hands and give up, it is important for Engineering to recognize the role that they can play in keeping their company financially healthy in troubled economic times. There will surely be challenges and significant difficulty for many, particularly for those companies that must reduce the size of their workforce. Today, survival requires a combination of strategies and enabling technologies to help keep the business alive during the downturn, and ensure that it is in decent – if not very good – shape to take advantage of the eventual market turnaround. This paper is intended to provide guidance and insight to Engineers and Engineering Management as they develop their strategies for surviving the economic winter and preparing for the economic spring that will surely follow. These strategies include:
Pursuing product excellence to help sales hold the top line
Implementing cost control to compete and save shrinking margins
Investing for the future by continuing research and development and enhancing engineering capabilities
Engineering software solutions, including "digital prototyping" solutions, are proving to be an enabler for all of these strategies. This paper reviews the experiences of several companies that have leveraged their engineering software solutions to help survive hard times and capitalize on recoveries. One encouraging finding is that, in many cases, companies already have the software in place or available to support these strategies.
By leveraging the right strategies and enabling technologies, engineers can play an active role in sustaining company performance in the downturn and coming out of these troubling times ready to fight another day in what will surely emerge as more fertile, but still fiercely competitive, global markets.