A quick peek into some research on … how companies are meeting environmental regulations for their products, and doing so in a way that is sustainable to the business from a cost and risk perspective.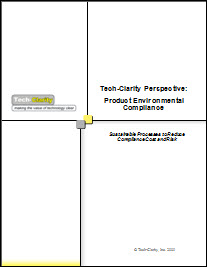 As manufacturers face increasing pressure from regulations such as REACH and evolving regulations like the many flavors of RoHS, it is becoming more important to develop a platform and a capability to address compliance systematically as opposed to viewing it as a series of one-off projects by regulation. This study, Tech-Clarity Perspective: Product Environmental Compliance, combines interviews with three leading manufacturers with survey results from over 300 companies to help manufacturers understand environmental product compliance challenges and how companies are addressing them.
The Research Findings
This study was unique for Tech-Clarity because it involved both survey data and interviews with compliance leaders in several manufacturing companies. The report provides two perspectives. The first is a broad perspective on the approaches that companies are taking to address their product compliance challenges. The second is a more detailed look at how three leading companies – Motorola, APC, and Seagate – are addressing these challenges.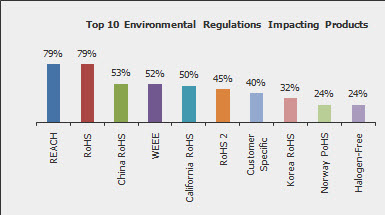 The results are very interesting. There are some interesting figures on how regulations are impacting manufacturers and where they are focusing. One finding that I thought was interesting is that REACH (Registration, Evaluation, Authorization and Restriction of Chemicals ) is now impacting products in manufacturers as frequently as RoHS (Restriction of Hazardous Substances). Both regulations were reported by 79% of respondents as impacting their products. As always, I suggest that you read the research for more information.
Beyond those results, however, the report also makes certain conclusions about how companies can address compliance challenges in a sustainable way. In summary, these recommendations are:
Compiling a common set of product environmental performance requirements
Gaining a better understanding of the substances that make up components
Automating the analysis and monitoring of product structures and composition against requirements
Documenting proof of compliance electronically
Implications for Manufacturers
Many manufacturers are struggling with choosing which regulations to address, how thoroughly to address them, and how to approach the problem. The study paints a clear picture of three manufacturers that have looked at the problem holistically, and developed a systematic approach to deal with the multitude of regulations. Manufacturers can't afford the risk of stopped shipments, poor market perception of environmental stewardship, or losing access to markets. On the other hand, dealing with each regulation on a project basis will grind business to a halt and dramatically spike the cost of environmental compliance. The environmental product compliance challenge is here to stay, it will only get more difficult as customer requirements and regulations like REACH and RoHS expand and evolve, and will continue to drive unacceptable market risk and high compliance costs.
Manufacturers that develop a repeatable, systematic approach to address regulations will simultaneously reduce compliance risk and control total cost of compliance. As the examples in the report show, companies are leveraging enterprise software including PLM and specialized product compliance capabilities to meet these needs.
So that was a quick peek into some recent research on developing environmentally sustainable products in a commercially sustainable way, I hope you found it interesting. Does the research reflect your experiences? Do you see it differently? Let us know what it looks like from your perspective. Please feel free to review more free research and white papers about compliance, PLM and other enterprise software for manufacturers from Tech-Clarity.
Note: The link provides access to a free copy of a report summary or to the full report which is made available by PTC (registration required).