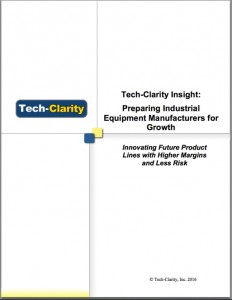 Preparing Industrial Equipment Manufacturers for Growth: Innovating Future Product Lines with Higher Margins identifies how industrial equipment manufacturers can transform their business to a position of growth by implementing a strategy for innovation, without investing in additional resources. With the right approach to innovation, companies will ensure future revenue streams, while managing risk. Getting this right is a challenge for many companies, but is especially difficult for businesses such as industrial equipment manufacturers offering Engineer-to-Order products.  This report discusses best practices for becoming more innovative, while meeting the demands of on-time delivery for current projects with current resources.
Please enjoy the summary below, or click the report or title to download the full PDF (free of charge, no registration required).
For for more information on improving innovation processes, please visit our sponsor, Autodesk. 
Table of Contents
Executive Overview
Why Should IEMs Care about Innovation?
Clarify the Meaning of Innovation
Identify Challenges that Hurt Innovation Success
Establish a Culture of Innovation
Invest in the Concept Phase
Define Processes
Take Advantage of Available Technologies
Conclusion
Recommendations
About the Author
Executive Overview
The industrial equipment industry has evolved significantly over the last few decades. Today, increasing global competition makes it very difficult for industrial equipment manufacturers to differentiate themselves. In addition, with growth in emerging markets slowing down, and the ability for fast followers to quickly copy incremental improvements, industrial equipment manufacturers looking to grow, need to develop new strategies. With this in mind, it is not too surprising that past research from Tech-Clarity, Best Practices for Developing Industrial Equipment, finds that differentiating products through innovation is the top reported business strategy, reported by 45% of industrial equipment manufacturers.
Joy Global, a leader in high-productivity mining solutions, stresses the value of innovation to their business. Says Chris Flynn, Director of Engineering of Underground Mining at Joy Global, "Innovation is a key part of our business. It enables us to grow in new areas and prevents erosion of our current market position." Flynn also comments on how it helps them remain competitive. "Other companies copy us. As time goes by, copied products and parts become commodities. Innovation is critical to competitiveness."
While innovation is critical to future success, the challenge is that industrial equipment manufacturers need to focus their limited resources on on-time delivery requirements and getting products out the door. This consumes so much time and effort, it can be very difficult to spare resources for innovation. This is particularly true for transformative innovation, which consists of breakthrough innovations that can lead to the biggest growth opportunities, but may also represent more risk.
This paper examines how companies can transform themselves to enable greater focus on transformative innovation to help them meet their goals for profitable growth. The report discusses how innovation starts with a culture of innovation. In addition to culture, with the right processes in place, companies can ensure they stay focused on the innovations that have the greatest chance of commercial success. Technology also plays a key role in enabling innovation. With tools such as CAD and simulation tools, companies can explore more ideas in less time. This combination of people, process and technology will enable industrial equipment manufacturers (IEMs) make time for innovation, while remaining focused on the day-to-day activities of getting product out.