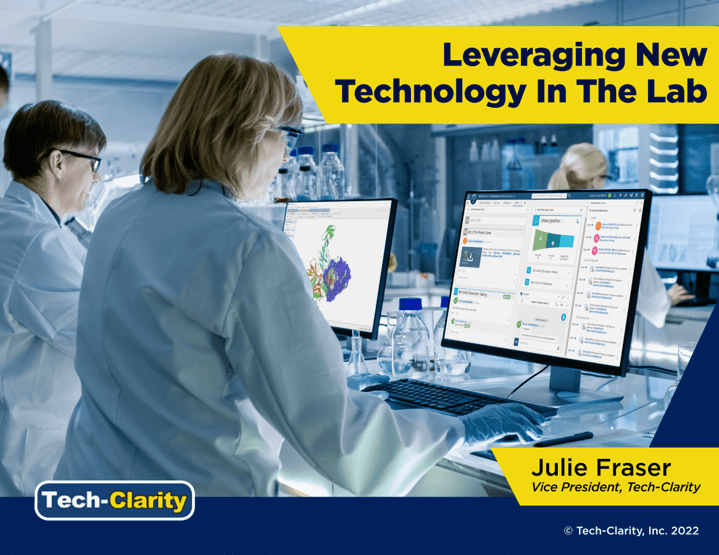 Beyond implementing lab technologies, what can laboratories do to leverage them effectively? We surveyed 222 people working in corporate labs to find out.
Please enjoy the summary* below. For the full research, please visit our sponsor Dassault Systemès BIOVIA (registration required).
Table of Contents
Current Situation

Challenges
Technology – The Solution?
Additional Needs
Recommendations
About the Research
Acknowledgements
Introduction
Technology Pays Off, but Maximum Performance Requires More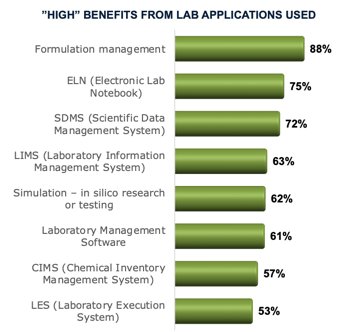 Can new technology in the laboratory help make companies more successful? Apparently. Almost universally, those who use them report they deliver significant business benefits. Yet constant changes, including changes in processes, materials, and technology, create challenges. To minimize inefficiency, most labs have worked toward good processes and practices. All of that is still not delivering total potential value.
 This research of 222 respondents from labs worldwide indicates that new technologies and processes are insufficient. Very few respondents report good – let alone excellent – performance on throughput, cycle time, documentation for compliance, or analyzing data and making sound decisions. It appears that greater integration and data standardization, a data-centric mindset, and process shift are also required. 
Recommendations
Recommendations and Next Steps
Don't rest on current processes and practices' successes; leverage new technology. You can expect excellent benefits.

Choose technologies that will deliver the performance improvements your business most needs from the lab.

Recognize that new technology may cause challenges for the lab. Prepare both education on the goals and training on the changes needed for each role to leverage it fully.

Be sure you gain significant benefits from each new technology you deploy; measure and quantify gains.

Beyond investing in new technology, be prepared to standardize and integrate it, possibly with a single platform.

Learn about industry standards such as Allotrope and consider whether they might support and guide your efforts in making laboratory data broadly usable.

Focus on not just having data but making it accessible and ready to aggregate, correlate, and use in new ways, such as advanced analytics.

Ensure that data scientists and lab domain experts work together closely to generate actionable insights that deliver business value from the data.

Realize that the data-centric mindset and approach are likely to be missing or immature, so get a top management sponsor who can support a culture shift and appropriate resources.
This summary is an abbreviated version of the research and does not contain the full content. For the full research, please visit our sponsor Dassault Systemès BIOVIA (registration required).
If you have difficulty obtaining a copy of the report, please contact us.