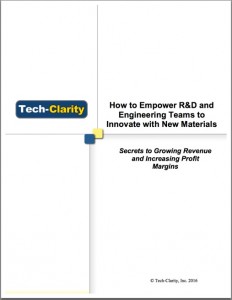 How to Empower R&D and Engineering Teams to Innovate with New Materials: Secrets to Growing Revenue and Increasing Profit Margins identifies six lessons to help companies innovate to secure future revenue streams, while managing risk. The study examines how new materials can help  companies innovate and how more successful companies take advantage of the latest developments in materials.  
Please enjoy the summary below, or click the report to download a PDF overview (free of charge, no registration required).
For the full report please visit our sponsor, Elsevier (free of charge, registration required).
Table of Contents
Executive Overview
Business Drivers for Innovation
Identifying the Top Performers
Lesson #1: Understand the Opportunities in New Materials
Lesson #2: Consider How To Balance Different Levels Of Innovation
Lesson #3: Implement the Right Innovation Strategies
Lesson #4: Prioritize Resources and Processes That Help Accelerate Discovery and Commercialization
Lesson #5: Successfully Transition From Concept to Manufacture at Scale By Looking at the Entire System
Conclusion
Recommendations
About the Author
About the Research
Executive Overview
It is not easy competing in today's market. Companies today must stand out from a field of global competitors. Plus crowdfunding options such as Kickstarter have lowered the barrier to entry for new startups with innovative offerings. Companies who stay with the status quo will find it increasingly difficult to compete in this market.
Innovation is key to developing future revenue streams. Yet, there is a certain amount of risk when investing in new ideas. How do leading companies manage risks around innovating? How do they empower their teams? How do they optimize their ideas for innovation? What are the risks of staying with the status quo?
To answer these questions Tech-Clarity surveyed heads of R&D and engineering, scientists and engineers from 318 companies. Survey respondents were located around the globe and represented companies ranging from under $100 million to over $5 billion. Companies came from a variety of industries including automotive, chemicals, electronics, industrial equipment, and aerospace and defense.
Tech-Clarity identified Top Performing companies to understand which practices lead to success. More successful companies look beyond their products and local expertise to expand their sources of innovation. In fact, leading companies are 66% more likely than their lesser performing competitors to empower their teams with access to the latest academic research. They also invest in technology that will help their teams tap into resources that support the discovery and use of new materials and applications. While the discovery and commercialization processes are critical to bring the right innovations to market, new innovations must also transition from concept to manufacture at scale. Top Performers look at the entire system to successfully make this transition.
While there is a common view that too much focus on break-through innovation means sacrificing short-term results, the research finds that leading companies balance their innovation portfolios with different levels of innovation, putting more emphasis on break-through and major innovations than their lesser performing competitors. The combination of this and other findings enables Top Performing companies to experience 2.1 times the revenue growth of their lessor performing competitors. This paper identifies six lessons companies can learn from Top Performing companies and apply to their own businesses to help them realize similar success.