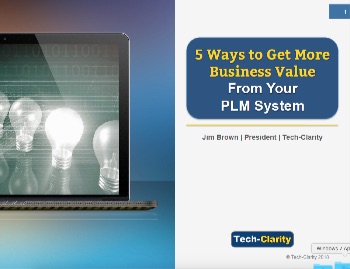 How can manufacturers extend their PLM investments to gain higher levels of business value? The new 5 Ways to Get More Business Value from Your PLM System offers practical approaches for companies to leverage their existing Product Lifecycle Management investment to improve top-line and bottom-line performance, including tips gained from two leading manufacturers.
Please enjoy the summary below. For the full report, please visit our sponsor Razorleaf (no charge, registration required).
Has your PLM Value Stalled?
It's time to re-energize your PLM solution. Most companies start their PLM implementations with high ambitions for strategic business results. Too often they get through the first implementation, typically supporting core Product Data Management (PDM), and stall.
Companies like this are missing a golden opportunity. Once the PLM foundation is in place, there's a lot more than can be done to leverage it for greater value. Our research shows that companies gain significantly higher levels of ROI from supplemental PLM projects than from their initial implementation. "Expanding capabilities is much easier when you have the foundation in place and a community with PLM skills," offers the manager of a leading transportation equipment manufacturer.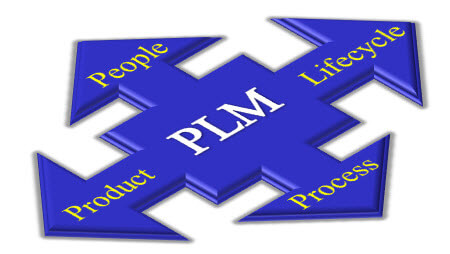 Even if your company has already gone beyond the basics, it's likely that changes in your business have opened up opportunities that weren't considered earlier. Beyond that, the manufacturing industry's shift to the digital enterprise offers compelling new opportunities that can expand PLM value including IoT, Digital Twin, Augmented Reality (AR), and more. There are proven ways to do it. Let's explore how your company can leverage what you have to do more.
Expanding Your PLM Value
Most companies have a lot more value to extract from PLM. Even if your company has completed all of your planned phases and met your original goals, it's very likely they could go beyond what they initially expected.
Many companies can get more by simply extending what they have. The digital evolution of the manufacturing industry and PLM's adoption of platform and cloud architectures have unlocked significant new opportunities for business value for those that want to go further.
It's time for companies to start with the business in mind, make sure they've locked in the value available from the basics, and then look to achieve more.
"Think of it as an ROI driven investment," advises the manager of the transportation equipment manufacturer. "Don't just do it because it's cool, have a vision for where you want to go and how the tools will get you there. Do the evaluation to make sure it's worthwhile for the business. Keep improving so you don't become stagnant."
PLM helps companies manage complexity, improve productivity, and reduce cost. But PLM can do more, enabling top-line growth and margin expansion. It's also important to recognize that digitalization is changing the market landscape. PLM can provide the foundation to support IoT and other transformational initiatives that may significantly change your company's value proposition and competitive standing. It's time to get started.