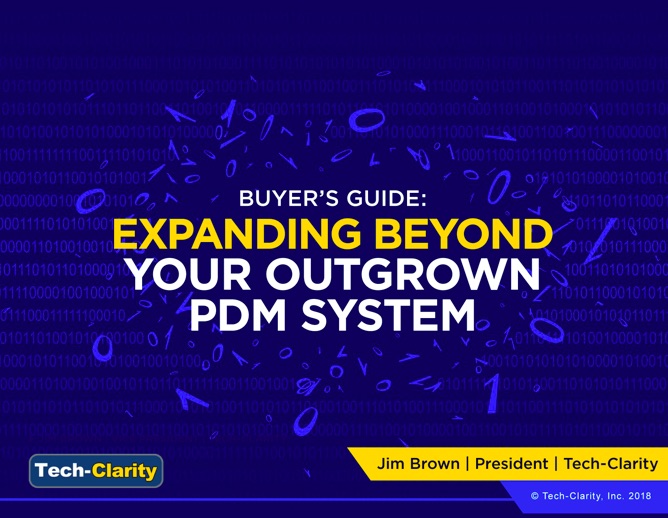 What should manufacturers look for when it's time to replace their outgrown PDM system? Our research shows a high correlation between elevated business performance and strong product data management capabilities.  Unfortunately, we find many manufacturers have already stretched the limits of what their basic Product Data Management (PDM) system can do. In most cases, it meets fundamental CAD management or engineering document management needs, but falls short beyond keeping data in control. What should they look for in a replacement PDM solution?
This eBook shares the Top Ten signs you've outgrown your PDM system and then shares requirements to use as the basis for selecting an extended PDM solution to Control, Access, and Share product data. Like our other Buyer's Guides, we look beyond software requirements to the other elements that help companies get value from their solutions, including criteria to consider for implementation, adoption, service, and vendor selection. This guide also covers special needs including advice for smaller and larger manufacturers and shares considerations for addressing some specific industry needs and supporting the transition to the digital enterprise.
Click here for our full Buyer's guide, thank you to our sponsor PTC.
Please also see our Upgrading to PLM when PDM Falls Short buyer's guide.
Table of Contents
What to do When You've Outgrown Your PDM
Introducing the Buyer's Guide for a More Capable PDM Solution
Top Ten Signs You've Outgrown Your PDM System
Extending the Control – Access – Share Basics
Going Beyond PDM Basics
Extended PDM Requirements
New Considerations for Service, Vendor, and Special Considerations
Next Steps
About the Author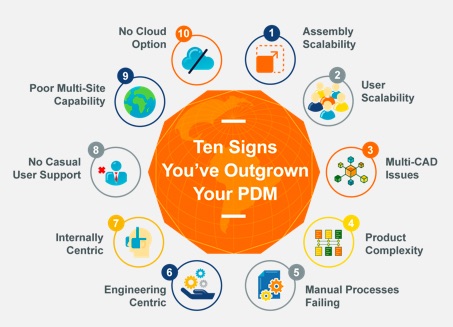 Introducing the PDM Buyer's Guide
Exceeding the Limits of Basic PDM
Although our PDM Buyer's Guide recommends "considering both current and future needs" when evaluating solutions and "building a foundation to grow on," there are many valid reasons companies end up outgrowing their system:
Product complexity has increased
Product development complexity has grown
Business has expanded
Business has globalized
Another common reason is that business realities or resource availability dictated a simpler solution. Regardless of the cause, it's time to make a change. Fortunately, a lot has also changed with available PDM solutions, particularly considering the cloud.
Understanding the Buyer's Guide Intent
This guide is designed to help companies understand when they've outgrown their PDM system and provides practical guidance on what to look for in a replacement solution. We won't repeat all of the basics covered in the PDM Buyer's Guide, but we'll highlight some of the key elements typically missing from less capable systems.
After we've covered the basics, we'll introduce some requirements for more advanced processes that most manufacturers look for after they've gotten their CAD data under control.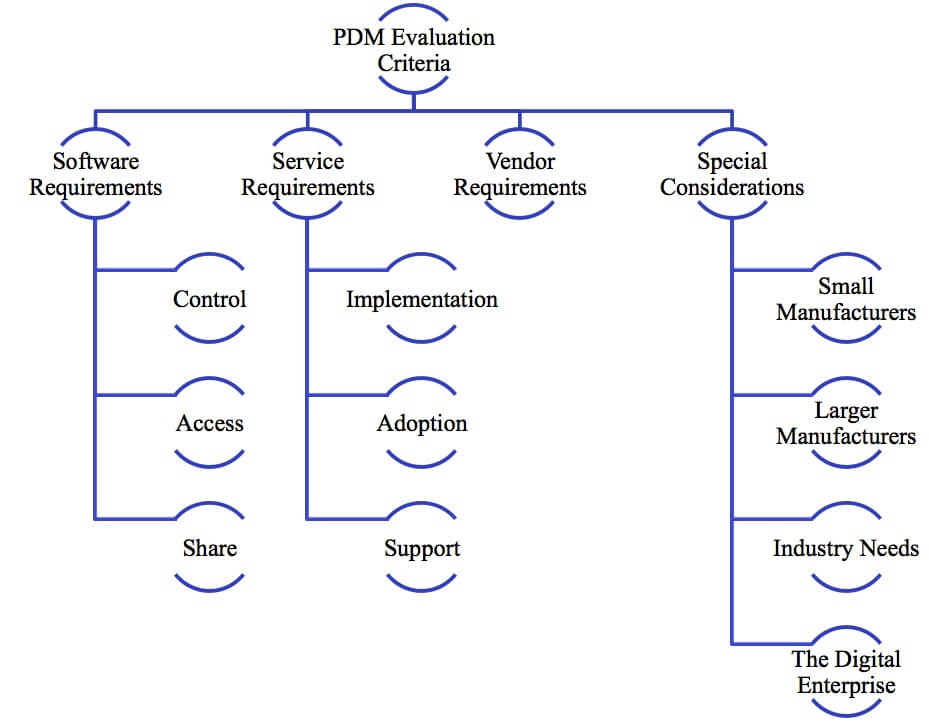 Understanding the Buyer's Guide Structure
Like our other buyer's guides, we go beyond functional requirements to address implementation, adoption, vendor partner, and special considerations. We also touch on another recommendation from our PDM guide, specifically how manufacturers can make sure they don't hit another dead end with their new system as they evolve to become a more digital enterprise.
Next Steps
Extend Basic PDM Investment to Increase Value
Companies that have outgrown their PDM system can leverage their existing investment in organizing CAD files and adopt a new system to take advantage of more mature capabilities. Our research shows the value of the transition. Top Performing companies are more likely to have structured, collaborative systems like a more mature PDM or a PLM system.
It's time to go beyond EDM or basic PDM systems to help unlock innovation and improve product development efficiency. The requirements set forth in this guide can help frame the software selection and decision-making process to find the right system. Companies should start by focusing on the highlighted areas in the Control – Access – Share sections. This is where less capable, "generalist" file management solutions fall short because they lack an intimate understanding of processes for product innovation, product development, engineering, and support. Companies should also consider the requirements in the four new areas discussed in this guide.
Create the Foundation for Further Growth
As companies adopt a more advanced PDM system, it's important to give themselves room to expand to more mature capabilities over time. For many companies, that involves adopting advanced PDM capabilities as part of a more comprehensive PLM system to address additional aspects of products, process, departments, and product lifecycles. These are the key areas that expand PDM to PLM, and areas that PLM vendors continue to expand their solution scope.
Consider a Platform for the Greatest Potential Value
One good option manufacturers should consider to meet extended PDM needs is adopting a Product Innovation Platform (PIP). A PIP offers manufacturers the ability to expand PDM today and create room to grow as they are ready to adopt more, or more mature, processes. A PIP with a modular approach will allow them to scale and add capabilities as they need them.
Some common areas that manufacturers extend include:
Requirements Management
Quality Management
Product Costing
Product Compliance and Sustainability
Manufacturing / Bill of Process
Service Lifecycle Management
Systems Engineering
Program Management
These are the capabilities that a current Product Innovation Platform should provide. Finally, no company should select a solution without considering the cloud or digital transformation. To ignore the realities of these two trends would be shortsighted.
*This summary is an abbreviated version of the report and does not contain the full content. A link to download the full report is available above.
If you have difficulty obtaining a copy of the report, please contact us using the "Contact" link below.