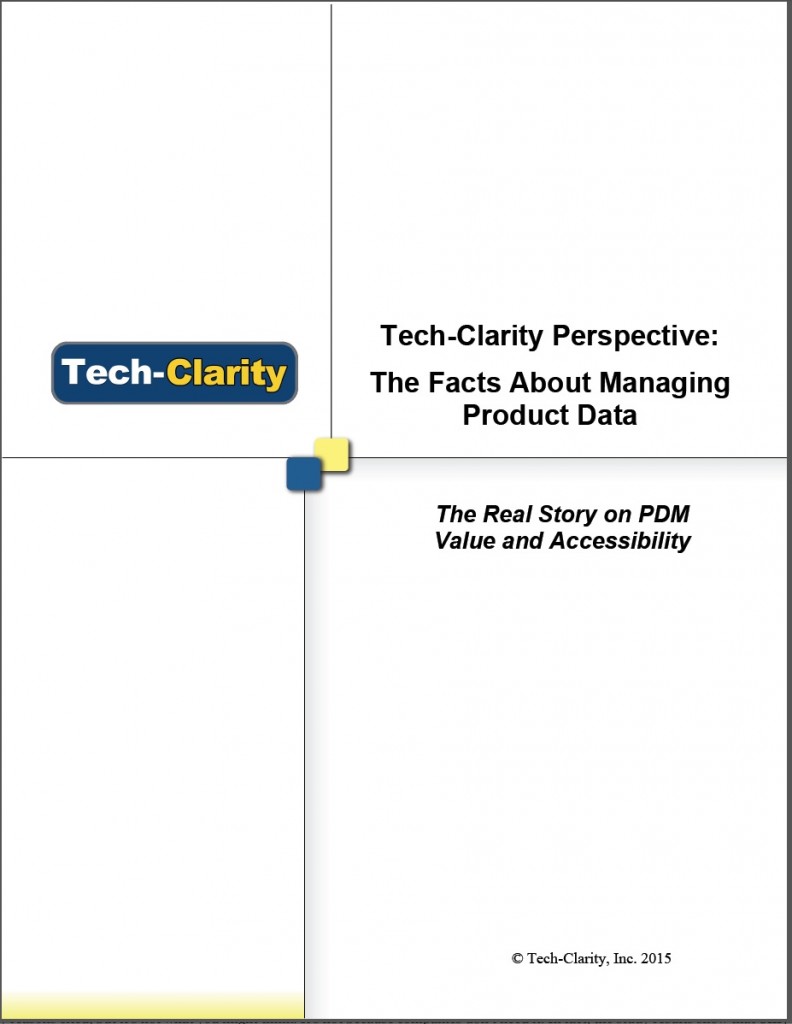 The Facts about Managing Product Data – The Real Story on PDM Value and Accessibility offers insights to help uncover the truth about managing product data. The research shares analysis of over 2,500 responses to a multi-national survey investigating the challenges, uses, and implementation experiences of companies that use CAD files. The analysis shows that Top Performers – those with better ability to develop products efficiently, design high quality products, develop products quickly, and meet design project / program cost targets – are more likely to use PDM. It also uncovers some interesting facts, for example that only 8% of manufacturers without PDM report that they don't have problems managing data.
Given that so many that could benefit from PDM haven't implemented it, the research reviews the barriers to PDM adoption. Specifically the report evaluates the belief that PDM has to take a lot of time and cost a lot of money to implement. The findings are intended to help companies make a facts-based decision on how PDM can help them improve their business by clearing up some common urban legends surrounding data management. For example, some say that companies that primarily use 2D CAD and office documents don't benefit from PDM, which the data shows is simply not true.
Please enjoy the summary below, or click the report or title to download the full PDF (free of charge, no registration required).
For more information on managing product data please visit our sponsor, Autodesk, and their Data Management Microsite.
This paper has been translated into local languages thanks to our sponsor, Autodesk.
Note: For those that responded to the survey, we have selected 200 to receive an gift card as an incentive. We are in the process of distributing those.
Table of Contents
Executive Overview
Benefits of Effective Data Management
Design Challenges and Impacts
Identifying the Top Performers
Evaluating Data Management Approaches
So Why Doesn't Everyone Use PDM?
The "We Don't Use 3D" Myth
The PDM Time and Cost Misconception
The "We're too Small for PDM" Myth
Misconception that PDM is "All or Nothing"
The Fallacy that "PDM is Only for Managing CAD Files"
PDM is "Just an Engineering Tool"
Conclusion
Recommendations
About the Author
About the Research
Executive Overview
Product Data Management (PDM) helps companies improve the way they control, access, and share critical, product-related files and information. But perhaps more important than what PDM does, are the benefits that PDM delivers. The Tech-Clarity report The Business Value of Product Data Management explains that companies gain strategic business benefits from PDM including improved time to market, better product quality, increased innovation, improved efficiency, reduced product cost, and more. Further, our Best Practices for Managing Design Data survey concludes that operational PDM improvements "lead to better product profitability and business performance."
The value of PDM is really not disputed. But not everyone is managing data. Why? There are many reasons cited, but it's not what you might think. It's not because companies don't need it. In fact, the study results show that only 8% of companies not using PDM say it's because they don't have any problems related to data management.
So what stops people from implementing such an important tool? Too often, people don't know the truth about PDM. For example, this research finds that about one quarter without PDM don't understand PDM benefits (24%) and/or don't know what PDM is (21%). There are other misconceptions as well. For example, some believe that companies that primarily use 2D CAD and office documents don't benefit from PDM, which is simply not true.
There is also a lot of misinformation about who should use PDM and how hard it is to implement. While PDM can take a lot of time and money to implement, it doesn't have to. Others believe that only larger companies can benefit from PDM, or that it is only valuable inside of engineering. Clearly there are a lot of myths to address with facts.

To get the real story and prompt a practical discussion, Tech-Clarity surveyed over 2,500 companies about their experiences managing data. It's time for companies to stop believing the urban legends about PDM and get the facts so they can start improving their businesses. After all, the alternative is unmanaged (or manually managed) data, which is inefficient at best and risky at worse. As The Basics of Managing CAD explains, "Some recognize the shortcomings and risks of a manual (data) management approach, while others are one mistake away from learning the hard way."