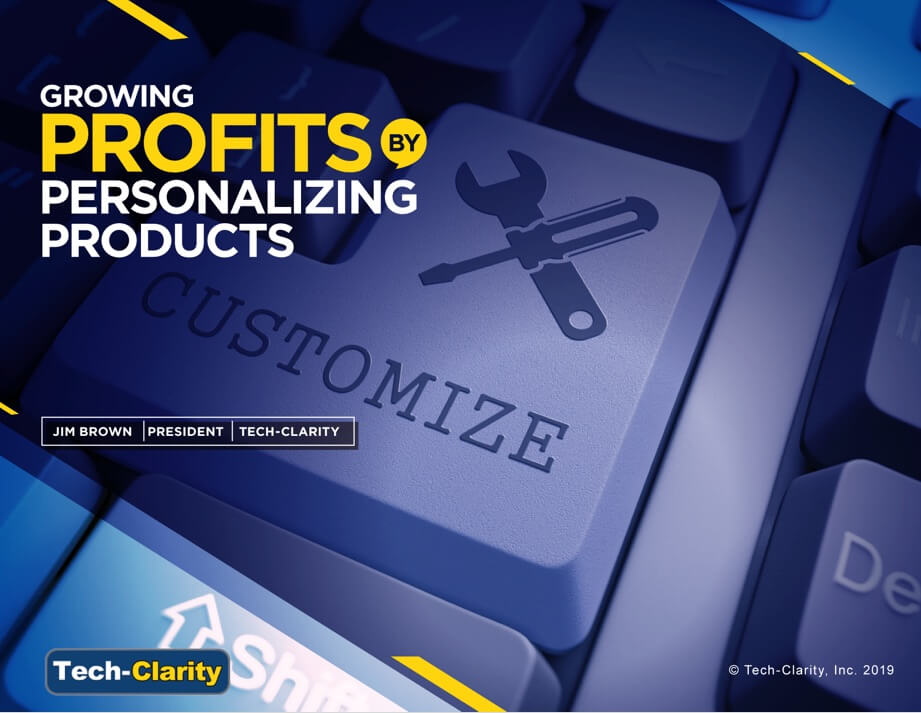 How can manufacturers grow profits by designing, selling and producing personalized products? Manufacturers have significantly increased the level of personalization in their products over the past five years, and customization will accelerate over the next five. Why? Companies across the manufacturing industries recognize that tailoring products drives increased differentiation, higher sales, and better margins. How can manufacturers take advantage of this trend to drive better top line growth and bottom line profits? We surveyed 285 companies to find out. Let's take a look!
Please enjoy the summary below. For the full Growing Product by Personalizing Products eBook, visit our sponsor SolidWorks (registration required).
Table of Contents
Customization is Compelling
Customization Offers Business-Level Benefits
Customization Growth Continues
Customizing Products is Challenging
Challenges Lead to Negative Business Impacts
Customization Prep Reduces Innovation Time
Identifying Top Performers in Customizing Products
Top Performers Better Exploit Customization Benefits
Top Performers use More Modern Configurators
Top Performers Provide a Compelling Experience
Next Steps
About the Research
Acknowledgements
Customization Offers Business-Level Benefits
Personalization Aimed at Profits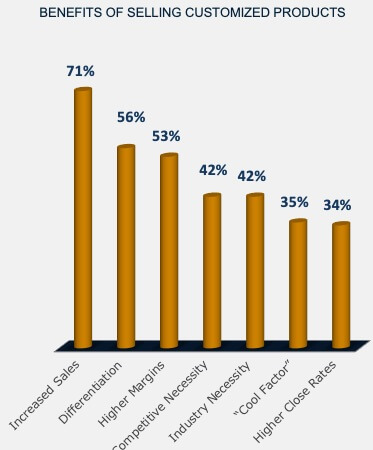 People have been talking about mass personalization, lot sizes of one, customization, and other configuration strategies for years. Why does this strategy continue to show up in corporate agendas? It's likely a natural reaction to limited choices dictated by mass production and cost reduction. But at a more basic level, it's a simple matter of money.
We asked survey respondents to share the benefits their companies get from selling customized products. The results show that customization helps drive growth and profitability. The most commonly mentioned benefits, increasing sales and differentiating from competitors, grow the top line. But the benefits also extend to driving higher bottom line profitability. About one-half of respondents report they increase profit margins by personalizing.
Additional Goals
There are other drivers as well. For example, there are industries where customization is simply a necessity. In these cases, products typically need to fit into unique customer situations, like fitting a piece of equipment into existing plant infrastructure. Another example is that 84% of Aerospace & Defense respondents say configuration is an industry necessity, most likely to meet specific customer performance specifications.
Consumer-oriented companies, including Apparel / Footwear and Consumer Products, also report benefits related to consumer experience. In addition to increasing sales through customization, both are more likely than other industries to benefit from gaining a "cool factor" and offering a compelling website experience from personalization.
Customization Growth Continues
Configuration Continues to Climb
Our data shows that product configuration has been growing significantly for at least a decade. Will growth continue? We asked responding companies how much the amount of configuration / personalization / customization in their products changed over the last five years, and how much they expect it to increase over the next five. Results show that the level of customization will continue to grow.

Almost three-quarters of surveyed companies say that the level of customization has increased over the last five years. Very few companies, only 3%, say it had decreased. Looking to the next five years we see a similar picture. In fact, about one-half say that customization will increase "significantly" over that time period. As we depict in the graph, it's important to remember that future growth is in addition to the increases they've already seen!
Consumer Industries Growing Faster
Consumer-oriented companies are experiencing the greatest increases. Over 40% of Apparel / Footwear and Consumer Products companies have grown customization significantly, with almost three-quarters expecting significant growth! High Tech / Electronics also expects to grow more than average over the next five years. Personalization hasn't reached its peak!
Conclusions and Next Steps
Product Customization is Growing and Creating Business Value
This survey confirms our prior research in finding that product personalization has been growing for some time. Beyond that, this survey indicates that the growth will increase over the next five years.
Based on our experience and the findings from this research, we believe that product customization is a compelling business strategy that spans manufacturing industry segments. Responding companies that offer customized products report sales growth and margin expansion. Companies that report higher performance than their competition in designing, selling, and delivering customized products – the Top Performers – share that they achieve even greater profitable growth.
Top Performers Take Different Approaches, Reap Higher Benefits
Analysis of the Top Performers shows that they are more likely to use product configurators to support selling personalized products. Beyond that, they also use them differently in four basic ways. In particular, they:
Use configurators with more modern capabilities
Provide a visual, 3D, interactive configuration experience
Provide a compelling, customer-centric customization experience
Connect product configuration with commerce
Others have an opportunity to take a fresh look at configurators to gain the higher performance levels that Top Performers enjoy. It's time to get started.
*This summary is an abbreviated version of the research and does not contain the full content. A link to download the full report is available above.
If you have difficulty obtaining a copy of the report, please contact us using the "Contact" link below.