A quick peek into some research on … how mobile devices like the iPad can extend PLM value.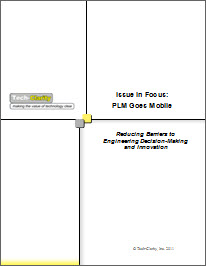 Tech-Clarity recently published two papers, PLM Goes Mobile and Product and Program Management Goes Mobile. These papers explore the ways that using mobile PLM applications and devices can extend the opportunity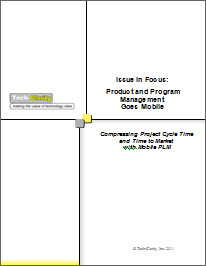 for engineers and others in the product lifecycle to contribute, decide, act, and innovate with PLM.
UPDATE: For the IT perspective, please see this post about What the CIO Should Know about Mobile PLM
The Research Findings
Apple's iPad and iPad 2 are revolutionizing the way people access media and information. About a year ago, I decided to buy one of the first iPads available as a birthday present (yes, for myself). I never regretted the decision until I saw how much more elegant and functional the iPad 2 is. Now I am envious. But as new as the iPad is, mobile devices and applications are not new. I researched business uses of mobile devices in papers such as SLM Goes Mobile which discusses taking field service applications into the field. But up to this point, the value of PLM hasn't been widely available in a mobile setting. Things are changing. As these reports say, "Devices like the iPad are well suited for the intersection of business and mobility."

The reports highlight the issues that traditional PLM-capable devices put on mobile workers. The report discusses two distinct sets of users, each with their own challenges:
Users that are extending the reach of their enterprise systems outside of the office, such as in a plane, doctor's office, or meeting
Those that use mobile applications as their primary device, such as service technicians or manufacturing supervisors
The reports point out a wide variety of locations and scenarios where mobile applications can help with PLM (see Mobile PLM Framework diagram). They also point out the limitations of current devices in mobile scenarios. For example, one of the biggest differentiations (you know what I mean if you have an iPad) is that laptops are not mobile devices, they are portable devices. They are of very little use until you get from point A to point B and set them down on a flat surface. And for all of us that struggle with trying to type on a PC in coach airplane seats, you know that even that is a challenge. Compare that to the challenges faced by someone climbing up and down a piece of equipment or an aircraft in the hangar! The report also points out why smart phones fall short. Although the iPad will not be the only device that will be capable of running PLM applications, it will set the trend because it is the first one ready.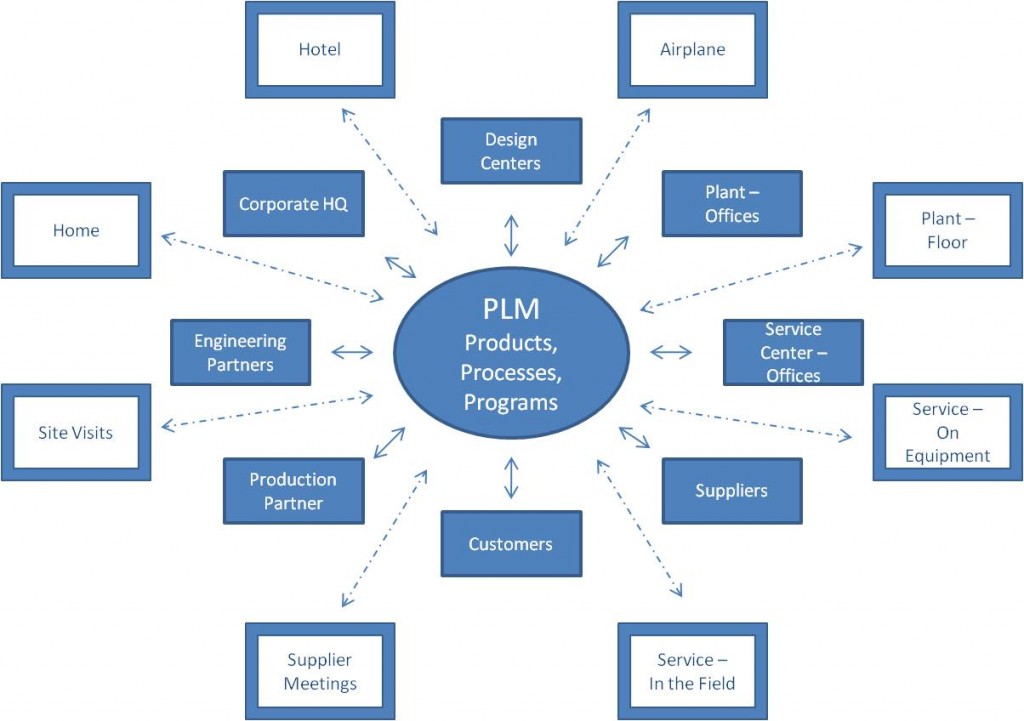 The reports also highlight mobile scenarios for different functions in the business. In fact, the papers were designed to address different perspectives:
For engineers and engineering managers, the issue is a lot of decision-making and innovation goes uncaptured or gets put on hold when an engineer is mobile.
For manufacturing personnel in the plant or service technicians at the service depot (or in the field), they simply don't have convenient access to the product information they need to do their jobs.
For product and program managers, the issue is that mobile team members need to decide, approve, and contribute to their projects and programs in real-time regardless of whether they are sitting in front of a computer.
Please feel free to download the reports, there is far too much to go into in a blog post. But I hope this gives you some idea of what to expect in the reports.
Implications for Manufacturers
So what can manufacturers do to take advantage of the mobile PLM opportunity? The first thing they should do is recognize the limitations that they currently face from their devices. They should also recognize that the challenges for mobile PLM are not limited to devices, but also the applications. Simply running an existing PLM application in a web browser will fall short of expectations (and likely not get used). Mobile users need mobile apps, not PLM applications built for desktops or laptops (with a mouse, keyboard, and one or more large monitors). Mobile PLM applications should be built for mobile scenarios and use visual navigation. The iPad has great graphics and is very capable of showing high resolution product graphics, but work their best when they are running "apps" specifically designed for their form factor. The opportunity to extend PLM information and decision-making to mobile scenarios is in reach with the iPad (and other devices to come) and the availability of mobile PLM apps.
So that was a quick peek into some recent research on how mobile technology can have a positive impact on PLM, I hope you found it interesting. Does the research reflect your experiences? Do you see it differently? Let us know what it looks like from your perspective.
Please feel free to review more free research and white papers about PLM and other enterprise software for manufacturers from Tech-Clarity.