PDM/PLM Satisfaction Survey – Status Quo is Satisfactory but Needs are Changing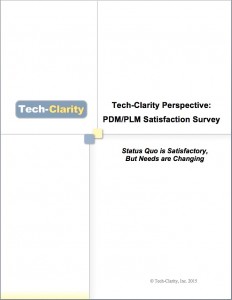 shares the results of a survey of over 500 PLM users exploring their satisfaction with their Product Data Management (PDM) and/or Product Lifecycle Management (PLM) systems. The report conveys the perspectives of a large number of PLM users ranging in seniority, position, and industry. The study includes statistics based on survey responses and analysis of open-ended questions and concludes that PLM users are generally satisfied with current PLM systems but have low expectations, and that those expectations will likely grow as they become more accustomed to today's consumer-oriented applications.
Please enjoy the summary below, or click the report or title to download the full PDF (free of charge, no registration required).
For more information on PLM, please visit our sponsor Aras.
Table of Contents
Executive Overview
Overall PLM Satisfaction
Does PLM Help People with Their Jobs?
Executives Like PLM
Design Engineers are Less Happy
Familiarity Expands Satisfaction
What Would Users Change?
Conclusion
Recommendations
About the Author
About the Research
Executive Overview
Tech-Clarity conducted an online survey of over 500 PLM users to gauge their satisfaction with their PDM/PLM systems. The survey attracted a wide and experienced base of users. One-half of survey respondents have more than five years of experience with PLM, and over three-quarters have used more than one PLM system in their careers.
The survey evaluated satisfaction with the PLM system, the use of it, and how well their PLM system is supported. Perhaps more importantly, they were asked whether PLM helps make their jobs easier. The results show a varied level of PLM system satisfaction. The most interesting findings relates to PLM satisfaction based on the individual's role in the organization and how often they use their PLM system, specifically:
The higher in the organization, the happier respondents are with PLM (Figure)
Design engineers (those that contribute the majority of the deliverables to PLM), are less satisfied compared to those leveraging the information downstream
Infrequent users are less satisfied with their PLM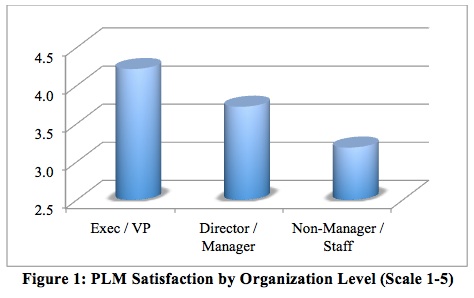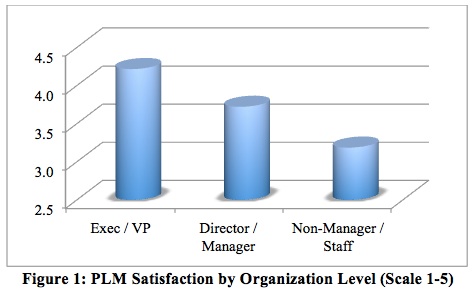 The research shows that there is significant room for improvement in PLM. Today's PLM is a valuable business system that offers benefits to executives and downstream users but frequently burdens companies' direct contributors and challenges infrequent users due to complex user interfaces which result in long learning curves. Although users express satisfaction with the current state of PLM, they were quick to offer areas that need improvement. The most frequently requested changes include improvements to:
Ease of use / user interface
Configurability / customizability
Search
System performance and stability
Integration with design applications and other enterprise systems
These changes will be critical as PLM demands expand to support the growing complexity of global product development environments. They will also be more evident as companies push to design smarter, connected products and take advantage of new materials and technologies. Moving forward, the level of involvement and collaboration required in PLM across disciplines, between departments, and throughout the value chain has the potential to further amplify these challenges.
We predict that satisfaction with the status quo will fade as users begin to demand more intuitive, easy to use solutions that are more on par with the connected, social, mobile-enabled software applications they experience in their personal lives.
Conclusion
Our conclusion from the data is that PLM satisfaction is relative strong but varies widely. Based on the data, respondents' comments, and our experience we believe this correlates with their familiarity with PLM and how they use it based on their role. PLM users are satisfied with their PLM systems because they appear to have modest expectations or they have used PLM systems for a long time and have grown accustomed to how they work. Many recognize that the system they use is on par with what they expect in the industry, saying for example "It is good enough, I don't want to change anything now." It appears that users are as satisfied with PLM as they are with the general state of enterprise software and perhaps don't feel there are better alternatives.
Long learning curves and poor usability, however, will hinder user adoption as PLM demands increase with the rising complexity of products and product development environments. We also believe that the expectations for PLM to come close to the ease of use and simplicity of consumer-based applications like Dropbox, Google Drive, and others will grow. As users get used to these systems in their everyday lives their desire for comparable usability will increase in the workspace.
There is opportunity for improvement to place less burden on engineers while still adding value at the enterprise level and downstream. The PLM industry needs to address usability and configurability along with improved system performance and stability. Today's status quo products must evolve to take advantage of concepts from newer software solutions including the social, mobile, and connected applications that are becoming commonplace in personal use. As one survey respondent commented "We need a future PLM. The current PLM is not ready to solve future challenges."
Recommendations
Based on industry experience and research for this report, Tech-Clarity offers the following recommendations:
Leverage PLM to add value across the enterprise and the value chain
Look for more intuitive systems to help less frequent users
Choose systems with better ease of use and fewer clicks in order to place less burden on users, especially design engineers
Make system performance, stability, and reliability a criteria
Place importance on the ability to customize the PLM system to support specific roles and specialized processes to ensure productivity and value
Pay special attention to common improvement areas such as user friendliness, user interface, search, mobile access, Multi-CAD integration including ECAD, and ERP integration when evaluating systems
Start thinking ahead now. Begin planning for the future state of PLM to address user needs for tomorrow's more complex products and product development environments, higher user expectations, and fast-moving markets