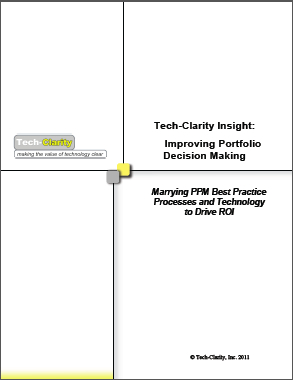 Tech-Clarity Insight: Improving Portfolio Decision-Making – Marrying PPM Best Practice Processes and Technology to Drive ROI describes the ability for Product Portfolio Management (PPM) initiatives to improve portfolio decision-making and ultimately company profitability. It explains how companies can take a practical approach to achieve the value of PPM by utilizing readily available best practice processes and metrics, leveraging the right software technology, and starting small to provide rapid value without a large, academic exercise.
Please enjoy the free Executive Summary below, or click the report title above to download the full PDF (free of charge, no registration required).
Table of Contents
Executive Overview
The Purpose and Potential of PPM
Applying Automation to PPM
Putting Best Practice Processes to Work
Taking the Practical Path to PPM
Improving Portfolio Processes Over Time
Conclusion
Recommendations
About the Author
Executive Overview
In today's unsure economy, nobody has resources to waste. Companies have to make the right decisions on where to invest their precious product development people and budgets. They have to focus on the right innovations and excel at new product development (NPD) to get the right products to market quickly to take advantage of market opportunities. The Manager of Quality Management, R&D, and Legal Applications for a large medical device company says, "The consequences in R&D are huge – you have to get it right." Product Portfolio Management (PPM) is an important enabler. "We need to know we are doing the right projects, that we have the right balance in our portfolio, and that we are executing to effectively commercialize innovations," the medical device manufacturer explains.
PPM is a discipline that helps companies optimize their product development investments and increase product profitability. PPM practices and tools deliver proven ROI, as explained in Tech-Clarity's Issue in Focus: The ROI of Product Portfolio Management. PPM helps companies develop high-value, strategically aligned portfolios, ensure they are resourced properly, and then execute them effectively to drive profitable revenue. PPM tools also help improve efficiency. Ian McKenna, IT Business Partner for Infineum UK Ltd., explains, "Our planning process is a lot easier with PPM." To enjoy these benefits, companies need to put in place the right PPM processes, metrics, and tools to improve portfolio decision-making and execution. Getting processes right is important in any systems implementation, but this is even more true in PPM where the goal is to make critical business decisions.
Fortunately, the new product development community has developed proven best practices for PPM. Companies can avoid bureaucratic, academic PPM implementation exercises by learning from others because the disciplines of PPM are very mature. Nobody has to start with a blank sheet of paper. "Familiarity with standard processes makes PPM adoption go faster," Don Kingsberry, Enterprise PMO at Green Mountain Coffee Roasters and PPM veteran explains. "Leveraging them makes extraordinary sense, it's hard to believe companies have time to reinvent them." Today, companies can quickly adopt best practice processes and tools to gain rapid value from PPM. As they learn more, they can fine tune criteria and metrics to gain higher levels of value to improve over time – as long as they have the right, integrated infrastructure in place.