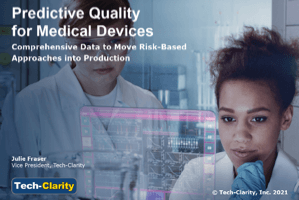 Could medical device companies improve both patient outcomes and profit? Yes, and Predictive Quality for Medical Devices: Comprehensive Data to Move Risk-based Approaches into Production discusses how to modernize the quality system for best results. The predictive approach to quality is proactive and requires strong manufacturing data management. The report includes insights from executives at medical device companies already making strides toward these improvements.
For related research, please read The Manufacturing Data Challenge.
Please enjoy the summary* below. Please visit our sponsor, Critical Manufacturing, for the full research (registration required).
Table of Contents 
Predictive Quality 

Risk-based Approach
The Next Level of Risk-Based Approaches
Feedback Loops
Data Flows for Good Decisions
Manufacturing Data Platform
Advanced Quality Analytics
Predictive Quality Recommendations
Getting to Action
Software for Predictive Quality
Conclusions
Recommendations
Acknowledgements
Predictive Quality
Beyond Traditional Quality Systems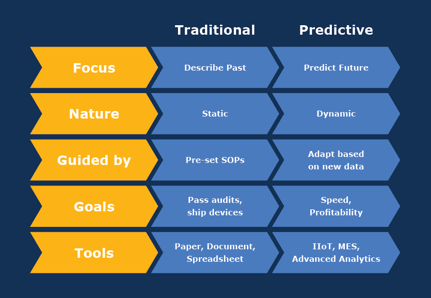 Quality is the cornerstone of medical device manufacturers' success and touches every aspect of the business. Quality is paramount not only for cost and compliance but for patient outcomes. As a result, many companies use sophisticated simulation and analysis to predict outcomes in research and development (R&D). Yet, that is only a part of the quality system. It's time to expand predictive quality into production – and to create feedback loops. 
Predictive vs. Traditional Quality
Traditional quality is reactive or preventive at best. Rigid standards and procedures guide all activity, and samples and testing are frequent to be safe. Predictive quality is more proactive and adaptive – within the validated envelope. This new quality approach leverages data from product and process design, inventory, and supplier quality. It combines that data with real-time production information to foresee whether a product will meet quality specs.
Predictive Quality to Meet Market Pressures 
Medical device manufacturers are under new pressures from both the market and regulators. Predictive quality is a foundational approach to meet those pressures:
Margin: Lower costs through reduced scrap, rework, sampling and testing

Speed of new products: Improve design for manufacturability and quality (DFM/DFQ)

Risk: Realize regulators' vision of minimizing both regulatory non-compliance harm and potential health hazards

Cycle time: Products move in the process envelope with complete documentation at every step 

Quality: Fewer non-conformances during production 

Field outcomes: Reduced customer complaints, adverse events, and in-use products issues, and ability to quickly improve
Conclusions
Predictive quality allows a medical device manufacturer not only to comply, but to improve its business results. Building on the risk-based approach to more fully encompass the complete quality system, including production, is a logical next step.
Yet, traditional software approaches leave too many gaps in the information flow. Predictive quality is only possible when medical device manufacturers have an agile, responsive, and integrated manufacturing data system to support it. The platform must pull in many data streams, put them in context, and conduct effective predictive analysis. It must integrate both to OT and enterprise, creating feedback loops at many levels.
There are companies starting to do that today. Medical device industry leaders are building out the information systems to enable automated release. So, beyond documentation of the process and product, the system will understand whether all processes stayed within the designed envelope to ensure a high-quality product result. Companies that can step into this next level of predictive quality will have advantages in speed, regulatory compliance, cost, and confidence.
*This summary is an abbreviated version of the research and does not contain the full content. Please visit our sponsor Critical Manufacturing for the full research (registration required). 
If you have difficulty obtaining a copy of the report, please contact us.