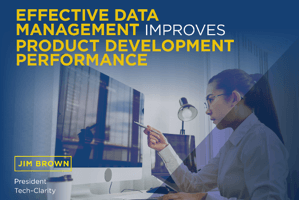 Can improving design data management practices improve innovation and product development performance? We surveyed 131 companies to understand how they manage CAD files, bills of material, and other product-related information to find out. 
Please enjoy the summary below.* For the full report, please visit our sponsor Siemens (registration required).
For related research, please see two of our prior surveys on design data management best practices to see what's changed: Design Data Management Maturity Improves Profitability, Analyzing Best Practices for Managing Designs from 2017 and Best Practices for Managing Design Data from 2012.
Table of Contents
Executive Overview
The Importance of Effective Data Management
Data Management Must Address Today's Challenges
Data Management Challenges Reduce Productivity
Evaluating the Practices of the Top Performers
Data Management Practices of the Top Performers
Enabling Top Performing Product Development
Top Performers are More Likely to Embrace the Cloud
Conclusions and Recommendations
About the Research
Acknowledgments
Leveraging Data Management to Enable Product Development
Analyzing Data Management Practices for Successful Product Development
How do design data management practices impact product development performance? We surveyed 131 companies that design, engineer, and/or manufacture products to understand how they manage design data like CAD files, bills of material, and other product-related information to find out. We conducted this study as a follow-up to our previous studies to understand what has changed over time.
Executive Overview
Survey Approach

Tech-Clarity research shows that effective data management helps companies design innovative, high-quality products quickly and efficiently. This report shows how data management best practices relate to business performance based on 131 responses to a web-based data management survey.
Researchers benchmarked participating companies on their performance related to quality, innovation, product development speed, and efficiency. Survey analysis compared companies with the highest performance in these important product development metrics with their data management approaches.
Top Performers Have More Effective Data Management
The data shows that Top Performing product developers are more likely to have very effective data management capabilities. Top Performers are more likely to be able to:
Find the data they need
Share it with others
Manage their design projects
Provide the correct data to manufacturing
The results confirm that data management continues to be an important enabler to design and develop profitable products.
Top Performers use the Cloud and Advanced Data Management Techniques
The data also shows that Top Performers take a different approach to data management. Top Performers, on average:
Are more likely to use advanced features of their data management systems beyond simply storing and controlling CAD files
Are 70% more likely to share data using the cloud for design and/or engineering
Have 3 times as many people using their PLM system*
Are 4.3 times as likely to have third parties such as customers and suppliers use their PLM systems *
The findings show that managing design data by itself is no longer enough to excel in product development. Companies must collaborate more broadly and do more with their product data to drive higher levels of product development performance. The results also show a strong correlation between product development success and the emerging use of the cloud for sharing product data.
*Of those that use PLM
Conclusions and Recommendations
Conclusions
Effective design data management fundamentals enable better product development performance. The data shows, however, that companies face significant challenges in managing their critical design data due to product complexity. These challenges can lead to quality problems and inefficiency, and prevent companies from taking advantage of strategic opportunities such as design reuse. Addressing these challenges with effective design data management practices and technology leads to significant business advantages, including improved efficiency, quality, and time to market.
Top Performers are more effective at data management and take a more collaborative approach to managing designs. To enable this, Top Performers leverage more mature use of their design data management systems. The fundamentals of design data management, supported by an effective data management solution, provide significant business value and provide a foundation that can be expanded on for future benefits. But to differentiate today, companies must go beyond controlling and accessing data.
Recommendations
Based on industry experience and research for this report, Tech-Clarity offers the following recommendations:
Ensure that your business has the basic fundamentals of data management in place, but expand the maturity of data management usage to drive higher value
Improve design data management effectiveness to improve business performance in product design and development
Explore the use of cloud collaboration to improve data management and product development performance
*This summary is an abbreviated version of the ebook and does not contain the full content. For the full report, please visit our sponsor Siemens (registration required).
If you have difficulty obtaining a copy of the research, please contact us.