A quick peek into some research on … the business value of transforming product documentation to rich, interactive communication. The report, Tech-Clarity Insight – The Business of 3D Technical Communications: Evolving Strategies to Document Products,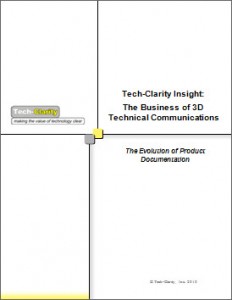 explains how companies are changing their views on technical documentation to a more strategic approach, including the use of 3D to go beyond flat, static documents to incorporate richer, interactive, more realistic representation of products.
The Research Findings
At first glance, product documentation may not seem like a valuable topic, let alone a sexy one. After all, how much fun can you have with a user manual? It's true that many companies look at product documentation as a necessary evil. Even for companies that take that view, the report provides insight on how to increase the quality and decrease the cost of product documentation. But there is more strategic, business-level value available than just saving money (not that anyone should turn savings down given today's tight product margins). Even those that take a tactical, operational view of documentation should recognize that delaying product documentation processes can result in delaying time to market – which in turn has a big impact on market share and profitability. And for international companies, they can also save significantly on translation because they can rely more on images and significantly reduce text.
Better processes can help operationally. But the report goes further than that. The report shares the experiences of three manufacturers:
NACCO Material Handling Group, a division of NACCO Industries that designs, engineers, and manufactures material handling equipment
S&C Electric Company, a global provider of equipment and services for electric power systems
AS&E, a producer of state-of-the-art x-ray detection solutions
These companies explain how they have transformed their views from product documentation to technical product communications. They have found ways to leverage their existing 3D CAD assets to gain some significant business advantages, including:
Higher engineering efficiency by allowing documentation specialists more freedom to create images from 3D models

Improved effectiveness of documentation & communication by including 3D, animation, and interactivity

Better collaboration with downstream functions (that don't have CAD) to improve product designs and product quality

Reduced potential for errors in manufacturing and enabling a "deign anywhere – build anywhere" strategy

Improved service performance leading to improved customer experience and uptime
Implications for Manufacturers
Many manufacturers have moved to 3D CAD solutions, and reaped significant rewards in design quality. Manufacturers with 3D CAD in place have an opportunity to extend the value of their CAD assets by reusing them for product documentation. At a minimum, it will create efficiency and save some time and money. As Bill Abely of AS&E is quoted in the report:
"The day before the first printing of our manuals a tech pub writer overheard a conversation about a change that he wasn't aware of. The change affected 50 images! Including the change would normally take about ten days – instead it was ready by the next afternoon."
How long would that take your company? Used effectively, 3D technical communication can also provide some significant benefits by improving the performance of those that need to know the most about products – including Manufacturing, Service, Customers, and even Marketing. The result can be better quality products, reduced cost, and a better customer experience. From my perspective, it looks like it is time to rethink product documentation.
So that was a quick peek into some recent research on the business of documenting products, I hope you found it interesting. Does the research reflect your experiences? Do you see it differently? Let us know what it looks like from your perspective. Please feel free to review more free research and white papers about PLM and other enterprise software for manufacturers from Tech-Clarity.