I had the chance to attend PTC's "Project Lightning" announcement yesterday in Boston. PTC CEO Jim Heppelmann  announced "creo" as the "biggest innovation in the industry in years" and the future of PTC's mechanical CAD (MCAD) offering.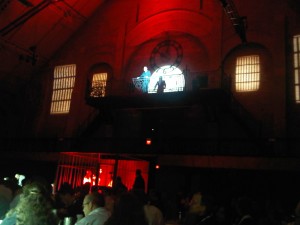 We showed up in a castle-like stone building with a prison cell in the room and guards all around. We sat in metal chairs at metal tables like a prison. In dramatic fashion, four men in orange jumpsuits labeled "Efficiency," "Creativity," "Value," and one other which I think was "Innovation" were locked in the cell. The metaphor is clear – CAD has locked up the most important things you want from your engineers. Then – they are set free and the announcement begins. The meeting was dramatic and PTC got everybody's attention right from the start. So what did the say and what does it mean?
What did they Say?
You can learn more and see the replay of the event for yourself at the creo blog site. I won't spend too much time repeating what they said, instead I will give you a few facts and then share my impressions. Some key facts:
The new suite of products is the future of PTC's MCAD offering
Pro/Engineer, CoCreate, and ProductView are now all "creo/elements" products
Creo will be a suite of products built on an open, common database
Creo will consist of smaller, lighter, simpler "apps" that are role and function-specific
What is Different?
One of the key differences PTC describes is a fundamental one. There will be one database at the core of creo that is acted on by a series of smaller, role-based applications. These "AnyRole" apps will be simpler to use and very focused on specific tasks. For those that want the power of parametrics and are willing to invest the design rigor in it, there will be an app for that. For those that want the flexibility of direct modeling, there will be an app for that. The "AnyMode" concept promises to deliver that on the same data model and make them interoperable. The demo showed a parametric model opened in the direct modeling app, modified, and then showed up in the parametric app with changes highlighted which were then applied to the parametric model. Pretty amazing stuff. Of course the devil will be in the details. I am not a CAD expert, but I understand this is a big challenge. But PTC appears confident they have it solved.
So if I keep saying "there is an app for that" someone will eventually ask "will there be an app store for that?" We asked that too. What we heard is that PTC is developing creo as an open system, and that it can be a platform on which 3rd parties can develop their own applications. Is that an app store? My guess is probably yes, but whether you buy them in one place is less important in my opinion than the willingness for PTC to open up the infrastructure for others to develop on. The infrastructure is there and it is available for others to leverage, including a creo application template.
Implications for Customers
There is more to the announcement, and over time we will all learn more. So what do customers do? The good news is that they have time to decide. As the picture below shows, the roadmap for creo shows the first release in Summer of next year followed by another in Fall.
The customers that I spoke with at the event seemed positive. But there is definitely a "wait and see" mentality. The phrases that seemed to preface most comments was "If PTC can execute on this…" or "If PTC can pull this off…" But that skepticism is healthy, PTC is promising a lot and they know they need to deliver. And in the meantime they aren't planning to take away the tools that people are already using and getting value from. I was pleased with the way the execs answered questions about customer transition. PTC promises to protect the relationship and the investments of their customers. If you have a license to a capability today (like direct modeling with CoCreate) then you will get a license to the creo that app that delivers that functionality.
I think the benefits will vary by customer. Some will be able to take advantage of another aspect of the announcement, such as the "anyBOM" capabilities to drive configurations from Windchill PLM down to the design environment. Very cool, and very needed for companies with multiple product variations based on specifications, features, and options. But the part that seemed to excite the customer more frequently than anything else seemed to be the "anyData" portion. Each of the participants on the customer panel mentioned that in one form or another. The promise for open and interoperable solutions is compelling. But I am not sure that PTC promised as much as the customers thought they heard. But they did promise to bring in CAD models from other leading CAD suppliers and be able to adopt them in creo as if they were native creo models. The other aspect that excited the customers was getting the CAD data out to more people though purpose-built apps for roles outside of Engineering. The customers seemed to relate to the idea that their CAD data is locked up, and are looking to creo to help them solve that problem.
So that's what I hear from PTC, I hope you found it useful. What do you think? What else should I have asked them? Clearly PTC has a lot of work in front of them, it will be exciting to watch this as it unfolds.