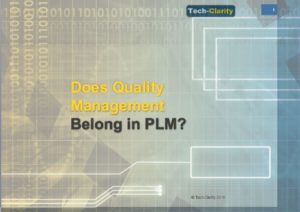 The Does Quality Belong in PLM? eBook explores the value of implementing quality management processes in a Product Lifecycle Management system. The research shares perspectives from several manufacturers about managing quality processes like CAPA and creating product documentation including Design History Files (DHF) and Design Master Records (DMR). The eBook looks at the value of using standalone Quality Management Systems (QMS) or implementing quality directly in PLM to ensure integration between quality, product data, and the product's digital thread. The report concludes with a list of Top Ten Requirements to Manage Quality in PLM, because not all PLM systems are fully capable of supporting quality and risk management processes.
Please enjoy the summary below. For the full report, please visit our sponsor Arena Solutions.
Quality Management and PLM
The Value of Quality and PLM Overlap
Quality Management and Product Lifecycle Management (PLM) are both proven disciplines that help companies improve quality and product profitability. These two initiatives are highly complementary, but are typically owned by different departments and traditionally managed as separate processes.
This often leads to disparate Quality Management Systems (QMS) and PLM systems implemented with little integration supporting quality and product innovation.


There is significant overlap between the information and processes managed by PLM and QMS. This begs the question whether they should be separate systems, integrated systems, or a single system.
For many companies, the cost of implementing and maintaining multiple software systems is prohibitive. Further, our experience suggests that a single, integrated solution suite is more valuable than a collection of disconnected capabilities.

Research Goals and Findings
Given the overlap and the importance of PLM to product innovation and product development, this eBook explores using PLM to manage quality processes and data. The research finds strong quality management capabilities in PLM related to:
Product and Bill of Material (BOM) Centricity
Business Process Focus
Data Relationship Management
Internal and Supply Chain Collaboration
Managing quality in PLM offers potential cost savings and the simplicity of a single system. It creates the opportunity to consolidate and integrate information. And, perhaps more importantly, it can provide the quality assurance, compliance, and customer safety manufacturers demand. Let's take a look.
Why Quality Management Belongs in PLM
Single and Consistent Source of Product Data
PLM and QMS are both valuable solutions, but together can result in significant data and process duplication. The most practical way for most companies to get a single, rationalized quality management and PLM solution is to leverage PLM to support quality along with product innovation, product development, and engineering processes.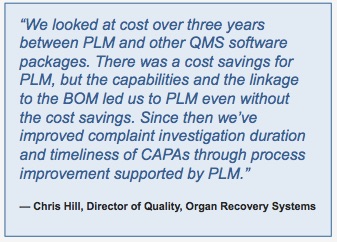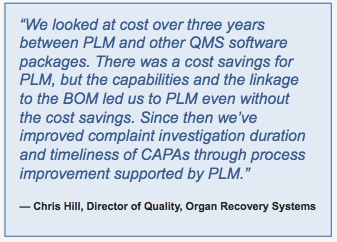 PLM is ideally suited to manage quality because it's a collaborative system, spans the enterprise, and is built to connect the supply chain. Some leading PLM vendors have extended PLM to manage quality processes and put quality and product data into a unified, connected product record. This makes it easy to find information, develop insights using BI, and meet product documentation needs such as DMR and DHF.
Beyond data, PLM supports quality processes to integrate data, procedures, and people. These capabilities make PLM a natural fit for those that want to improve quality and reduce risk. Companies looking for quality management capabilities should consider PLM a strong option, particularly if they value a single solution.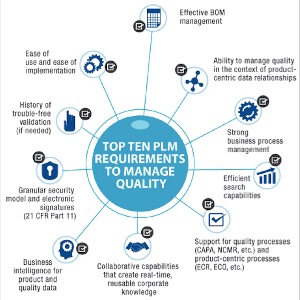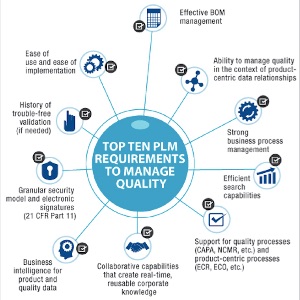 *This summary is an abbreviated version of the report and does not contain the full content. A link to download the full report is available above.
If you have difficulty obtaining a copy of the report, please contact us using the "Contact" link below.